People on the Move: Morecrofts Solicitors; Excello Law; Mercia Fund Managers; Landmark Development Solutions; PushON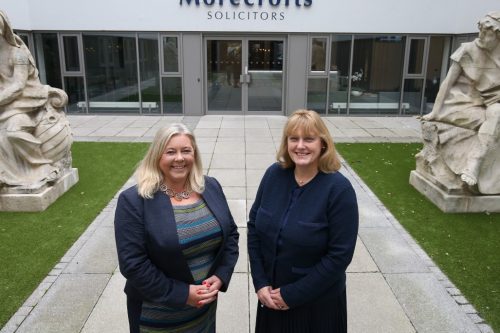 Highly experienced child law solicitor Stephanie Davidson has returned to Morecrofts Solicitors.
Stephanie specialises in representing children in situations in which the child's voice needs to be heard separately, in either parental disputes or when a local authority considers children to be at risk.
She has more than 20 years' experience in family law proceedings and was previously a partner at Morecrofts before relocating to South Wales. She is now returning to the firm's award-winning family law team and will be based primarily at its head office in Liverpool city centre.
Speaking of her return, Stephanie said: "Having been away from the law for a few years for family reasons, I knew I could only ever work with one firm when I chose to return
"Morecrofts has without doubt the most talented and compassionate family law team in the North West. This has been the case for many years and I am really excited to be returning and working with such a special group of people once again."
Alison Lobb, managing partner at Morecrofts, said: "Stephanie is an exceptional family lawyer and is rightly regarded as a leader in her field.
"Our family law team enters families' lives at a critically important and difficult moment and it takes a special type of lawyer to guide them through care proceedings with empathy, professionalism and mutual trust.
"Stephanie played a pivotal role in establishing our long-term reputation and we know that her return will further enhance the support we offer to our clients."
::
Dispute resolution specialist Paul Lever has joined national, new-model firm Excello Law from Coupe Bradbury in Lytham St Annes, Lancashire.
Paul qualified in 2001 and has built a successful practice working with individuals and business owners in connection with all aspects of dispute resolution.
Last year, he was instructed on a reported case involving a complex commercial debt claim which was successfully appealed to the Court of Appeal; Christina Properties Ltd v Annauth [2017] EWCA Civ 1070.
He also has significant experience in dealing with personal injury and clinical dispute claims with particular expertise in 'stress in the workplace' claims, an area he feels will continue to receive more focus, as well as advising on commercial debt and contentious private client matters.
On his move to Excello Law, Paul said: "I am excited to be joining a slick, professional and flexible organisation like Excello which is at the forefront of development of a modern method of servicing clients with traditional values. Their bespoke approach to clients, rather than a one-size fits all approach, is much needed in the modern legal market."
George Bisnought, founder and managing director of Excello Law, said: "Paul is a highly-experienced lawyer and we're delighted that the innovative and agile structure we have pioneered in the legal profession, and the calibre of our national teams, has proved attractive to him. He's a great addition to our team in the North West, which continues to go from strength to strength."
::
Mercia Fund Managers has expanded its loans team with the appointment of Andy Heaton as investment manager.
Based in Mercia's Preston office, Andy has more than 30 years' experience as a banker.
His role is to provide finance to support growing SMEs across the UK, with a particular focus on the North of England, and to develop new business opportunities by building a network of 'introducers' throughout the UK.
Andy has spent most of his career at RBS, where he was part of a specialist team that helped support businesses in the wake of the financial crash, and then business development director of commercial banking in Merseyside.
Most recently, he was regional manager for RateSetter Business Finance where he helped to develop its introducer network.
Mercia Fund Managers offers loans ranging from £100,000 to £2m and can often provide finance when banks and other lenders are unable to do so. Loans are available for a range of purposes – from funding expansion to acquiring a property, investing in machinery or supporting an acquisition or buy-out.
Paul Taberner, head of debt at Mercia, said: "Mercia plays an important role in providing finance for SMEs which may otherwise be unable to access the funds they require.
"Andy is ideally suited to join the team. As an experienced lender he understands the challenges small firms face in securing finance and how to put the right package in place to support their growth."
::
Landmark Development Solutions, the Bolton-based residential development underwriting concept from Landmark Investments Group, has appointed Ian Barber as head of new business.
Ian has a long-established property background, most recently running Hunters' flagship branch in Manchester.
He will be working alongside Mark Hawthorn in delivering this unique offering to developers.
Mark Hawthorn, chief executive of Landmark Investments, said: "This is a very important hire for LDS.
"We launched the company last year and have had a growing stream of interest from developers and lenders.
"Ian will ensure that, in addition to managing the current and growing demand across the North West, we can drive the concept nationwide.
"Our main focus is on SME developers, typically developing 15-60 units per scheme or phase, with a GDV between £3m and £20m.
"We find this is a particular sweet spot as funding can be expensive and hard to come by due to the speculative nature of development."
LDS de-risks entire schemes, by underwriting sales, whie the developer retains the ability to sell at open market value and generate return.
If there are unsold units at the end of the development, LDS will step in to complete, ensuring the developer and their lenders a clean exit.
Ian Barber said: "The concept behind the solution is so unique it's an incredibly exciting opportunity.
"With the Government's target to deliver 300,000 new homes a year, SME developers are the key to achieving this. I believe that LDS will enable them to get their developments off the ground and move onto the next project efficiently."
Mark Hawthorn added: "We have big plans for LDS, in addition to hiring Ian we are looking to appoint further senior hires in due course as we roll out nationwide."
::
Manchester-based full service e-commerce agency, PushON has appointed a new senior sales manager to grow and develop its online marketing offering.
With more than 20 years of sales experience, and particular expertise in digital marketing, Lee Mason began his career with BT where he helped form the first specialist e-business sales teams.
While there he managed 19 sales advisors providing web design and e-commerce solutions to businesses in the very early stages of commercial online activity.
Most recently Lee held the position of business development manager at Liverpool's leading search marketing agency Click Consult for seven years.
In his new role at PushON, Lee will help to grow the agency's online marketing services, which include content marketing, SEO, CRO, paid and social media, and expand its roster of clients.
His vast experience in the digital sector means that Lee can expertly consult with new and existing clients on the specific online marketing solutions that would benefit their business, and make solid strategy recommendations to meet their commercial objectives.
Commenting on his new role, Lee said: "I interviewed for a number of roles but as soon as I met the team at PushON, the enthusiasm came shining through.
"PushON's external reputation and credibility is second to none, but the deciding factor was the transparency and ability to take ownership of the role.
"I'm delighted that they've recognised my commercial strengths and we share the same vision in helping to significantly grow the brand and develop its online marketing base of clients."
Sam Rutley, managing director at PushON, said: "Lee is a fantastic addition to the PushON team, combining considerable sales experience with a real passion for digital.
"He will be integral in helping us to build and nurture new relationships by using his expertise and knowledge of the sector to demonstrate the value that PushON's services can bring to a range of businesses."