World-class sectors driving growth across North Wales & Mersey Dee region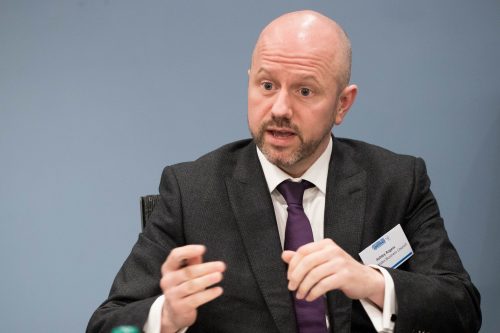 A major new business report analysing economic growth across the North Wales and Mersey Dee region (NWMD), has highlighted the cross-border area's strengths in exports, manufacturing, tourism and research & development.
The NWMD region covers a geographic area encompassing the six North Wales counties, Wirral, Cheshire East and Cheshire West.
The NWMD Regional Business Monitor is thought to be a UK first study, assessing the health and vibrancy of a cross-border economy across a number of indicators, including sector growth, exports and research & development (R&D) and was published today (October 29) by the NWMD Business Council.
The Business Council is the umbrella body for the private sector in the region, and has members including the FSB, IoD, West Cheshire & North Wales and Wirral Chamber's of Commerce, EEF, CITB and North Wales Tourism.
The study has revealed strong cross-border growth with a 4.4% rise in GVA (a measure of value generated by goods and services) in NWMD between 2015 and 2016.
The fast-growing GVA rate takes the cross-border region's overall GVA to £41.2bn.
The region's economic growth compares favourably with the UK, which secured a 3.7% rise in the same period, and highlights increased productivity levels across the region, powered by key sector strengths.
Ashley Rogers, chairman of the NWMD Business Council, said: "We're delighted to be publishing our first annual Regional Business Monitor, which provides a clear and cohesive overview of the state of the cross-border regional economy.
"The data in the Regional Business Monitor clearly shows how strong we are in key sectors on both the Welsh and English sides of our region and how we are performing above the UK growth rate in those sectors. The NWMD region is a key contributor to the UK economy.
"In order for cross-border businesses to continue to thrive and collaborate, it's key that they have a good awareness and understanding of the key market growth areas and opportunities available, as well as an understanding of market challenges.
"We hope this report will be a useful tool for the private and public sector and provide an accurate reflection of our vibrant and diverse cross-border economy."
Another finding by the report focused on manufacturing, which is a key growth driver across the region, with manufacturing GVA rising by almost 28% from 2012 to 2016 to £10.5bn, compared with a 19.4% growth in England & Wales.
With a population that makes up less than 3% of England & Wales, the NWMD region punches significantly above its weight in manufacturing expertise, delivering almost 7% of manufacturing output for England & Wales.
Cllr Brian Clarke, chair of the Mersey Dee Alliance said: "We welcome the findings of the Regional Business Monitor that confirms the North Wales and Mersey Dee Region as a core manufacturing powerhouse, evidencing the benefits of working collaboratively across borders to maximise the opportunities within our functioning economic area.
"The report is a real good news story for manufacturing in our region demonstrating its pivotal role in supporting sustained economic growth; but to maintain this competitive edge we need to ensure there is continued investment to improve transport and digital connectivity and provide the skills required now and in the future."
Ongoing investment in the region's advanced manufacturing capabilities eg the new £20m Advanced Manufacturing & Research Institute in Deeside and proposed investments in the developing North Wales Growth Deal, will continue to bolster the cross-border region's strengths in this sector.
Ashley Rogers said: "There is a very strong pipeline for investment in our region, in particular with the developing North Wales Growth Deal.
"It is very encouraging to see our North Wales Local Authorities working so well together and the strong support from Minister Mims Davies at the Wales Office (UK Government) and Welsh Government Minister Ken Skates."
Advances in technology and internationally-focused outlook are among the factors fuelling strong export levels across the region.
£12.6bn of UK goods exports came from companies based in the NWMD area in 2016, and the EU is a key market, with 63% of goods exported from the region destined for Europe.
Welsh Government Cabinet Secretary for economy and transport, Ken Skates, said: "Promoting and growing the North Wales and Mersey Dee cross-border economy is a real priority of mine.
"And we know exporting is a real strength of the region with recent statistics showing that the value of Welsh exports increased £700m over the last year.
"The Welsh Government works closely with companies across Wales to help them grow the export arm of their business and branch out into global markets.
"With Brexit just around the corner this work is more important than ever and I am pleased to have recently announced a £7.5m support package to help businesses deal with the challenges of Brexit, which includes additional support for exports."
Jim Jones, vice chair of the NWMD Business Council said: "It is superb to see the Regional Business Monitor clearly demonstrating our economy's strength in the tourism sector/visitor economy with 100 million tourism visits per year, but also that we are a powerhouse delivering £12.6bn of exports across the world."
R&D spend, which is a driver of innovation and productivity growth, has a firm foundation across the region, also – with Cheshire, in particular, showing a strong spike in R&D expenditure per individual at €1,876 in 2015, a huge 179% higher than the UK average spend per head.
Cllr Brian Clarke, chair of the MDA said: "The Business Council's Regional Monitor provides an excellent place-based analysis of the North Wales and Mersey Dee Region highlighting strengths, and some weaknesses, across a number of sectors, with an overall positive message that the economy is growing.
"In order to maintain this direction of travel there is a clear resolve from the MDA partners to embrace the opportunities offered from technology and innovation by supporting further investment in R&D.
"This is shown in the report to currently be highest in Cheshire, but the benefits will, without doubt, also flow throughout the wider cross border area to help secure future economic growth for our region."
The NWMD Regional Business Monitor will be published annually by the NWMD Business Council, as a core part of its private sector work for the cross-border region.