Top chef to reopen Manchester restaurant this week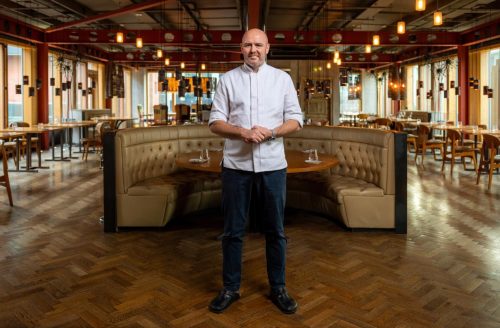 Award winning chef Aiden Byrne is reopening his Spinningfields restaurant this Friday.
The chef, who was the youngest ever to win a Michelin star, has returned to the kitchen at Manchester House which went out of business in October.
The chef had launched Manchester House with the aim of bringing a Michelin star to Manchester for the first time in four decades but moved across Spinningfields to 20 Stories when it opened in the spring.
The Living Ventures Group took the decision to pull the plug on Manchester House but this week it will reopen as MCR.
It will be the second high profile opening this week with Dishoom opening for business at the nearby Manchester Hall.
MCR will focused on the quality of its food and the warmth of its welcome.
Aiden and his team will offer six or 12 course tasting menus that showcase the reinvented classic dishes he has become synonymous with.
The restaurant has re-opened in quick-time, such has been the demand from diners for Aiden's return.
The chef says he is determined to retain the warmth and welcome that the former venue was known for.
Aiden wants to reinvent the restaurant experience for diners with a more personal touch in familiar surroundings.
His menu will draw on his career, seeing traditional flavour combinations, crafted into something new and surprising.
He said: "We are so happy to be able to make this happen before Christmas, but we just had to make it work.
"So many people made contact when the news broke last week, while it's been a crazy week turning this around. Week
"It means that we can bring back the tasting menu and get back to basics. Doing what I love, sending food and watching as our customers connect with the food.
"While we are focused on delivering an experience and the 12 course tasting menu, the key ingredient for the new restaurant is putting the guest at the heart of everything we're doing. If our guests want something other than what is on the menu, if we have the ingredients then we can make it work for them."
The menu will see Aiden craft a signature tasting menu of classic flavour combinations.
There will also be an express lunch of three or six courses available but the main objective for the restaurant is to give guests time to enjoy their meal and create a comfortable and welcoming atmosphere.