People on the Move: RSM; Pennington Choices; The Market Creative; Sherwin-Williams; Workspace Design & Build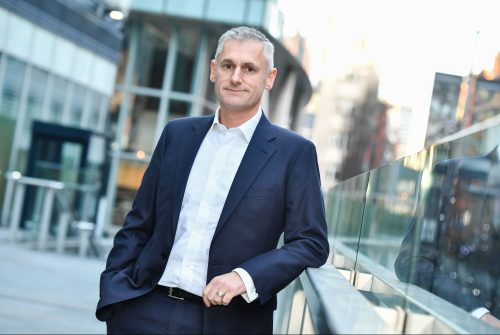 Rob McCarthy joins the North West financial due diligence team as a new partner at audit, tax and consulting firm RSM.
Rob brings extensive knowledge of buy and sell side financial due diligence projects across a wide variety of sectors for private equity, corporate and banking clients, with a particular specialism in financial services.
Rob is a prominent adviser with more than 24 years' experience working in practice and industry, including in excess of a decade working within a Big Four firm based in Manchester and New York.
He joins from an independent advisory firm, where he acted for clients across the North.
In his new role Rob will work across the North West to support acquisitive businesses and funding institutions with strategic regional, national and international transactions.
Jill Jones, RSM'S regional managing partner in the North West, said: "It's great to have Rob on board. The strategic appointment reaffirms our ongoing commitment to attracting and retaining talent – shaping our future firm to ensure we are the go-to firm for entrepreneurial businesses in the North West region."
Rob McCarthy added: "RSM is a prominent player in the corporate finance and financial due diligence market.
"The firm is at the heart of what is a robust transactional market in the North West and across the North, despite the current underlying economic and political uncertainties.
"I look forward to drawing on my experience to build on the success of the practice to help support capital providers and businesses that are undertaking transactions in the region."
Ian Latham, RSM's regional head of corporate finance, said: "It's good to welcome Rob to the team. He brings a wealth of commercial and sector experience that further strengthens our position and our commitment to supporting dynamic businesses to succeed through facilitating quality transactions working alongside leading banks and private equity investors.
"Although there is some economic uncertainty, there will always be strategic opportunities, and we look forward to a successful 2019."
For two consecutive years, RSM has been named the most active M&A financial adviser in the North West by Experian and was named number one by Mergermarket in the first half of 2018.
::
Pennington Choices has appointed Tina Smith as a non-executive director to its board, replacing the outgoing Darren Watmough.
Tina joins the Warrington-based business with a wealth of experience having been non-core managing director of the multinational repair, cutting and engraving retailer, Timpson's.
On the Pennington Choices board Tina will work with the executive team to help ensure that the business' next phase of growth is achieved, and that the property surveying and consultancy company stays at the cutting edge of innovative thinking.
Tina said: "I am really looking forward to working with the team at such an exciting time of growth. I look forward to joining and contributing to a very successful future for the business and everyone involved in it."
Since 2010, Tina has been managing director and owner of The House Name Plate Company, and has been fundamental to the business cementing its position as the UK's largest supplier of house signs and numbers.
Managing director of Pennington Choices, Mark Seaborn, said: "Tina's appointment to the board will help streamline and focus the key decisions that will be pivotal to our future growth.
"Attracting somebody of Tina's reputation and experience is testament to the direction the business is going. We are keen to see the ideas that she will contribute in what will be an exciting chapter in Pennington Choices' history."
::
The Market Creative has appointed Nicki McNamee as an account manager, strengthening its 20-strong team in Manchester.
Nicki will join the company's account handling team. As part of her new role she will work on Silentnight and Aggregate Industries, as well as support internal marketing activity.
Nicki launched her career in London at agencies such as Live & Breathe and Creo before moving in-house to work for technology conglomerate Cisco.
She has experienced working across a range of global clients including Coca Cola, Johnson & Johnson and Birds Eye.
Sue Benson, managing director of The Market Creative, said: "It's fantastic to have Nicki on board. She's worked with some of the world's most high profile brands, so comes with solid experience and is already making an impact on the team."
Nicki added: "I wanted to work with The Market Creative because of its focus on the emerging area of behavioural marketing. The new role will expose me to a wide range of disciplines and I'm looking forward to developing my skills in lots of new areas."
::
Sherwin-Williams Protective & Marine Coatings, with its European headquarters in Bolton, has appointed a recognised worldwide industry expert to lead its service in protective linings.
Michael Harrison joins the organisation as global product director for linings and leads a dedicated team offering advice and solutions for protective linings in oil and gas, mining, power and water markets.
As part of its oil and gas services offering, Michael leads a team specialising in tank and pipe linings protection for terminal and refinery installations with local technical expertise available worldwide.
Michael said: "We can offer the expertise of a global organisation with the local knowledge and service at the same time.
"This is an exciting proposition and our team has the capability of helping our customers at every step of the way from evaluation through to product development and delivery."
Michael's experience over the course of his career extends to 30 years in linings development and business support services worldwide. He is also a National Association of Corrosion Engineers (NACE) Level 2 Inspector.
For the oil and gas industry, tank linings are designed to withstand chemical resistance, high temperature and high pressure and mechanical abrasion, and they can be adapted by Sherwin-Williams' experts for many types of applications, depending on needs.
The diverse range of protective lining products offered by Sherwin-Williams are tailor-made to each specification and combine exceptional anti-corrosive performance with effective chemical resistance.
With a NACE-trained workforce highly trained in corrosion control, and with more than 150 years' of coatings industry experience, Sherwin-Williams experts offer market-specific knowledge to evaluate, recommend and deliver the highest level of performance coatings and linings to protect customer assets worldwide.
::
Workspace Design & Build (D&B) has bolstered its senior team with the appointment of chartered building surveyor, Jerome Broderick.
The 32-year-old joins as a commercial manager leading the quantity surveying team as well as being instrumental in supporting the board's commercial strategy.
Jerome, joins the award-winning Manchester-based contractor from Paragon Building Consultancy, where he specialised in retail, commercial and industrial sectors delivering projects for a number of investment funds.
Prior to that he spent more than three years at Cushman & Wakefield where his role was focused on office fit-out and refurbishment of high street banks and other PLC groups.
Managing director of Workspace D&B, Russell Davis, said: "We are delighted to have been able to attract someone of Jerome's calibre to join Workspace as we continue through a period of sustained growth.
"With more than 12 years' experience in the industry, Jerome brings a wealth of experience and commercial insight to the role. He is well-known across our sector and most importantly is extremely well-liked.
"We are working on some extremely exciting projects and 2019 is set to be our biggest year to date.
"Jerome will play a pivotal role in the continued future success of Workspace Design & Build and I look forward to working alongside him."
Following a record year, Workspace added 15 employees to its rapidly-expanding and talented team, bringing its head count to 35. They also moved into larger premises at York House to facilitate their strategic growth plans.
Jerome added: "I've known Workspace for a number of years and been impressed by the quality and delivery of their projects.
"I will be implementing appropriate commercial processes and controls to assist in the delivery of projects to manage our growth alongside managing the QS team day-to-day.
"I am thrilled to be joining Workspace D&B at such a pivotal time for the company. I have seen the Workspace team go from strength-to-strength in recent years and I look forward to playing my part in delivering their growth strategy."
Workspace is currently working with clients such as Schroders Real Estate, LJ Real Estate, Bruntwood, Investream and etc. urban. Their projects span both the residential and commercial sector across the UK.