North West winners of Business Masters Awards announced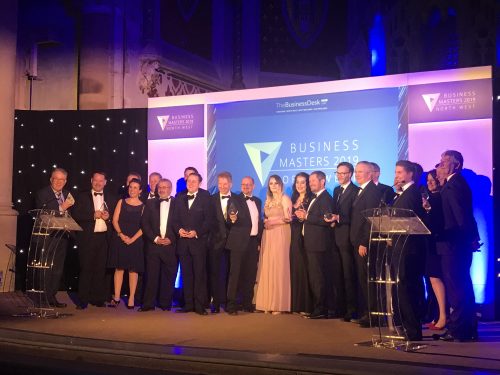 The winners of this year's North West Business Masters Awards have been announced at a black tie evening held in the majestic surroundings of Gorton Monastery.
And telecoms and secretarial firm Moneypenny walked away with two awards on a night that celebrated everything that is best about the business scene in the region.
Around 200 guests gathered for the awards which were presented by Nina Warhurst – one of the best-known journalists in the North West.
A total of 13 awards were handed out and Moneypenny picked up the awards in the Contributing to the Community and Large Business categories.
The first award of the night went to Hydropaws which was named as winner in the Newcomer Category.
And Sky Medical Technology was named as the winner of the Innovation Award.
Clarke Energy was the winner in the International Trade Category and North Edge Capital won the investment award.
Brabners was named winner in the professional services category and Urban Splash was named as the winner of the new Property Business category.
Future Safety won the Family Business award and Elucigene triumphed in the Small Business Category.
Pochin was named Medium Business of the Year and Clubhouse Golf won the Fast Growth Award.
The final award of the year went to Dame Nancy Rothwell, Vice Chancellor of Manchester University, who was named the Business Masters Ambassador of the Year.
Mike Ribbeck, the North West editor of the BusinessDesk.com said: "This is my second Business Masters awards and the last 12 months have been a fantastic year for us and the region.
"We have seen tremendous growth in the number of people visiting our site and reading our stories and that has accelerated since the start of the year.
"The fact that we have amazing stories to tell about the fantastic businesses in the region has helped to drive that incredible growth.
"This evening is all about celebrating that incredible success story and here's to another great 12 months ahead."
Sponsors of this year's awards including MC2, Think Legal. The Reward Finance Group and The Total Excellence Centre.