Third high-profile name added to BusinessDesk.com event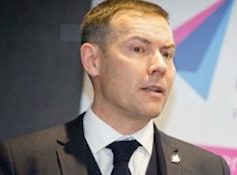 A third high-profile speaker has been added to an event being organised by TheBusinessDesk.com.
Brad Miller, chief of staff at Manchester Airport Group, is speaking at our Powering the Region's Economy event on Thursday, March 21st.
He will be joining Sir Richard Leese and Matthew Riley at the event at KPMG offices in central Manchester.
Brad Miller was appointed as MAG's Chief of Staff in April last year and is responsible for MAG's £650m property portfolio as well its HR, IT, procurement and other core support functions.
Brad also provides leadership to a number of transformation programmes that support MAG's ambitious growth targets.
Before this Brad was chief operating officer at London Stansted Airport.
He has also led Manchester Airport's £1bn Transformation Programme, established MAG's North American business, MAG-USA and before that he was managing director of East Midlands Airport.
Before joining MAG, Brad delivered a number of mixed-use property development schemes.
He is a chartered surveyor, has an MBA from Manchester Business School and has held a number of non-executive roles. Brad is a proud vegan and a qualified FA Level 2 youth football coach.
Sir Richard Leese has led Manchester City Council for more than 20 years and is also Greater Manchester's deputy mayor for business and the economy.
Mr Riley founded The Daisy Group in 2001 and he has driven the rapid growth of the company to create one of the UK's leading business technology and communications service provider.
The event will look at the opportunities and challenges facing the region. Sir Richard has long been a political heavyweight in Manchester and in the North West.
One of his greatest achievements was to oversee the regeneration of Manchester in the wake of the IRA bombing, which destroyed much of the city centre.
This event, which is free for delegates to attend, will mark the launch of the 2019 State of the Region project, a six-month in-depth project examining how individual business sectors drive the Northern economy.
Supported by KPMG and Squire Patton Boggs, the campaign is running for its second consecutive year and will explore topics including skills, manufacturing and family business throughout the six-month period.
This launch event will give attendees the opportunity to network with up to 100 delegates, as well as hear about some of the most exciting investments and innovations in the region.
To book a place at the event click here.