Canadian software provider opens UK base at Sci-Tech Daresbury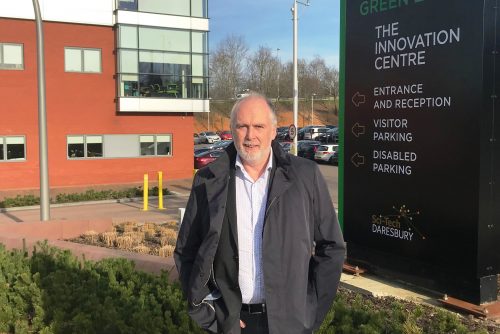 Kognitiv Spark has announced the opening of its UK office at the national science and innovation campus of Sci-Tech Daresbury.
The office marks the beginning of an expanded global footprint for Kognitiv Spark, and the partnership will enable further product advancements and business growth.
The firm, an award-winning software provider based in New Brunswick, Canada, offers secure industrial worker support solutions that leverage augmented and mixed reality.
It has been recognised internationally for its field worker support solution that delivers intelligent and interactive 3D worker support tools to accelerate repairs and maintenance by improving comprehension and decision cycles.
Sci-Tech Daresbury is conveniently located in the Liverpool City Region between Runcorn, Warrington, Manchester and Liverpool, and two hours from London.
Home to around 140 research organisations and high-tech businesses, the new office will provide Kognitiv Spark the opportunity to work alongside successful and influential international companies.
"The decision to expand our presence in the UK was a logical step in our growth strategy", said Duncan McSporran, co-founder, COO, and VP of aerospace and defence for Kognitiv Spark.
"Enormous opportunities exist in the UK market, and not just for industry looking to benefit from AR.
"We're thrilled to gain access to a broad talent pool and world-class networking opportunities only a global leader like Sci-Tech Daresbury can provide."
Sci-Tech Daresbury is a distinguished campus internationally recognised for science, innovation and enterprise.
The campus is celebrated for its numerous facilities and capabilities, which include the Hartree Centre of excellence for high performance computing, the STFC CERN Business Incubation Centre of high energy physics, and the Virtual Engineering Centre that offers expertise in project management and multi-disciplinary engineering solutions.
John Downes, group chief executive of Langtree and chair of the Sci-Tech Daresbury joint venture company, said: "Kognitiv Spark's arrival at Sci-Tech Daresbury is another major milestone for the campus and reinforces our position as a world-leading hub for innovation and collaboration.
"Sci-Tech Daresbury is already home to world-renowned businesses and the arrival of Kognitiv Spark – our first Canadian company – adds a leading-edge software provider to our tenant base, complementing the unique talent pool of techniques and skills already at the campus.
"We're looking forward to working closely with Kognitiv Spark as they expand their presence in the UK and providing the support and access to the range of collaborative and networking opportunities that we offer."
Sci-Tech Daresbury is a private/public joint venture partnership between developer Langtree, the Science and Technology Facilities Council (STFC) and Halton Borough Council.