Liverpool announces intention to bid to host Gay Games 2026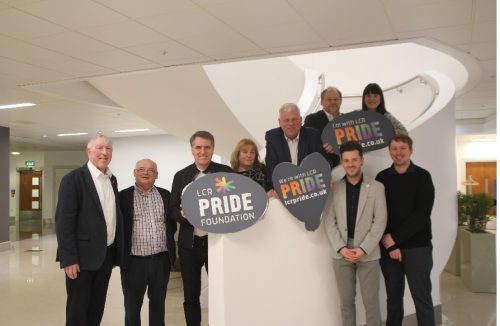 LCR Pride Foundation has revealed its intention to bid for the Liverpool City Region to host the 2026 Gay Games, a move that has been backed by the region's Metro Mayor, Steve Rotheram at MIPIM.
The news also comes alongside the announcement of British Paralympian, Claire Harvey as its newest patron.
The Gay Games is a worldwide sport and cultural event that takes place every four years, welcoming more than 10,000 athletes competing in more than 30 sports.
It attracts tens of thousands of spectators who also attend to take part in the event's extensive cultural programme, which includes music, visual arts and mass participation events such as fun runs.
LCR Pride Foundation co-chair, Andi Herring, said: "The Gay Games is a globally-recognised sporting and cultural event that empowers and celebrates the LGBT+ community, as well as supporting local regeneration in its host cities.
"The Liverpool City Region has a proven record for delivering large-scale, world-class sport and cultural events, as last year's wildly successful Liverpool 2018 programme demonstrated.
"We believe that this experience, combined with the foundation's commitment to collaborative working and making the city region the most LGBT+ friendly in the UK, makes Liverpool City Region the perfect host city for the 2026 games.
"Our bid as the Liverpool City Region will encourage relationship building with local authorities, community groups and sports organisations throughout the six boroughs, as we work together towards a unified goal."
Co-chair, John Bird, added: "Welcoming Claire Harvey as a patron as we embark on this journey will only strengthen our offer to the Federation of Gay Games. We are extremely grateful for her support and recognise how invaluable her expertise will be to creating a bid that we believe could bring the 2026 games to our region."
To date, only Brisbane in Australia has highlighted its intention to bid for the 2026 Gay Games.
Bids will be submitted in 2020 and the successful city will be announced by the event's sanctioning body, the Federation of Gay Games, at its Annual General Meeting in Hong Kong in 2021.
Speaking in support of the bid, Steve Rotheram, Metro Mayor of the Liverpool City Region, said: "Diversity, respect, equality, and solidarity for all are the foundation blocks on which the Games are built, and they are values we share.
"Our region is well accustomed to holding sporting events that attract a worldwide audience.
Delighted to back @LCRPride's bid to bring the Gay Games to the Liverpool City Region in 2026! pic.twitter.com/ogWbKDQF9o

— Steve Rotheram (@MetroMayorSteve) March 12, 2019
"The Merseyside Derby, Rugby Super League, The Open and the Grand National are regular features in our sporting calendar, but never before have we held anything on the scale of the Gay Games.
"I relish the opportunity to build on our strong track record of supporting LGBT+ rights, empowering communities and creating lasting social change. And that is why I am proud to support this bid."
New LCR Pride Foundation patron, Claire Harvey, said: "Becoming a patron of the LCR Pride Foundation as they make this exciting announcement is incredibly special for me, not least because I attended university here.
"I know first-hand the power and benefit that sport can have on a person's life and on a community. Sport is a vehicle that can bring people together and bridge differences to start a culture change.
"I am backing this bid to enable more people to see the breadth and depth of LGBT+ people who already love sport, as well as encouraging more people from the community to access its benefits. I also want to showcase the Liverpool City Region as a diverse and inclusive LGBT+ friendly area, with a strong and positive LGBT+ community.
"One of the great things about being part of London 2012 was the ability to break down fears and myths about disability and, as a participant, feeling like a member of a huge family. I am keen to ensure Liverpool has the opportunity to do the same for Gay Games."