Everton's new stadium to be built in next five years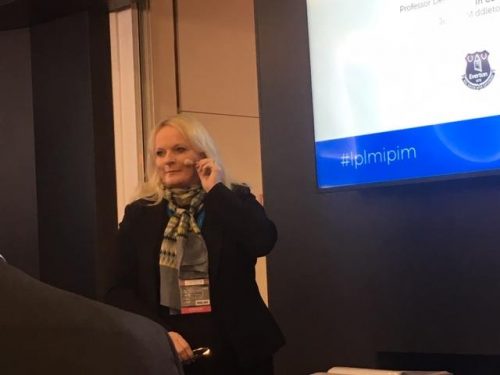 Everton could be in their new stadium within the next five years according to football club's chief executive.
Denise Barrett-Baxendale was speaking about the plans for the new stadium at Bramley Moore Dock at the MIPIM conference in the South of France.
The club's chief executive drew the largest crowd of the day at the Liverpool stand in the Cannes conference.
And she fielded a series of questions from the audience about the club's proposed move.
The stadium is expected to cost around £500m to build and will have enough space for 52,000 fans.
That number would rise to 60,000 if government legislation allows safe standing in football grounds.
And she also announced that the club is looking at a number of funding streams and is currently in talks with Liverpool City Council.
When pressed on funding she said the cost of the scheme would not have any effect on Everton's dealings in the transfer market.
She said: "We have carried out our first public consultation and 20,000 people took part, 95 per cent of them were in support of the move to Bramley Dock.
"This is the big opportunity for the club to make a difference in Goodison and at Bramley Dock.
"We are a part of the community and we want to give something back to that community."
She added: "The new stadium is not just a commercial opportunity it is also an opportunity to make a difference to the community.
"As a football club we understand we have a civic responsibility to Liverpool. History and heritage is really important to us as a club."
A second phase of public consultation will be carried out later this year and detailed plans will also be published by the end of the year.
Asked about funding Denise Barrett-Baxendale said: "We are working with the council and we are looking at a number of options.
"This is the most confident I have ever been about the project and we have the support of our majority investor."
She added that Everton could be in their new home by 2023 or 2024.
The chief executive said: "We want to regenerate an area and breathe new life into it.
"This is an opportunity to do something very special for generations to come.
"This is about our city and doing something for our children and our children's children."