City prepares for significant international twinning milestone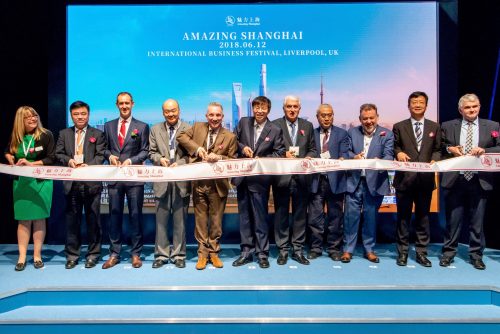 Liverpool is gearing up to host a major international programme of events as it prepares to celebrate the 20th anniversary of the city's official twinning with Shanghai.
This year marks the 20th anniversary of the Liverpool and Shanghai twinning, which has enabled commercial, cultural and academic ties between the cities to flourish and has led to a range of formal agreements with other Chinese cities and provinces.
To celebrate the milestone year, the city and city region partners have planned a series of special events, including a Liverpool business delegation travelling to Shanghai and Suzhou between April 15-20, Liverpool as honorary guest city for the seventh China (Shanghai) International Technology Fair, between April 18-21, a True Partnerships 20th Anniversary reception in Liverpool promoting school links between the two cities, on May 8, and on May 31, a Liverpool John Moores University student exchange programme in Shanghai.
The business delegation will include the city council, Invest Liverpool, and Liverpool China Partnership (LCP), which was formed in 2015 by Investment Liverpool and City Region partners with the aim to expand, strengthen and deliver greater benefit from the Liverpool City Region and Isle of Man's business links with China.
The 22-business strong delegation will gain exclusive access to senior decision makers in Shanghai from across government, business and academia.
Deputy Mayor of Liverpool, Gary Millar, will lead the delegation to Shanghai on behalf of Mayor Joe Anderson.
He said: "I know first-hand that there is a genuine special relationship between our two great cities going back not just 20 years but almost 200 years. 2019 promises to be a great opportunity to cement existing relationships and build for a golden future."
He added: "We see this sizeable outbound business delegation as a fantastic platform to further develop on these partnerships and to support those bold explorers to take their next steps in seeking out new investment opportunities.
"I am so pleased that through our previous efforts, Liverpool is particularly delighted to have been invited as the honorary guest city at this year's China International Technology Fair and we're looking forward to showcasing the region's unique talent pool of skills and strengths in this area."
Ellen Cutler, director of Invest Liverpool, said: "We see our relationship with China as one of the keys to unlocking Liverpool's future growth.
"We're thrilled to be celebrating our 20th year of twinning with Shanghai and this provides an opportunity to reflect and look back on the range of successful partnerships that our two cities have created during this time."
She added: "Liverpool is a vibrant, diverse and exciting city, and we believe offers unparalleled opportunities for international investment.
"We're very pleased to be exploring how we can continue to build on these important ties with Shanghai and the Liverpool China Partnership delegation will be a great way to identify valuable synergies for the future."
Highlights since Liverpool and Shanghai were twinned in 1999 include:
· Liverpool was the only UK city to have a pavilion at the Shanghai World Expo in 2010.
· In 2015, one of Liverpool's oldest companies, Henry Bath, received more than $60m Chinese equity investment and consequently set up a warehouse in the Shanghai Free Trade Zone.
· Liverpool-based Colloids established manufacturing and research facilities in Changshu near Shanghai in 2016.
· Shanghai-headquartered Zhenhua Heavy Industries (ZPMC) secured a £100m deal to provide five 92 metre-high cranes to Peel Port in 2014, followed by an additional £180m contract in 2015 to provide cranes to Liverpool2. ZPMC now has a permanent office in Liverpool.
· There have been multiple trade delegations between the two cities.
· The University of Liverpool partnered with Xi'an Jiaotong University in 2004 to create Xi'an Jiaotong-Liverpool University in Suzhou.
· In 2018, Liverpool John Moores University set up the first LJMU China Centre in Shanghai.
· Liverpool FC visited Shanghai in 2017 and Everton FC identified China as a major priority market for international expansion by signing a £60m finance deal with Industrial and Commercial Bank of China (ICBC) in 2017.
· The 2018 International Business Festival in Liverpool was attended by Shanghai deputy mayor Xu Kunlin and 70 delegates from China.
· Liverpool was selected as the host city of UN Habitat World Cities Day 2018, a legacy of Shanghai Expo 2010. Shanghai sent a delegation of more than 70 civic and business delegates to attend the World Cities Day in Liverpool and to host the China week in Liverpool 30 October-2 November 2018.