People on the Move: Dept; Forbes Solicitors; Barclays; Cirrus; Buffalo 7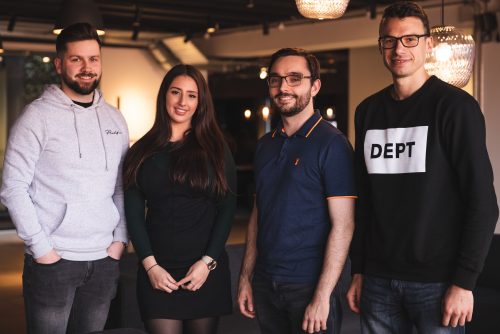 International digital agency Dept is growing its UK team across both of its studios located in London and in the North.
With the acquisition of Manchester digital agency e3creative, announced this January, Manchester has become Dept's main hub in the UK and is being considered its launchpad for continued growth.
Dept's UK headcount is up more than 100% when compared with April 2018, bringing the agency's total number of UK staff to 135, and counting, with 13 new employees welcomed over the past month, plus several more recruited and set to start in the coming weeks.
Managing director of Dept UK, Jasper van de Luijtgaarden, said: "Dept is growing at a rapid pace across the globe, entering new countries and expanding our existing teams.
"The UK plays a key part in these growth plans, especially in the North West. Manchester has an incredible talent pool that we're tapping into, and our office move to Bridgewater House this Summer underpins our ambitions of reinventing digital, providing a creative base to innovate and fuel new developments."
With Dept being an integrated digital agency these new staff members strengthen its entire team, including areas of development, through to UX, marketing, management, and design.
Adam Bee, for example, joins Dept with a decade of experience designing for digital platforms including senior creative roles at Manchester's premier boutique agencies – he was most recently the lead designer at Don't Be Shy and prior to that Bee was at Amaze and Kagool.
"e3creative and Dept were on my radar for quite some time," he said. "The work they're producing for global brands like Sony PlayStation and O2 is incomparable across the industry and definitely sets the benchmark locally.
"Their portfolio is certainly impressive, but it was their drive to continuously push creative boundaries and the overall agency culture that drew me in."
Also joining Dept UK this month is Sarah Wilkinson as an in-house recruiter, senior Java developer Lee Grub, and account manager Angelo Compagnone.
In addition, Robert Holt has joined as finance officer, James Wright as junior front-end developer, Javier Sanchez as marketing automation developer, Jessica Wibberley as eCommerce client service manager, Laurie Boocock as account manager, Ciaran Young as project manager and Dan Robinson as mobile developer, Mark Webster as senior project manager, and James
Edwards as senior UX designer/research.
Dept UK is continuing to recruit with active postings in development, UX, and SEO, project management among others.
Dept was founded in 2016 in the Netherlands and has grown into a network of 17 agencies across the globe, most recently acquiring Boston's Rocket Insights in March and Manchester-based e3creative in January 2019.
::
Forbes Solicitors has appointed associate Kirsty Varley, an expert on anti-social behaviour and gang injunctions, to its housing and regeneration team.
Kirsty, recognised as a next generation Lawyer in Legal 500 for social housing, is highly experienced in housing management and anti-social behaviour issues and has Higher Rights, regularly dealing with her own trials.
She previously dealt with the first four gang injunctions issued in Salford and was awarded a divisional commander's award from Greater Manchester Police for her work in dealing with crime and anti-social behaviour.
She has also given written evidence to Parliament on gang injunctions and ran the Chartered Institute of Housing training on vexatious complainants in 2017.
Kirsty has acted for registered providers in a wide range of cases, including tackling anti-social behaviour committed by a tenant with complex needs, leading to the behaviour becoming manageable for the first time in 10 years, complex behaviour linked to mental health, human rights, The Equality Act and the Public Sector Equality Duty.
She also deals with breach of injunctions, arrests and committal applications, possession claims and advice on tenancy management and breach of tenancy injunctions.
Kirsty, who is based in the Chorley office, said: "I am delighted to become part of what is a very successful team with a great reputation."
Stuart Penswick, Forbes' head of housing and regeneration, said: "Kirsty's track record is second-to-none and we are thrilled that she has chosen to join Forbes, so that our clients can benefit from her wide-ranging experience."
::
Barclays has announced it has strengthened its business banking team in Liverpool to provide additional support to customers at a time of general business uncertainty.
Since her appointment as area business manager in Merseyside, Julie Campbell has increased the relationship team from 13 to 15 managers.
Helen Tate has also been appointed as a specialist relationship manager responsible for high growth customers and entrepreneurs, supporting many customers based at the Liverpool Eagle Lab, the bank's co-working innovation space for entrepreneurs and businesses.
In addition to the 15 relationship managers, Barclays also has a team of 10 start-up managers in Merseyside.
The team recently hosted a Brexit clinic at the Liverpool Eagle Lab advising business customers on managing cash-flow and working capital, exporting goods abroad, supply chain management, labour, and protecting businesses against fraud.
Andy Gornall, head of SME at Barclays in Merseyside and The Shires, said: "At a time of general business uncertainty, Barclays will be a rock of stability for the local economy, providing vital support for the one million UK SMEs that we serve up and down the country."
Julie Campbell said: "SMEs are the lifeblood of the local economy and the good news is that we continue to see strong lending activity so we know things aren't slowing down as we approach Brexit.
"In this uncertain economic climate, many businesses don't know if they should be expanding, contracting or sitting tight and often need a sounding board to discuss their options.
"But one thing for certain is that SMEs are crucial to Liverpool's economy, and our network of relationship managers are here to help them navigate the challenges and opportunities the following months will bring."
::
Wilmslow-based leadership consultancy Cirrus has appointed Michael Clark as a lead consultant.
Bringing more than 25 years' experience in HR and leadership development, Michael's work spans a variety of sectors across globally-recognised companies.
Michael is known for his close collaboration with client organisations and co-creating innovative content for impactful leadership development programmes.
He has been brought in to consult with Cirrus' clients – leaders of blue-chip companies, to identify and align their personal mission and values with their organisation's purpose to create a more congruent and sustainable leadership style.
Michael said: "I was struck by the energy of the organisation. The team is absolutely dedicated to having a transformational impact on the individuals and businesses it works with to develop more a collaborative and customer-centric approach."
He was also impressed by the depth of digital capabilities at Cirrus: "There is real expertise here. I haven't seen anything like the Strata online platform or the wide-ranging virtual delivery model anywhere else."
Dr Simon Hayward, Cirrus chief executive, said: "Michael brings a wealth of international consulting experience to this role.
"Combining his passion for inspiring people to re-engage with the purpose of their organisations, encouraging creativity and pushing for deeper commitment – we are looking forward to seeing where his work takes Cirrus's clients."
::
Buffalo 7, the Manchester design agency, has expanded its team to meet the demands and expectations of its increasing client base.
Following exciting new contracts with the Asian Football Confederation, Astra Zeneca, Boeing Distribution, UBS and Virgin Atlantic, Buffalo 7 realised the importance of bringing new talent to the agency to lead the team towards their best work yet.
The firm said, with the appointment of client experience director, Lisa Clennell, and senior client services manager, Holly Brace, existing and future partnerships are set to be stronger than ever.
Lisa said: "Buffalo 7 has an amazing client base that's grown very quickly over the last few years. I'm really looking forward to getting to know their key customers and helping the team work out where the real value lies in building these relationships."
Once the clients are through the studio door, the agency said it needs to blow them away with their creative talents, delivering presentations beyond all expectations, however high.
Newly-hired senior designer, Emma Fisher, has been brought in to lead the extensive design team to continually push their creativity and overcome client challenges.
With the trend for eLearning solutions continuing to grow, the firm it was only natural it wanted to stay ahead of the curve. By bringing in eLearning developer Roshan Patel, Buffalo 7 acquired fresh knowledge and technical skill that will support the eLearning team as their roles within the company develop under increased demand.
Managing director, Richard Barnes, said: "Following our incredible success in 2018 we aren't resting on our laurels. We have big-name brands to impress, and we need the highest level of expertise to do so.
"Buffalo 7's success is entirely down to its people, so we couldn't be more excited to welcome our new team members and all the skills they bring with them."