Lancashire site set for £35m Pure Leisure Group development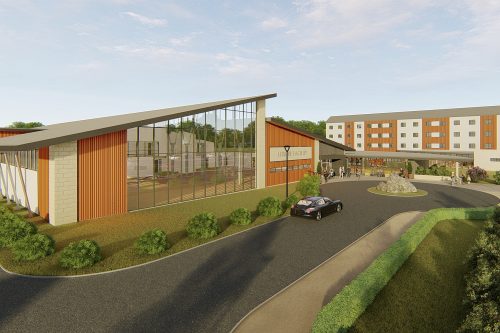 X

Register for free to receive latest news stories direct to your inbox
Register
Lancashire planning consultancy De Pol Associates has submitted plans on behalf of Pure Leisure Group, one of the UK's leading holiday park operators, for development of a site at Larbreck in Fylde.
The £35m investment, which would become Pure Leisure Group's 15th park nationally, features 495 luxury holiday lodges, a 102-bed hotel, a leisure complex including a pool, spa, restaurant, bar, shop, gym and indoor golf facilities, an executive nine-hole golf course, bio-diversity habitats and 2km walking trail.
The planning application submitted to Fylde Borough Council this week details the development of the vacant 67-hectare site between the A585 Garstang Road and the River Wyre.
Currently uncultivated land, the site spans both sides of Windy Harbour Road, which would provide the development's access point.
Once complete, the new Larbreck Golf and Leisure Village would create at least 85 permanent jobs, plus other seasonal roles.
The facilities would be open for the use of the local community, as well as holidaymakers, including the golf course and practice areas which have been designed by internationally-renowned golf course architects Westenborg and offers multiple tee points for every hole, giving it the appeal of a full-size course.
Preston's MCK provided architectural and design support.
Larbreck Golf and Leisure Village would become a flagship park within the Pure Leisure portfolio.
The North Lancashire-based operator, which has another 14 sites nationally and a world-class golf resort in Barbados, is owned by well-known leisure entrepreneur John Morphet and is set to continue its expansion with new sites being planned across the UK.
The firm has also recently submitted planning for a 215-holiday lodge park at Carnforth.
John Morphet said: "We are delighted to announce our plans for the latest Pure Leisure development, Larbreck Golf and Leisure Village, bringing our luxury holiday experience to this beautiful part of the Fylde.
"We have worked hard to design a development of the highest quality, with a range of facilities for our customers and for the local community to enjoy.
"We have a strong ethos of striving to bring improvements to the locations of our parks, of protecting the natural environment and becoming a truly beneficial part of the community.
"Each of our parks supports local employment and contributes towards attracting people into the area – the economic benefits of which are clear. We are also committed to protecting the beautiful natural environments in which our parks are located, and have included a biodiversity area within the proposals along the River Wyre."
Tim Farron, MP for Westmorland in Lonsdale where Pure Leisure Group is based, has provided a letter of support for the application, outlining the benefits the parks have had in his constituency in attracting visitors, providing jobs and boosting the economy.
In it he states: "I am happy to endorse both John and Pure Leisure as a potential asset to Fylde communities. I believe that he will bring real benefits to the Fylde in the same way as he has brought benefits to South Lakeland."
As part of the group's commitment to community benefit, a partnership is to be established with Myerscough College and University Centre.
Students from the golf and golf course management courses will be invited to make use of classrooms and facilities on site, honing their craft on the Fylde Coast's newest and most modern course.
Alison Robinson, chief executive and principal of Myerscough College and University Centre, said: "The opportunity for our students to be involved with the creation of a brand-new golf course right from its conception, and to make use of the state-of-the-art equipment on offer alongside our own excellent facilities, is incredibly valuable.
"We would certainly welcome the chance for our students to learn the theory and practical side of their craft through work placements with Pure Leisure Group."
The site is known locally as Windy Harbour and has been subject to numerous planning applications.
In May 1990, outline planning was first granted for the development of an 18-hole golf course and club house, a 120-bed hotel, and 40 timeshare units. Extensions and amendments culminated in 2003 with full planning approval for the hotel, 40 holiday lodges and golf course.
Some initial setting out for the golf course was undertaken by the previous owner, with the importation of construction and demolition waste to help shape the landscape features. As such, work had started and so the previous planning permission remains.
Lancashire planning consultancy De Pol Associates has submitted the new, more ambitious plans on behalf of Pure Leisure Group.
Managing director Alexis De Pol said: "This is a site with a long history of hope and expectation, but so far there has been no delivery. This application will change all that and promises a really exciting future for the site.
"Pure Leisure is a long-established and successful brand, whose developments bring with them jobs and opportunities.
"Tourism is a £4.5bn a year economy for Lancashire in terms of visitor spend, and the impact of an investment of this scale cannot be underestimated. Not only would it revitalise this stalled eyesore of a site, it would provide a significant boost to the local economy."
The application has been submitted and will be determined by Fylde Planning Authority.