People on the Move: Jones Melling; Creative Capital; The Lancashire Colleges; LCR; Create Construction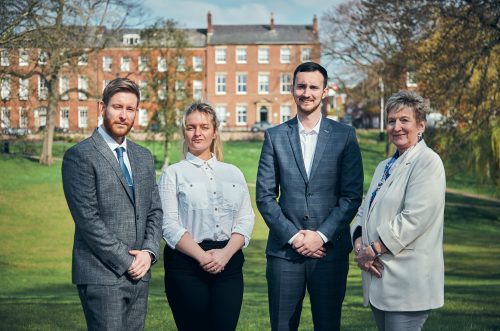 North West property and construction advisory firm Jones Melling has made four new appointments.
The firm has appointed building surveyors Rachael McMonagle, Simon Gummer and Daniel Lawson. Meanwhile, Lone Bech Nielsen has joined as an architectural technologist.
The appointments come on the back of record growth for the firm in 2018/19 and take staff numbers at Jones Melling to 20. They also coincide with the firm's 10th anniversary next month.
Director Gary Melling said: "These appointments are a result of continued growth within our business and allow us to build significant additional capacity within the team.
"Our surveying services, for a wide range of building projects and property transactions, continue to be in demand. This is also leading to more enquiries for the associated architectural technology support we can offer our clients.
"Rachael, Simon, Daniel and Lone bring a significant amount of experience to the firm and will offer our clients quality property advice."
Rachael joins from Liverpool-based Ridge and Partners where she was a building surveyor. She has expertise in building condition surveys and reinstatement cost assessments. She will be based at Jones Melling's Chester office.
Daniel joins from Trident Building Consultancy where he was assistant building surveyor. His expertise includes dilapidations, pre-acquisition advice, planned preventative maintenance, condition surveys and life-cycle maintenance.
Simon Gummer was formerly at Salford-based Urban Vision where he managed a range of projects and building surveys. He will undertake building surveys and contract administration for both residential and commercial projects.
Lone brings more than 30 years of architectural design experience to the firm. Her most recent position was with major construction and engineering business TClarke. Daniel, Simon and Lone will be based at Jones Melling's Preston office.
::
Creative Capital, a Runcorn-based provider of short-term finance to SMEs, has made a high profile hire with the appointment of Vince Tovey as a director.
Tovey joins the team with more than 30 years' experience across organisations including HSBC International Trade Services, Aldermore Bank and Ultimate Finance Group.
He further strengthens Creative Capital's credit control function and trade finance team, which advances working capital so SMEs can acquire the stock needed to fulfil sizable new contracts.
Tovey's appointment follows the recent £3.5m deal with Conister Bank, which enables Creative Capital to meet increasing demand for its services from importers, wholesalers, manufacturers and construction SMEs.
Launched in 2010, Creative Capital has provided in excess of £100m of funding to more than 250 businesses looking to capitalise on new growth opportunities, such as contract wins, large orders, international deals or seasonal peaks in demand.
The national business employs a team of 10 and has staff based in the North West and the South East.
Sam Forshaw, sales and marketing director, said: "Vince is a highly-experienced, well-respected figure in this space and it's fantastic to have someone of his calibre join our established team.
"Flexible short-term financial support is a lifeline to SMEs that may have been turned down by traditional lenders. We can look at a deal on its own merits and make a rapid lending decision based on the strength of a business and the quality of the specific opportunity.
"Our focus is on plugging this funding gap and ensuring smaller companies can access a broad range of financial tools to facilitate growth. Vince will play a key role in the continued development of our business thanks to his expert knowledge and contacts."
Vince Tovey said: "I'm thrilled to be part of this innovative, nimble organisation.
"We're all aware of the impact uncertainty is having on small and micro-SMEs, particularly those that rely on imports and exports from the EU, which means many need that extra bit of support.
"It's a pleasure to be working with a team that's so focused on helping provide certainty around funding and unlocking growth for ambitious organisations."
::
The Lancashire Colleges (TLC) has announced that Michelle Howard has been named its new executive director. She will take up the post on May 7.
TLC has been working on behalf of the further education (FE) and sixth form colleges of Lancashire for more than 20 years, securing funds for education and training and supporting collaborative work and projects.
With around 25 years of progressive experience within education and the private sector, Michelle is an accomplished specialist in leadership, marketing and business development.
One of only a handful of non-teaching staff to be awarded the National Professional Qualification for Headship, she has experience of primary, secondary, FE and higher education.
Michelle has an award-winning record of building long-term relationships and has gained substantial funding to improve educational outcomes.
She has led and contributed to substantial partnerships, including a partnership between education, health, local government, and third sector organisations to deliver an educational project that won a Guardian Newspaper Innovation in Partnership Healthcare Award.
Michelle takes over from Robin Newton-Syms who is retiring after 22 years in the FE sector.
Under his leadership over the past three years TLC has secured almost £23m of European and other funding, supporting Lancashire's communities and businesses.
Michelle said: "I am delighted to accept the role of executive director of TLC. Colleges are pivotal in raising the aspirations, life chances and the economic and personal wellbeing of individuals across our communities. They are an important driver in our economic success nationally.
"The Lancashire Colleges has brought significant benefit through its partnership approach and I am honoured to join a strong, passionate and hardworking team committed to the growth of the FE sector and our local communities in Lancashire."
Wes Johnson, principal of Lancaster & Morecambe College and chair of TLC, said: "I am delighted to welcome Michelle as our new executive director. She brings with her a wealth of experience and I look forward to the next chapter for TLC under her leadership."
::
Nick Markham, former strategy director at ITV and chief financial officer of Laura Ashley, has been appointed to chair the board of developer and placemaking expert LCR.
Markham was active in the urban regeneration and housing space as the lead non-executive director of the Ministry of Housing, Communities and Local Government (MHCLG) until 2019 and the founder of the housing charity Safe Haven London.
His appointment supports LCR's mission to deliver urban regeneration, homes, jobs and investment from transport-linked land and property assets.
As strategy director of ITV, Nick was responsible for the merger of Carlton and Granada to form ITV plc. He also developed the Freeview concept with the BBC, which led to him launching and becoming CEO of Top Up TV, the first successful pay Digital Terrestrial Television (DTT) company in the world.
LCR, which has offices in London and Manchester, is a skilled developer and the UK Government's placemaking expert, with a 20-year track record that includes the multi-billion-pound, mixed-use redevelopment of King's Cross, one of the UK's most successful regeneration stories. It is wholly-owned by the Department for Transport (DfT).
Its current schemes include Waterloo.London – a £200m retail redevelopment at Waterloo station – and International Quarter London (IQL), a £2.4bn joint venture development with Lendlease in Stratford, as well as the regeneration of the 24-acre Mayfield site in Manchester, with U&I, Manchester City Council and Transport for Greater Manchester.
Transport Minister, Baroness Sugg, said: "Nick's appointment as chair of LCR is fantastic news, and will help continue its reputation for delivering significant regeneration around urban rail spaces."
Nick Markham said: "From King's Cross to Stratford City, LCR's track record of world-class regeneration projects speaks for itself, and it is increasingly recognised as the go-to source of placemaking expertise for transport-linked development."
Nick succeeds interim chair Tim Garnham who remains a non-executive director of LCR. Nick will now lead the recruitment of LCR's new CEO, following the departure of David Joy who retired in April after eight years in the role.
::
Due to the considerable growth and success of Create Construction, the Blackpool-based company has announced that it has created another senior post, appointing Nathan Astley as pre-construction and aftercare director.
Nathan has a wealth of industry experience in all aspects of quantity surveying, commercial management and business planning, working across multiple sectors.
His knowledge and expertise will be instrumental in the development of Create Construction, as it goes from strength to strength.
Create Construction, an integral part of the Create Group, is a specialist contractor with extensive design ans build experience in providing high volume accommodation, focusing primarily on student accommodation and hotel projects nationwide.
Over the past year Create has won a number of high-profile projects and significantly increased its number of employees.
Nathan said: "I'm delighted to be joining the board of Create Construction at a very exciting time for the company.
"My main focus will be to build on the excellent work that the pre-construction and aftercare team has achieved so far."
Nathan's role will also involve ensuring Create's chosen development schemes fit with the strategic direction of the company and he will be focusing on perfect delivery and handover, ultimately ensuring that Create's clients, operators and users have a positive and lasting impression.
Adrian Tottey, Create's managing director, said: "We are delighted to welcome Nathan on board and look forward to continuing our strategic and sustainable growth.
"This is a key role to the business which will help us to provide robust operational and commercial plans during the pre-construction phase.
"This comprehensive approach will help us achieve project success in the delivery stage and a professional aftercare service and help us continue to be our clients' construction partner of choice."