Work starts on £2.3m health centre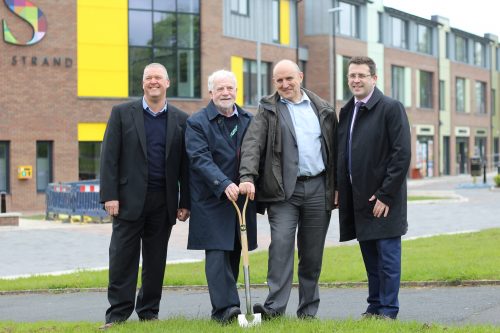 Work has started on  a new £2.3m health centre in Rochdale.
Eric Wright Health and Care are working with One Partnership, Rochdale Borough Council (RBC), Heywood, Middleton and Rochdale Clinical Commissioning Group (HMR CCG) on the Kirkholt Medical Practice.
Dignitaries were joined on site by the Leader of Rochdale Council Allen Brett, Chief Executive of RBC and the Accountable Officer of HMR CCG, Steve Rumbelow, together with the Chair of HMR CCG, Dr Chris Duffy for a ground-breaking ceremony.
The Health Centre has been developed by One Partnership in conjunction with Eric Wright Health and Care.
It was designed by Triangle Architects and will be built by Nu Construction.
The 550 sq metre, two-storey building will house a range of GP led primary care services provided by the Kirkholt Medical Practice.
Built to replace the current practice which is delivered from a temporary structure on the site of a former roundabout, the building is located close to the Rochdale Boroughwide Housing – Kirkholt Strand regeneration project, with the new health centre being the latest addition to the regeneration of Kirkholt.
Wayne Ashton, head of strategic planning at Eric Wright Health and Care, said: "This ceremony is the culmination of many years' work to allow the GP and primary care services at Kirkholt to be delivered in fit for purpose, state of the art accommodation.
"Rochdale Borough Council's decision to release the land for the new health centre and to take the head lease on behalf of Heywood, Middleton and Rochdale Clinical Commissioning Group has helped to facilitate this development.
"With the project now underway we are working to a completion date of Spring 2020."
Dr Chris Duffy, Chair of HMR CCG said: "We have worked long and hard with the existing practice at Kirkholt and other partners to get us to this important stage, finally launching the building works for the new practice.
"We are pleased that the practice will be able to deliver health services in a modern building in the heart of the Kirkholt community. "
Dr Andrew Elliott, Lead GP at Kirkholt Health Centre said "We are extremely pleased and excited now that the construction phase is under way.
"The new centre will bring benefits to the local community, improving access to quality healthcare as well as offering modern facilities for integrated teams and community services in one location."