People on the Move: Express Solicitors; Miller Homes; Bridging Finance Solutions; Sensor City; Four Reruitment; Petty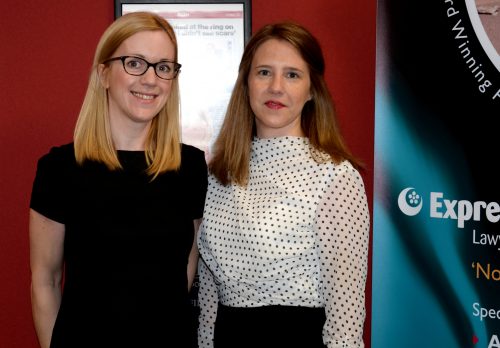 As part of its strategy to deal with changes brought in by the whiplash reforms next year, Manchester-based personal injury law firm Express Solicitors has promoted partner Kimberley Kirkby to head of the RTA department and Rachel Price to associate partner in the same team.
Kimberley joined the firm as part of its first new client team in 2007 and has worked her way up through the ranks to the position of partner in the employers' liability department and then head of RTA, where she will lead a team of 53 fee earners and support staff.
Joining the firm two years ago, Rachel worked as an associate solicitor in the occupiers' and public liability department before gaining a promotion to associate partner, which includes a move to the RTA department.
Express Solicitors has undergone a complete reorganisation of its RTA department in preparation for changes in legislation in April 2020, which will see a tariff system for whiplash claims introduced, settlements without medical evidence banned, and the small claims threshold raised to £5,000.
Kimberley said: "I'm delighted to have achieved my goal of becoming a partner and head of department at the firm, which was something I was told was possible at the very beginning when I started out in the new client team.
"Heading up the RTA department following the whiplash reforms will be challenging, but we have prepared for them as much as possible and will adapt when they come to ensure claimants continue to get the justice they deserve when they've been injured in an accident that wasn't their fault."
Express Solicitors' managing partner, James Maxey, said: "It is a policy of the firm to promote from within, where possible, in order to reward those lawyers who've shown commitment, tenacity and expertise.
"These current promotions have been part of our strategy to protect the department against the dramatic reforms that will be brought in next year. In Kimberley and Rachel we have two experienced lawyers with the skills to guide the team through these challenging times."
Express Solicitors continues to grow at pace and now has 290 employees. It is ranked in The Lawyer Top 200, its lawyers and the firm are recognised in The Legal 500 and the firm is noted in Chambers and Partners.
::
Miller Homes has appointed Christopher Watts as its new marketing manager for the North West region.
The appointment is part of Miller Homes' ongoing commitment to provide industry-leading strategies to support sales and equip potential new home buyers with relevant and accurate information in line with the company's dedication to excellence in customer service.
Chris joins the business with a strong background in marketing, having graduated in marketing management from MMU Business School and working across a diverse range of industries, including the housebuilding sector.
Joining after three years at Barratt Developments, Chris will be responsible for supporting Miller Homes' sales teams by generating consistent and high-value traffic both online and offline to the company's website and new home developments.
He said: "I'm thrilled to be working with Miller Homes. They have a fantastic reputation within the housebuilding industry, highlighted by the fact that they have been awarded a five-star rating by the Home Builders Federation.
"This is a company where hard work is valued and there are a huge amount of opportunities – I'm very much looking forward to progressing my career with Miller."
Miller Homes currently has nine active developments in the North West and has recently announced the launch of a new inner-city development – Novus – in Stretford, Manchester.
The planned homes, which will include one- and two-bedroom apartments and two-, three- and four-bedroom homes, will support the wider regeneration masterplan for Stretford.
::
The team at Wallasey-based Bridging Finance Solutions continues to grow and evolve, this month announcing three new high profile appointments.
Business development managers Steve Smith and Becky Darlington, representing the East and West regions, respectively, have joined the firm alongside underwriter, Nicola Vaughan.
All appointments form part of the long term BFS expansion and growth strategy, which continues to see the lender increase turnover by 30% year-on-year.
Nicola will form part of the underwriting team led by Rachel Davies and will work predominately in the residential arm of the business. She brings more than 20 years' experience to her role having worked in senior positions in the finance and bridging industries.
Nicola will work closely with the business development team, supporting them as they secure and progress deals, managing the underwriting process through to completion.
Becky Darlington is the youngest new recruit and, at 24, already brings a solid financial background to her new role as well as enthusiasm and drive.
A former loans manager, Becky is looking forward to the diverse and fast-paced nature of bridging, utilising her loan management and underwriting experience to enhance the customer journey.
Becky will be covering the West of the country from Cumbria down to South Wales. Former broker, Steve Smith, will operate across the East and is based in Yorkshire.
Managing director, Steve Barber, said: "It's great to welcome three brilliant new members to our growing team. BFS is very much a people-driven business and getting the right individuals on board is vital.
"Once again, we have set ourselves an ambitious target in terms of growth and I am fully confident that with the additional support of our new recruits, we'll meet our aspirations."
::
Global innovation centre, Sensor City, is developing its technical expertise with a host of new hires to its engineering team.
Daniel Watson has been appointed to head of engineering, while James Nixon joins Liverpool-based Sensor City as prototype engineer.
Former CTO of GasX and lab engineer at Barclays Eagle Labs, Daniel has extensive multidisciplinary knowledge in mechanical engineering, digital manufacturing, design and CAD.
As head of engineering at Sensor City, Daniel will lead the technical team in harnessing more than £1m of state-of-the-art in-house laboratory equipment to give SMEs, start-ups and larger companies the tools to go from novel concept to working prototype with speed and accuracy.
Daniel said: "It's an exciting time for sensor technology. We're seeing more sensors in more things – think street furniture and housing infrastructure – and as resilience builds, we'll start to see even greater integration.
"As this happens, the Sensor City technical offering will continue to grow and provide unrivalled skills and expertise to SMEs and large organisations looking to explore what sensor and IoT technology could mean to their business."
James Nixon has been appointed as prototype engineer, having spent the past two years working at the Liverpool John Moores University (LJMU) Design School as a digital fabrication technician.
This role will see James deploy his expertise to bring the ideas of the tenants and the wider tech community to life, quickly and effectively.
"I am a maker at heart and so having the opportunity to build in a real state-of-the-art workshop is fantastic," James said.
"What I'm looking forward to most is working with a wide range of companies and sectors to help businesses to move from idea to prototype as quickly as possible."
Joanne Phoenix, interim executive director at Sensor City, said: "We are thrilled to see Daniel make the move to head of engineering and welcome James to the team.
"They both bring with them an eclectic mix of experience which, when working in tangent, will really help businesses think outside of the box when it comes to the unique projects they are undertaking.
"Not only that, these new appointments will further cement Sensor City's position as a centre of engineering excellence within Liverpool City Region, the UK and beyond."
In addition to Dan and James, Sensor City also deploys eight student interns to work in their laboratories and directly with member companies, three of which are from Liverpool John Moores University, four from the University of Liverpool and one from the NHS Leadership Academy.
::
North West specialist recruitment company, Four Recruitment, has announced the appointment of two senior managers at its Bolton headquarters.
The news comes just weeks after the announcement that the company had secured £250,000 of funding to increase its headcount by 100% over the next 12 months
Abbie Smith has been appointed as divisional manager for the Lancashire region, and Jessica Blackburn has been selected in the same role for the Manchester region.
Both have worked in consultant roles at Four for the past three and five years, respectively.
Four was founded in Bolton in 2008 and employs 20 staff.
Operations director and founder, Phil Sofield, said: "This year we are planning the biggest growth in our history. Both Abbie and Jessica are highly-experienced recruiters and their appointment is key to ensuring we can deliver our plans."
Claire Sofield, co-founder and sales director, said: "We are delighted to welcome Abbie and Jess into the senior management team.
"Their experience and knowledge of the market place and our clients will ensure that they can develop and enhance our teams' skills whilst Phil and I are able to concentrate on growing and developing the business."
::
Local estate agents Petty have appointed two new property managers in their lettings division, in Rachel Wilson and Sam Smith.
Simon Westwell, lettings director, said: "As the area's only relocation network agents we, more than most, understand the importance of getting the right staff with good local knowledge and experience.
"Demand in our area within the residential lettings sector means we always have to stay ahead of the game and ensure we have the right staff to service that demand."
Rachel, who was previously at The Dwelling Place in Padiham, said: "I love working in property and I like how varied it is. No two days are the same and whilst this can sometimes be a challenge I thrive on it. I really enjoy speaking to landlords and tenants and being able to assist them."
Sam, who is originally from the area, has recently relocated back here after studying and working in Leeds and London.
He said: "Home is where the heart is and I wanted to move back to the area and progress my career.
"Petty's are so well known and well established in Burnley and Pendle it was a great opportunity for me.
"In my previous roles I was dealing mainly with corporate clients, which was a bit impersonal at times. I'm more hands-on here at Petty's and I much prefer dealing one-to-one with tenants and landlords."
Simon added: "We're extremely lucky and pleased to have Rachel and Sam with us. They both have a vast amount of knowledge and experience, and their enthusiasm to get things done is a definite plus.
"I'm sure they will both be a great asset to the company."