People on the Move: Dow Schofield Watts; Newgate Communications; CBRE; Wates Construction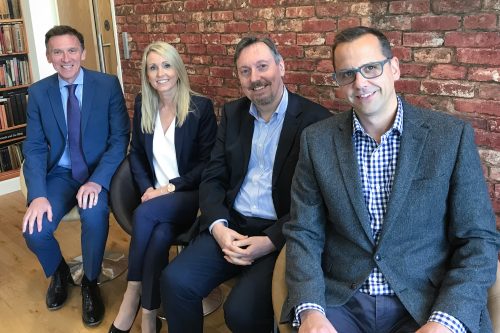 Independent advisory firm Dow Schofield Watts has made two strategic appointments to strengthen its management team as it prepares to roll out its brand in key cities across the UK.
Richard Evans joins as the group's operations director, having previously been COO of the London investment bank Strand Hanson, while Nicole Burstow joins from Deloitte to become the group's finance director.
Their arrival comes as Dow Schofield Watts plans to continue its rapid growth by adding new service lines and locations and appointing more than 20 new partners in the next 18 months.
Richard Evans has more than 30 years' experience in banking and finance.
Having worked at BDO, he led the corporate finance team at Brewin Dolphin in Manchester for more than a decade before joining the Financial Conduct Authority in London and later, Strand Hanson.
Richard will also act as finance director of Daresbury-based Dow Schofield Watts' private equity arm PHD Equity Partners.
Nicole Burstow previously spent 15 years with Deloitte in Manchester.
As a director she was responsible for leading the audits of some of the region's largest and most complex international businesses, more recently focusing on listed businesses.
She also played a significant role in growing the North West practice by recruiting and developing top talent and expanding the local client base.
Established in 2002, Dow Schofield Watts now has more than 70 professionals across the North West, Leeds and London and ranks as a top 75 accountancy firm, offering 'everything but audit'.
The firm operates a licensing system and offers professionals from 'big four' backgrounds an opportunity to run their own business unit under its banner.
Founding partner James Dow said: "The launch of the London office last year has already established Dow Schofield Watts as one of the UK's leading independent advisory firms and one of the most active M&A advisors.
"Our business model is proving increasingly attractive to entrepreneurial professionals seeking the chance to build their own business and realise their potential. Any break-up of the 'big four' as a result of the forthcoming audit review will no doubt open up further opportunities.
"Richard and Nicole are both high-calibre individuals with a strong track record in managing growth. With their arrival we now have the right infrastructure in place to support our further expansion as we roll out our model to other key locations in the UK and prepare to take advantage of the opportunities ahead."
::
Integrated communications agency Newgate Communications has appointed Ian Morris as a partner in its Manchester office as it seeks to further strengthen its regional network.
He has been hired from Citigate Dewe Rogerson, for which he established the Manchester office in 2013, after six years in its London headquarters.
Newgate's Manchester team, based in the Northern Quarter, advises clients including Galliford Try Partnerships, National Grid and Peel.
Headquartered in London, the agency's services include research, corporate and financial communications, public affairs, leadership communications, investor access and community engagement. Outside the UK, it boasts an international network including Abu Dhabi, Greater China, Singapore and Australia.
Reporting into Newgate chief executive Emma Kane and working alongside partner Zoe Ensor, Morris will be responsible for helping to drive Newgate's growth across its range of communications services.
In recent years he has advised leading global businesses in a wide range of sectors including transport & infrastructure, leisure & hospitality, professional and financial services and technology.
Emma Kane said: "Our Manchester office is a cornerstone of our UK network and this appointment adds more senior level expertise to our offering.
"We're focused on growing our capability across our full suite of strategic communications services throughout our network, and we're delighted to have Ian on board to help us deliver for clients locally, nationally and internationally."
Ian Morris said: "I've been really impressed with Newgate's depth and breadth of expertise helping organisations communicate effectively with stakeholders from businesses to consumers, local communities, investors, governmental bodies or media. The agency has a clear strategy and huge growth potential and I'm really looking forward to helping the team achieve that."
::
CBRE in Manchester has appointed Edward Warren as director within its project management consultancy team.
This latest hire further strengthens the expanding North West team which continues to grow under lead director Jason McEwen.
Project management consultancy is part of CBRE's building consultancy offer, led by Oliver Thomas, and the addition of Edward means building consultancy expands to 32 consultants.
Edward joins CBRE from Gardiner and Theobold and brings a wealth of project management expertise from both private and public sector clients, with particular experience on delivering commercial and specialist spaces in the higher education, commercial and heritage sectors.
CBRE's project management consultancy, headed up by Jason McEwen, has a proven track record in delivering major projects.
Edward's appointment follows the recent hire of Paul Roberts who joined from The Co-operative, where he headed up the £500m NOMA development.
The new PM team will support Jason to shape and deliver the service offer, with further recruitment to come at the back end of 2019.
Jason McEwen said: "Ed is a great addition to our team. He is well-known in the local market for excellent delivery, a collaborative approach and breadth of expertise.
"He is a key hire for the team's growth ambitions and will help in influencing our future service offering to the market. Since joining, Ed has hit the ground running and is already making a difference to the team."
Edward Warren said: "I am delighted to join a dynamic team with a clear vision for growth and superior service delivery for its clients.
"The strength of the wider service offering across the North West offices is market-leading and I look forward to working on the exciting projects that we have in the pipeline."
Over the past 12 months the project management consultancy has gone from strength to strength working with the Manchester office on ID Manchester, Stockport's Merseyway, Paddington Village and the Royal College of Physicians in Liverpool, as well as a wide range of public and private sector schemes.
The team has provided consultancy services across £2.5bn of investment to date.
::
Wates Construction has appointed David Saville as business unit director for the North West in a strategic move to grow its pipeline of major projects across the region.
David joins Wates from John Sisk and Son where he has been regional director for major projects since 2016, leading private sector development projects in the high rise residential and commercial sectors.
David's appointment follows the promotion of Paul Dodsworth to managing director of Wates Construction North with a broadened remit of overseeing Wates' operations in the North East, Yorkshire, North West and Cumbria.
The move to strengthen the North West senior leadership team comes as Wates eyes substantial growth across the region.
Current projects include Star Academies' £30m Eden Manchester and the new Liverpool Cruise Terminal Hotel, to which Wates was appointed through Major Works-UK, part of the Scape National Construction framework.
David, who has more than 20 years' industry experience, began his career with John Laing Construction after completing a degree in Construction Management at Nottingham Trent University in 1996.
He went on to spend 14 years with Laing O'Rourke, holding health and safety and project leadership positions and was responsible for a number of high profile PFI, healthcare and education projects.
David will now lead the delivery of Wates' project portfolio in the region as well as growing the contractor's private sector project base in the commercial and high rise residential markets.
Paul Dodsworth said: "Our reputation in the region has been built on our exceptional standards in project delivery, the breadth and diversity of our in-house capability and our financial stability in the industry.
"There is a great deal of investment being made in new developments across the North West, projects to which our extensive expertise are very well suited. David's experience will be invaluable in leading the growth of our business as we look to continue building on our success."
David added: "Wates has a well-balanced portfolio of projects across the public and private sectors and I'm joining the business at a very exciting time as we seek to broaden our reach across our core markets.
"Wates has a well established reputation as a leading contractor in the region and I very much look forward to leading the business and growing our project base across the North West."