The importance of keeping wise council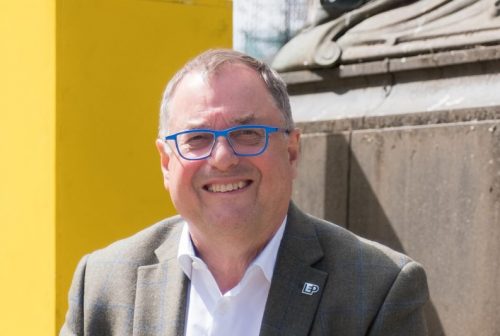 Almost 12 months since its creation, Roger Marsh believes the NP11 board that he chairs is making good progress in its mission to unlock the potential of the North.
Mr Marsh, who also chairs the Leeds City Region Enterprise Partnership, says the NP11 has done its first job, getting people from across the North around the table to look at ways they can collaborate.
The chairs of each of the 11 Local Enterprise Partnerships (LEPs) in the Northern Powerhouse area sit on the government-funded board.
Announcing its creation last summer, the government described it as a modern day 'Council of the North'.
And it was tasked to work with and advise the government on issues such as how to increase productivity, overcome regional disparities in economic growth and tackle the historic north-south divide.
The original Council of the North was an administrative body set up in 1472 by King Edward IV to improve government control and economic prosperity across the North of England.
Mr Marsh says this modern day council has started work on a trade and investment strategy for the North. And he adds a key part of its work is mapping out what a successful North of England looks like.
The NP11 is also looking at supply chains and how the North can get a greater share of the opportunities created by manufacturing in the region and strategic thinking around clean energy.
He says these are areas in which all parts of the North have a "shared economic interest" and where there can be "meaningful collaboration".
Mr Marsh added: "There will be a lot more coming out of the NP11 as we develop. What we don't want to be is something that makes a lot of noise but the substance is hard to find. We'd rather develop the substance then make a noise about it."
Looking at his vision of a successful North, he talks of a region that is a contributor to the national wealth.
He says: "It is a North that is increasingly less dependent on better economic performance elsewhere in the UK and is addressing the social imbalances for itself."
Cheshire and Warrington LEP chief executive Philip Cox also believes the NP11 is heading in the right direction, though he adds it is early days. Christine Gaskell, who chairs the LEP, is vice-chair of the regional board.
Cox points to the organisation of a NP11 delegation to Dalian in China last year. He adds: "Dalian is a regional city and it has a population greater than the whole of the North of England's. We need to work in scale."
He also talks of Cheshire and Warrington and Tees Valley coming together to push the need for a national carbon capture and storage strategy as part of both areas' hydrogen fuel ambitions.
And he says: "The whole principle is to come together where it makes sense to come together."