Four city centre properties in Manchester sold for £39m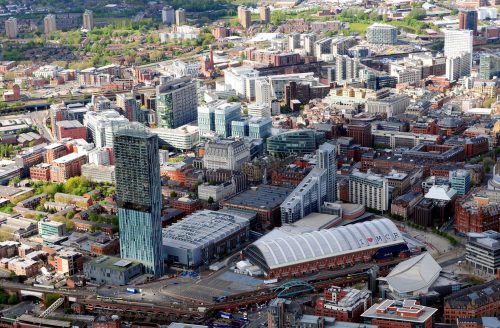 X

Register for free to receive latest news stories direct to your inbox
Register
The residential team at Knight Frank's has sold off four assets in Manchester for £39m.
The properties have been sold on behalf of Manchester Apartments – the property and lettings division of Beech Holdings – to Cedar Tree Investments.
All Cedar Tree Investments are overseen by AIMS Investments, one of the largest private and public equity investors in Saudi Arabia.
The portfolio includes four freehold rental properties across the city with 163 units in total.
The properties included in the sale are Basil House (105-107 Portland Street), Salisbury House (123 Princess Street), 51 King Street and 341 Great Western Street.
Shariah funding for the acquisition was sourced from the UK arm of Abu Dhabi Islamic Bank (ADIB UK), indicating the bank's desire to expand its footprint in the UK market.
Basil House is a Grade II Listed building in the heart of Manchester – located on one of the city's premier residential addresses.
The property was built in 1870 and has a red brick facade, sandstone dressings and an iron frame with many exposed heritage features internally.
The property is currently let on Assured Shorthold Tenancies (ASTs) and includes a ground floor commercial unit.
King Street is a heritage block currently let on Assured Shorthold Tenancies (ASTs).
The property was built in the early 1900s and also has a red brick elevations with sand-stone pilasters at ground floor level and ornate window details.
There is basement, ground and first floor retail comprising 3,300 sq.ft. let to Patagonia the outdoor clothing specialist.
Salisbury house is a purpose-built block of 98 units, made up of a a mixture of studio & one-bedroom apartments.
The property on Great Western Street is a collection of studio and 2-3 bedroom apartments based in the popular student area of Rusholme.
Hannah Badger, residential development associate at Knight Frank, said: "As the PRS market has matured, we have seen the capital flowing into UK PRS diversifying and becoming truly global, with this deal being no exception.
"It's a good indication of the strength of the residential market in Manchester and also of the city as a global brand".
A statement from Beech Holdings said: "These apartments have been well received by the rental market and have been massively over-subscribed.
"We have proven that Manchester's appetite for high end, luxury apartments is strong and Manchester Apartments has been instrumental in changing the landscape of our city centre and being at the forefront of bringing super premium products to the city.
"Manchester Apartments is delighted to be retaining the letting and property management of the buildings and looks forward to building a strong long term partnership with the new landlord."
Abdulaziz Albassam, chief executive of AIMS Investments, said: "The acquisition of this portfolio of high-quality assets, located in prime locations within a major regional market, is an important step towards realising the investment strategy for Cedar Tree Investments in the UK.
"We remain committed to establishing a sizeable portfolio in the UK over the coming 2-3 years."
According to Knight Frank data, annual rental growth in the Manchester residential rental market (including PRS and private buy-to-let) is 1.6%.
The firm's latest research also shows that total investment and capital committed into the UK investment-grade private rented sector (PRS) is expected to reach £75bn by 2025, rising from £35bn in 2019.