Property firm launches online communication tool for tenants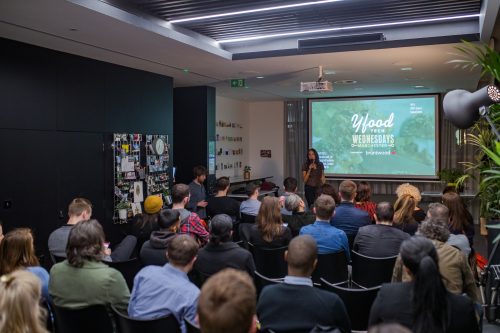 Property firm Bruntwood is expanding its community programme by launching an exclusive online platform which allows customers to connect across buildings, cities and regions.
Known as The Bruntwood Collective, the online gateway is being rolled out across the firm's portfolio and will be accessible to all of its 50,000 customers.
Bruntwood has over £1bn in assets and more than 100 properties across Manchester, Leeds, Liverpool and Birmingham.
Over 5,000 members have already joined the online community since it launched three months ago.
The new platform, which is powered by Hivebrite, is available online and via an app.
The platform has evolved out of the company's existing community engagement programme, which is curated by a team of dedicated community engagement managers based in Bruntwood buildings and provides customers with access to regular social, well-being and business support events.
App users also have access to cultural, charitable and sustainability-focused events across the cities.
The Bruntwood Collective expands upon this programme by offering customers an easy way to meet people, seek out opportunities and explore events and amenities, not only within their own building but across neighbouring buildings.
The online community will have access to an evolving host of functions.
he platform will enable businesses to source collaborative partners for projects, promote their own events, offer mentoring and take advantage of business support across the entire Bruntwood network, and advertise roles.
On a practical level, The Bruntwood Collective will also offer users an online tool for booking meeting rooms and will enable them to explore and take advantage of amenities across city region building cluster,
Toby Sproll, director of retail, amenity and community at Bruntwood, said: "Bruntwood is known for creating collaborative spaces where people and businesses can thrive, and The Collective is a really exciting extension of this – it's a dynamic virtual space designed to enhance the experience of our physical environments.
"What we're saying to customers is there's a world of opportunity outside their workspaces to be explored and we can help them to take advantage of that with the online gateway, by offering access to a ready-made, hugely diverse and innovative network of businesses and individuals.
"We also want to make life easier for them with the practical tools we've built in, and to enrich their day-to-day working life by providing information on social events, offers and access to classes and amenities in close proximity.
"The gateway is intended to be user-led and will evolve in line with customer needs. Our hope is that, as an online community, it will grow organically as customers reach out and link to others. We also plan to use it as a way to collect customer feedback – through an ongoing dialogue that will help to inform our business decisions."
Toby added: "We've always been heavily immersed in our city regions' cultures, leveraging our involvement to build strong connections with key community figures and businesses.
"Our new platform means that we're now able to share this with our customers and allow them to take advantage of such relationships, which will hopefully mean that they too can grow their networks."