Bus giant sells off second chunk of its Manchester business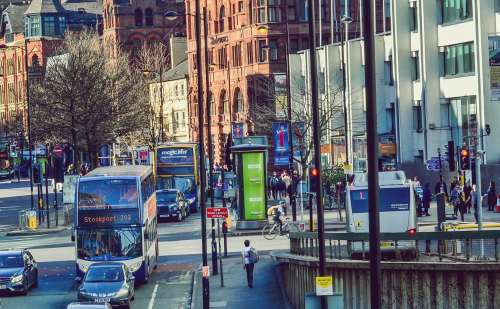 Bus giant First has announced it has announced it has sold off a second chunk of its Greater Manchester business.
The Scottish giant appears to be on the verge of leaving the city it has dominated since deregulation.
The company has announced it is to sell its Bolton bus depot and operations to Rotala. The value of the deal has not been made public.
In February it announced the sale of its Manchester operation for £11.2m.
First has been under pressure because of poor service and high levels of dissatisfaction amongst customers.
The company is now left with operations in Oldham where it has 500 staff.
The news comes in the same week Greater Manchester mayor Andy Burnham announced his intention to take bus services in the city back into public control.
The sale includes the Bolton depot site, with 18 bus services transferring across to Rotala.
The deal is expected to complete in the next few months and more than 500 employees will transfer to Rotala.
First Manchester will continue to operate existing local bus services from the Bolton site until the sale is completed and customers should see no changes to their daily journeys throughout the transition.
First Manchester will now focus its attention on the remaining bus services that operate from its Oldham depot.
Vantage services will also continue to be operated by First Manchester.
The firm said following a review of its Manchester operations completed year the company took the decision to reduce its exposure in Greater Manchester due to the current uncertainties in the particular market.
Giles Fearnley, managing director of First Bus, said: "I'd like to thank our employees for their continued hard work to deliver the best experience possible for our customers in Greater Manchester.
"Today's announcement does not reflect on the effort, commitment or individual performance of our Bolton employees and we will be supporting them fully as they transfer to their new employer."