People on the Move: DTE Corporate Finance; Jones Homes Lancs; Northern Industrial; Borough Care; Hurley Partners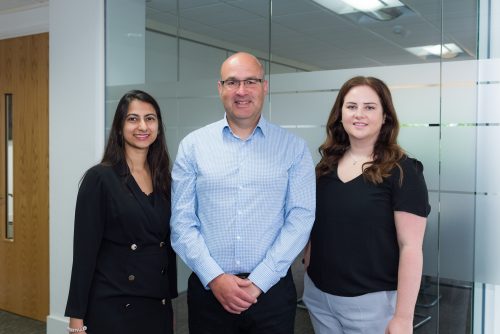 Following a period of growth in the business, DTE Corporate Finance has announced two new appointments, Victoria Edwards and Fatema Daud, to enhance its offering.
Victoria Edwards consolidates DTE's commitment to senior-led support for clients. She is an ambitious and proactive corporate financier with experience in both the UK and Australia.
Victoria joined DTE in June this year as an assistant director, responsible for enhancing the firm's brand profile as well as expanding its offerings to more of DTE's core clientele in Manchester and the North West.
With more than 13 years of experience, including working for two other leading corporate finance firms in the North West, Victoria offers a well-rounded perspective to various types of clients, including public and private firms, management teams and individual shareholders addressing their varied business needs.
These include mergers and acquisitions, financial modelling, business evaluation and private equity.
Qualified as an ACA in 2009, her early background in audit allows Victoria to have a clear insight into the day-to-day operations of North West SMEs, as well as their aspirations to grow, and the challenges they face in their business journey.
Fatema Daud brings more international experience to DTE, in diverse and dynamic Manchester.
With her experience spanning across various industries, including manufacturing, consumer and industrial products, oil and gas-related services, and particularly financial services such as insurance (both life and general), Fatema joined DTE at the beginning of May 2019, assisting with its strategy to provide unrivalled services for SMEs in the North West, based on practical and extensive market insights.
Having developed her career in two Big Four firms, Fatema possesses industry knowledge and international exposure in a wide range of areas including International Financial Reporting Standards (IFRS), UAE Federal Law, and International Auditing Standards (IAS) for reporting on stand alone or consolidated financial statements.
With their respective experience, DTE says Victoria and Fatema are a perfect complement to its team.
Partner and head of DTE in Manchester, Matt Beckley, said: "It is exciting for us as we continue to grow and look very much to the future to improve our breadth of experience and knowledge into the North West community. We are really delighted that Victoria and Fatema have joined us."
::
A familiar face has returned to take on the role of commercial director at Jones Homes' Lancashire division.
Steve Speight has embarked on his second spell with the privately-owned housebuilder, where he previously worked between 1996 and 2011.
The 52-year-old brings with him more than three decades of experience in the housebuilding industry.
Steve spent 15 years at Jones in his previous stint with the company, during which he worked his way up from quantity surveyor to commercial director.
Based at the housebuilder's regional office in Lytham St Annes, he will be responsible for its financial operations across Lancashire.
Steve said: "I am delighted to be back at Jones Homes, the company for whom I enjoyed working for the core part of my career.
"I have gained experience working for a wide range of developers, from volume housebuilders to smaller companies with a focus on high specification, and I am looking forward to using this to help drive the business forward.
"Our aim as a region is to increase the number of homes that we build each year and I will be focusing on ensuring we have the strong financial position which will enable us to deliver this."
::
Blackburn-based industrial automation spare parts and repair supplier Northern Industrial has appointed Mark Platt in the new role of commercial director.
Northern Industrial is a multi-award-winning provider of new, reconditioned and obsolete parts and repair services, exporting to 146 countries.
Sourcing from more than 1,350 manufacturers, the company covers over 200,000 part numbers and holds approximately £7m in stock.
Mark has 30 years' experience in financial, commercial and management roles in manufacturing and service sectors and was previously head of service at Chubb Systems, with the last four years heavily focused on service delivery and portfolio growth.
The role of commercial director at Northern Industrial will see him helping structure the business for continued growth.
He will also be seeking to identify and develop additional revenue streams and value added propositions for clients, while also spearheading expansion into overseas markets – particularly the USA and South America.
The appointment follows several years of continuous expansion for the family company, which currently employs 40 office staff and more than 30 electronic engineers, and recently celebrated several consecutive new record years for turnover and profits.
Mr Platt said: "These are exciting times to be working in a global economy. Northern Industrial helps companies across the world keep up and running by providing the spares and repairs they need, when they need them most.
"Obsolescence is a continuous issue on a worldwide scale, but with the right know-how and dedication, we're passionate about keeping businesses moving.
"Building upon our previous successes we are planning further expansion of both our revenue streams and the territories in which we operate globally."
::
Borough Care, a not-for-profit provider of care for older people in Stockport, has appointed Rekha Patel-Harrison and Michael Hinett to its board of directors.
In their new positions as a non-executive directors, Rekha and Michael will provide strategic support to Borough Care's executive team.
They will be responsible for overseeing performance, governance, growth and new developments, while also having an overview of the company's finances.
Rekha Patel-Harrison said: "I am passionate about supporting not-for-profit organisations, which provide direct care and support to communities. Borough Care, being based in the North West, was also attractive to me, as I want to ensure my energy is put into supporting organisations in my region.
"Having been on a variety of governance boards I bring a plethora of experience gained working in a variety of sectors."
Michael Hinett said: "I love the way Borough Care presents itself and carries out its care services. Due to my career experience, I feel I will be able to add value.
"I have worked in social care since 2003 and strongly believe in helping people to live the best life they can."
Dr Mark Ward, Borough Care chief executive, said: "Rekha and Michael will be a great asset in helping us achieve our ambition of leading a step change in the approach to care for older people.
"They both bring a wealth of practical experience that we can utilise, to continue driving Borough Care forward and carry on improving the lives of our residents."
Rekha Patel-Harrison, from Tameside, is chief executive of Petrus, a homeless and community interest company based in Greater Manchester. Michael Hinett lives in Accrington and works for Fairhome Care, as group quality and compliance director.
::
Hurley Partners, experts in pensions, legacy planning and investment management, has appointed Martin Collins as chartered financial planner in its Manchester office.
In this newly-created role Martin will be responsible for dealing with the complex financial planning issues that face many clients and their families. His arrival further strengthens the firm's integrated offering in the North West.
Martin joins following several years at Pannells Financial Planning where he was responsible for managing the financial affairs for families and individuals based in the North West and Leeds.
Before this Martin had spent a number of years at accountants Grant Thornton and Baker Tilley, providing holistic financial planning advice.
Hurley head of Manchester, James MacLaren, said: "I am delighted to welcome Martin to our Manchester office. We are building a team of highly-experienced professionals that has the simple objective of identifying and delivering the most suitable outcomes for clients. Martin's considerable expertise will be a tremendous asset to us and our clients."
Martin Collins added: "I am looking forward to working with James and the team in Manchester and also more widely with my colleagues in other offices."
Martin's appointment follows that of pension director Martin Tilley to the national pensions team earlier in 2019.