Developer acquires stalled Paramount student accommodation scheme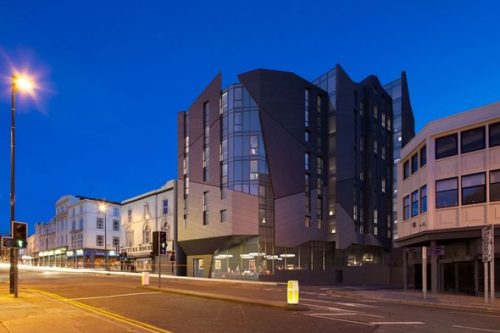 Liverpool developer Elliot Group has today (July 8) confirmed its acquisition of the stalled Paramount student hall development next to Liverpool's Lime Street Station, for an undisclosed sum.
The 488-bed scheme also includes 150 underground car parking spaces and ground floor commercial units.
The development commenced in 2014 and a number of homes were completed and occupied, but much of the scheme remains empty, with its façade incomplete.
It became the focal point for concerns about the sale of properties to overseas investors.
"This is the final stalled project in Liverpool to be bought and we're delighted that we can close an unhelpful chapter," said Elliot Group director, Elliot Lawless.
"I'll be writing to the existing investors in the project to keep them abreast of our plans once we have a clearer picture of what is required.
"The building is in good hands now and I want to reassure them that we'll be working with them proactively, going forward," added Mr Lawless.
Elliot Group also bought the stalled Pall Mall scheme on the north of the city's business district in November and is demolishing the part-built concrete frame before redeveloping the site.
Three other stalled schemes have also been bought out of administration by other developers.
One hundred and twenty investors, many from overseas, are believed to have bought units in Paramount, and Elliot Group says it will protect and enhance their investments by completing the project and instituting a proper management regime for the building.
Paramount was originally owned by developer Pinnacle and was supposed to open in 2015.