Builder strengthens commitment to employee mental health care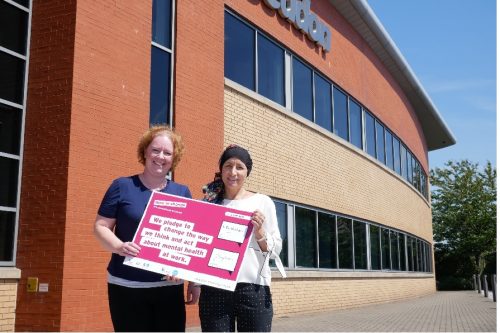 Bolton construction firm Seddon has signed the Time to Change Employer Pledge, a nationwide campaign by charities Mind and Rethink Mental Illness to end the stigma and discrimination faced by people who experience mental health problems in the workplace.
By signing the pledge Seddon reaffirms its company-wide commitment to supporting the physical and mental wellbeing of all its staff and addressing wider mental health issues in the construction industry.
Seddon has been an advocate for encouraging conversation around mental health since one of its team members, Jordan Bibby, took his own life in 2017.
The business joins a growing movement of more than 900 employers in England across all sectors from FTSE 100 companies and leading retailers to government departments and local authorities.
Seddon has 11 mental health ambassadors who have delivered more than 60 talks to in excess of 550 people, from employees to supply chain partners. These have included half-day mental health awareness sessions to 10 companies that Seddon works with in the Midlands.
The company's in-house instructor has also trained 16 new Mental Health First Aiders, who are taught to recognise the signs that colleagues may be struggling with their mental health and need help.
According to 2018 research from Mind, one in four people will experience a mental health problem in their lifetime.
For those in construction, figures are higher – in a 2017 survey of construction workers by Randstad, 34% said they had experienced a mental health condition in the past 12 months.
This May marked one year since Seddon, in partnership with registered charity Mates in Mind, launched its mental health initiative, Jordan's Conversation, in response to Jordan Bibby's tragic death.
Jordan's Conversation encourages open, honest conversations on mental health and includes a "toolbox talk" for staff, a session that is designed to raise awareness of mental health across the company.
Nicola Hodkinson, director of business services at Seddon, said: "We are incredibly proud to sign the Time to Change Employer Pledge as a way to strengthen our commitment to changing the way we all think about and address mental health.
"People are the heart of our company – investing as much time, care and development into them as we can means that we give everyone at Seddon the best chance to succeed in work and life.
"This is a vital part of our company culture and we will continue to keep our promise to safeguard the wellbeing of all our staff and partners, now and in the future."