Plans revealed for new venue on roof of multi-storey car park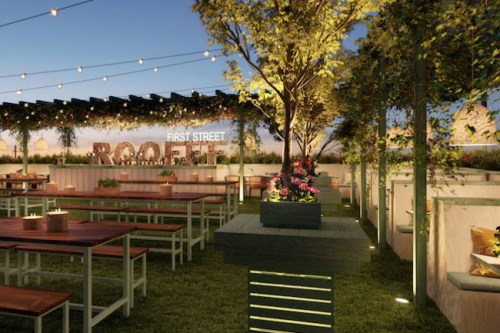 A firm is planning to turn the roof of a Manchester multi-storey car park into a sky garden complete with restaurants and bars.
Plans have been drawn up for the project which will transform the roof to the ten storey car park in First Street into a new venue.
Buzz Ventures, which specialises in turning unused spaces into new venues is behind the scheme.
Other ventures include Macu and Chatsworth Garden in the Northern Quarter.
The car park is close to the Home arts and cinema complex and is at the centre of one of Manchester's fastest growing districts.
The new venue will be called Roofff and will include seating for 400 people and extra 250 seats in an open air section with views across the city centre skyline.
There will also be kitchens looking out over the seating area along with three bars and eight restaurants.
There will also be heating and air conditioning so the new venue can be used all year round.
Live music and entertainment is also being planned for the new venue.