People on the Move: McMenon Engineering Services; Redrow; Simpson Millar; PM+M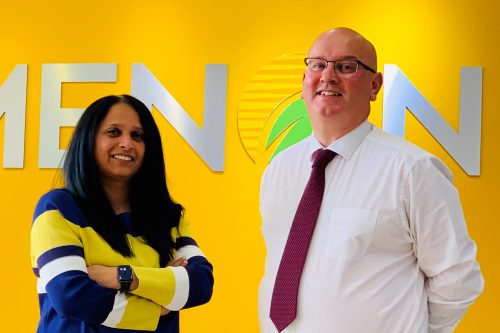 McMenon Engineering Services has made a key operational appointment as the Cumbrian-based business looks to target further growth.
McMenon has appointed Gary Martin as divisional head, services and capabilities at its Workington manufacturing site, which has a team of 60 and an engineering heritage stretching back 70 years.
Gary, who was previously head of operations at a North-West of England training business, has nearly 35 years' experience in the engineering sector, with the past 20 of those in training.
McMenon, a globally-recognised manufacturer and supplier of flow and temperature measurement instrumentation, has ambitious plans to add to the number of products and services it provides and grow its international sales.
Shiby Bernard, chief operations officer at McMenon, said: "The addition of Gary strengthens the management team at McMenon as we look to broaden our market offering, increase awareness of our products to global markets and support our clients with additional services. Gary's appointment forms a key part of the development strategy at McMenon."
A mechanical engineer before moving into training and management, Gary will have a broad role at McMenon that includes overseeing the development of a service centre for existing products, developing a compliance and training arm of the business and promoting the McMenon manufacturing expertise to new markets. He has a strong understanding of the nuclear sector.
Gary, who has a BA (Hons) degree in business management, said: "A dynamic business, McMenon has a clear vision for the future. These goals are what attracted me to the company.
"I will be looking to use my experience to help McMenon grow into other product areas and market sectors. In addition, McMenon is looking to develop a services division to support client operations, such as calibrating products, and a training and compliance business. It's a huge challenge to deliver across these three areas, but it's an exciting one."
McMenon specialises in differential pressure flow meters, orifice plates, averaging pitot tubes, wedge meters, nozzles, Venturi meters (topside and subsea) and variable area flow meters. It also has a contract manufacturing division.
The company's markets include the oil and gas, nuclear, automotive, aerospace, industrial, and pharmaceutical sectors. The business exports its products to more than 50 countries.
::
Housebuilder Redrow's Sarah Weaver has taken on a new role as marketing manager within the growing North West operation based at Daresbury, Cheshire.
Sarah, 30, from Nantwich, was previously marketing coordinator but has been promoted to the newly-created role – a first for Redrow at divisional level – which sees her taking on even more responsibility for advertising, PR, database marketing, point of sale promotion and event management.
She will be supported by two marketing assistants as the North West division continues to expand its presence, with developments across Cheshire, Flintshire and parts of Merseyside and Greater Manchester.
Sarah first joined Redrow in 2012, having previously worked in the hotel and leisure industry as a trainee manager and a wedding coordinator.
Her initial role with Redrow of trainee sales manager included time on-site selling £1m new homes at one of Redrow's most prestigious developments, Stretton Green, near Carden Park, Chester, before taking on the office-based marketing coordinator role.
"Even when selling on-site, I always enjoyed the marketing aspects of my role and seeing the 'bigger picture' of what goes on behind the scenes to make sure that a development is presented in the best possible light and brought to the attention of potential customers in every possible way," Sarah said.
"Now I'm doing that on a much wider scale for all of our North West developments and supporting the senior management team, too. I love it."
Sarah's role also sees her play a key part in getting new developments up and running, from site signage and flagpoles to ensuring the marketing suites and fully-furnished show homes are ready on time.
Soon to launch developments currently under the spotlight include Allerton Gardens, in South Liverpool, Kingsmoat Garden Village, at Wrexham Road, Chester, The Pastures in Backford Cross, and Tabley Green, Knutsford.
Ongoing developments include Congleton, Hartford, Ledsham, Nantwich, Penymynydd, Sandbach and Woodford.
Paul Moore, managing director of Redrow Homes (NW), said: "Building in excess of 600 new homes per year, we are one of Redrow's largest and busiest divisions and Sarah's new role is a reflection of just how much is involved in marketing our developments and her hard work to deliver.
"She has also played a key role in organising company events like our annual charity ball and the celebration last year in Chester for the completion of Redrow's 100,000th new home.
"Redrow has an excellent reputation for training and personal development, as well as a commitment to promoting from within, and Sarah's elevation to this brand new role is well deserved."
::
Law firm Simpson Millar has further bolstered its expansive national Court of Protection (CoP) health and welfare department with the appointment of Melanie Varey as a senior associate in its Manchester office.
Joining the 20-strong team earlier this month and bringing more than a decade of experience in community care, judicial review and court of protection health and welfare cases, she joins from Stephenson's Solicitors where she was department manager.
Also on the board of the national division of the Court of Protection Practitioners Association (CoPPA) and having worked in both the crime and housing departments, Mel's appointment adds to Simpson Millar's Court of Protection presence across the North of England – with lawyers now situated in the firm's Lancaster, Manchester and Leeds offices.
The appointment comes amidst rapid expansion plans across the firm's three core divisions – private practice area, personal injury including medical negligence, and public law – and forms part of its £50m growth strategy which includes significant investment in its people, technology and marketing.
Simpson Millar's CoP health and welfare department is dedicated to helping people who lack capacity to make specific decisions for themselves.
The team is headed up by partner Zena Soormally Bolwig, and forms part of its wider public law division which has a presence in the firm's 11 offices and is overseen by senior management team member and partner Imogen Jolley.
Zena said: "This is an exciting time for the CoP health and welfare team, as well as the wider public law team at Simpson Millar, as we continue to expand our presence across the North of England.
"Mel's background and experience within her field is very impressive, and her passion, positivity and compassion make her a perfect fit for our team.
"We are delighted to be welcoming her on board in order to further bolster the quality of service on offer to our clients – many of whom are vulnerable, and in need of a very personalised and open approach to the legal matters in hand."
Mel added: "I'm delighted to have been appointed as senior associate for Simpson Millar's Manchester office, and I am excited to be joining such a well-established and esteemed CoP team with such a strong presence across the North of England which further complements its presence in the South.
"Having dedicated my career to working with clients who rely on the law to ensure that decisions are made in their best interests, I am truly passionate about the work that I do."
::
PM+M, the chartered accountancy, business advisory and wealth management group, has made five promotions across the business.
Ceri Dixon has been promoted to manager in the audit, accounting and advisory team. Ceri joined PM+M in 2015 and works with a range of clients including charities, property and distribution companies, managing their audit assignments and corporate advisory projects.
In the cloud accounting team Rosie Cooper has been promoted to manager. Rosie was appointed as an assistant manager in May last year and since arriving she has advised SMEs operating in various sectors on a whole range of accounting and taxation issues.
She supports clients with converting their data onto cloud software and helping them prepare and comply with Making Tax Digital.
Mark Richmond has been promoted to assistant manager in the corporate tax team. Mark joined PM+M in 2013 and has recently completed his chartered accountancy and chartered tax adviser dual qualification.
He specialises in corporate tax, and also manages the tax affairs of a number of the firm's entrepreneurial clients.
PM+M has also announced that Luke Irving and Adrian Hargreaves have been made seniors in the accounts and advisory team.
Ceri Dixon said: "This promotion is a real step forward in my career and my focus will continue to be on adding value to my team, the wider business and our clients."
Jane Parry, managing partner of PM+M, added: "Every one of these promotions is incredibly well deserved as all five have shown tremendous commitment and energy to our clients and are central to the firm's future."