New designs drawn up for major scheme in Manchester city centre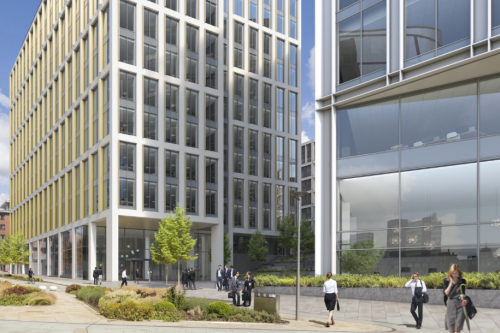 New designs have been drawn up for a major scheme in Manchester city centre.
The plans are for two office blocks which will eventually house 3,500 workers.
The scheme has been increased in size due to soaring demand and the strength of Manchester's booming economy. An extra storey has been added to one of the buildings.
A public consultation is being held on the  20-acre mixed-use neighbourhood in central Manchester which has been dubbed Noma.
The aim is to gather feedback from local residents on updated designs for two and three Angel Square.
The two new-build office schemes originally secured planning permission from Manchester City Council in 2015.
Since then, office occupier demands has led to a change of plans.
As a result the team behind the scheme has developed revised proposals and will be submitting a new planning application in early Autumn 2019.
The new buildings will provide over 39,000 sq m of premium office space – enough to house approximately 3,250 full-time workers – and 1,300 sq m of ground floor leisure and retail, and almost 500 cycle spaces.
Local residents can find out more on the NOMA Engage website (www.noma-engage.com).
Four Angel Square, which will sit by 2 & 3 Angel Square, recently secured planning permission.
The scheme will be developed speculatively, with start on-site expected Spring next year.
Paul Pavia, head of development at property firm MEPC said:"We're updating our designs for 2 & 3 Angel Square to help better meet the needs of modern corporate occupiers, including a reduction in car parking and increase in cycling facilities alongside other great amenities such as roof terraces.
"We will also be improving the surrounding public realm at Angel Square, by including more walkways and open spaces for people to enjoy.
"An additional storey will be added to 2 Angel Square as well, giving the building greater prominence.
"There is huge pent-up demand for high quality office space in Manchester thanks to the city's growing economy and together 2 & 3 Angel Square, along with 4 Angel Square which recently secured planning permission, will add much needed supply."