Revenues fall as retailer makes the shift to online trading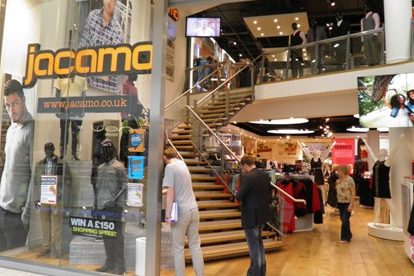 Revenues at fashion firm N Brown fell by more than five per cent to £432.9m in the last six months.
The Manchester business is undergoing a shift to online trading and 84% of revenues are now digital.
Adjusted profit before tax was up 3.9% to £31.8m.
The company said product revenue excluding stores and USA was down 6.2%.
There was continued digital revenue growth in womenswear and menswear.
Ambrose Wilson up 10.5%, Jacamo up 6.6%, JD Williams up 4.0%, Simply Be up 4.0%
There was a 9.5% decline in operating expenses driven by a more targeted and data-led approach to marketing, removal of physical stores and USA costs and embedding efficiencies across the group.
Adjusted EBITDA increased four per cent to £54.1m.
Steve Johnson, chief executive, said: "We announced our new strategy in May to return N Brown to sustainable profit growth and we have made good progress over the first half of the year.
"In particular, we have delivered on our strategy of growing digital revenue across Simply Be, JD Williams, Jacamo and Ambrose Wilson.
"This has been achieved by taking a more targeted approach to marketing and customer recruitment.
"The retail environment remains heavily promotional, but we are concentrating on continuing to improve our customer proposition and ensuring we operate as efficiently as possible, which has led to an increase of 4% in adjusted EBITDA for the period. We remain focussed on implementing our plans and the Board's full year expectations are unchanged."
Russ Mould, investment director at Manchester-based investment company AJ Bell, said: "Steve Johnson could win the man of the match award in the latest game of retailers.
"The chief executive announced a new strategy for clothing seller N Brown earlier this year with a focus on getting the UK right instead of spreading itself too thinly with international operations. He also pledged to offer a better customer experience, better products and learn more from data.
"Half year results now show profit going in the right direction, triggering a large rally in the share price.
"Cynics may argue that revenue is still falling, net debt is rising and the dividend is not growing. However, there is a sense that Johnson has quickly stabilised the business and put it on a stronger footing to fight back.
"N Brown has advantage over many other UK retailers in that it is catering for a specific niche so there isn't excess competition.
"It targets people aged over 50 and requiring size 20+. If it can offer good products and a pleasing shopping experience then there is a good chance that its customers will stay loyal.
"There are still plenty of challenges to overcome, including a reduction in relatively large levels of bad debt. A fairly chunky part of its profit comes from financial services and so it needs to reduce the risks associated with this source of earnings."