People on the Move: Kirwans; Hill Dickinson; Borough Care; Fast Web Media; Inquesta; Vape Dinner Lady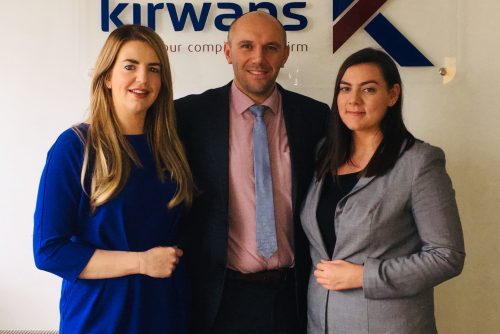 Two Kirwans employees have been awarded permanent contracts after completing a two-year training programme with the Liverpool law firm.
Carl Nadim and Gabrielle Kitchen, who will now specialise in crime, family law and dispute resolution, respectively, are celebrating after being admitted onto the roll call of solicitors.
Carl started working at Kirwans in June 2016 and obtained both his Higher Rights Advocacy – allowing him to represent clients in both the Higher and Lower Courts – and Professional Skills qualifications this Summer.
He practises in general crime, with a keen interest in fraud and motoring cases.
He is currently expanding the firm's regulatory and licensing offerings for companies being prosecuted by Trading Standards or other government agencies, including driving instructors being removed from the register and taxi drivers being refused a licence.
Gabrielle Kitchen joined Kirwans in February 2015 and worked within the criminal department before moving to dispute resolution. She has gained experience in a wide range of legal areas including criminal law, prison law, agricultural prosecutions and commercial and civil disputes.
Gabrielle will now be based at the Moreton office, Wirral, as part of the dispute resolution team, which offers services including commercial litigation, contract disputes, partnership disputes and property litigation.
The trainee-turned-solicitors follow in the footsteps of colleagues including partner Claire Currie, who began her legal career as a Kirwans trainee.
Carl said: "Qualifying with Kirwans has provided me with the opportunity to fulfill my lifelong ambition to qualify as a solicitor, and I look forward to supporting clients with my enthusiasm and expertise."
Gabrielle said: "Qualifying as a solicitor has satisfied a long-held aspiration of mine. I look forward to continuing to support and assist clients whilst expanding my knowledge and skill in this new stage of my career."
Deputy head of crime, Natalie Byrne, has also been celebrating after achieving Higher Rights of Audience for criminal advocacy which allows her to represent her clients as a solicitor-advocate in the senior criminal courts throughout England and Wales.
David Kirwan said: "Since joining the firm, Carl and Gabrielle have proved themselves to be extremely hard-working, talented members of the team, and I am delighted to be able to reward their efforts with permanent contracts.
"I am also incredibly proud of Natalie, who, with support from her team, has worked so hard to achieve her Higher Rights.
"As a firm that is constantly evolving, we want to give our staff the opportunity to progress, too, and it is extremely rewarding to see these employees move on to this exciting new stage of their careers at Kirwans."
::
Hill Dickinson has announce the promotion of 19 lawyers to senior associate, with effect from November 1.
Promotions have been awarded across all three of the firm's core business groups, with individual practice area promotions spanning corporate, commercial, employment, family, marine and health.
The promotions represent the growing strength of Hill Dickinson's individual practice teams and of the firm's overall growth as a full service commercial law firm.
Chief executive Peter Jackson congratulated the new senior associates, saying: "The opportunity to recognise, through promotion, the diligence, technical excellence and exemplary client care demonstrated by our junior lawyers, is always a personal highlight.
"These 19 new senior associates are part of Hill Dickinson's future and will help carry the business and, importantly, our values, forward, as we continue to grow."
Seven of the new senior associates have been with Hill Dickinson from the start of their career, having completed their training contracts with the firm. Their progression reflects Hill Dickinson's 'recruit to retain' programme, which aims to build an unrivalled depth of experience and sector-specific expertise at all levels within the firm.
Of the 19 promotions, more than half are female, which the firm says not only mirrors the increasing numbers of women entering the legal profession, but Hill Dickinson's ongoing commitment to creating a gender-balanced and diverse leadership team from within its own ranks.
The firm has a stated ambition to double the number of women in senior roles by 2024.
The newly promoted senior associates (which includes senior chartered legal executives) are: Business Services Group. Nicola Brand – Employment Commercial, Liverpool – Senior Chartered Legal Executive; Jack Delaney – Corporate Commercial, London – Senior Associate; Francois De Lange – Corporate Commercial, London – Senior Associate; Sam Hudson – Corporate Commercial, London – Senior Associate; Rebecca Layton – Corporate, Liverpool – Senior Associate; Sean Lightfoot – Corporate, Manchester – Senior Associate; Sarah McCarthy – Family, Liverpool – Senior Chartered Legal Executive; Joe Orme – Employment Commercial, Liverpool – Senior Associate; Jon Scally – Commercial Litigation, Liverpool – Senior Associate; Katie Somerville – Corporate, Manchester – Senior Associate; Phil Wallbank – Corporate, Liverpool – Senior Associate.
Health Business Group: Rohana Abeywardana – Health Litigation, London – Senior Associate; Claire Christopholus – Health Litigation, Liverpool – Senior Associate; Sion Davies – Healthcare, Manchester – Senior Associate; Chantelle Gough – Health Litigation, London – Senior Associate; Amy Lewis-Clark – Health Litigation, Leeds – Senior Associate; Lydia Shelton – Health Litigation, London – Senior Associate.
Marine Business Group: Rosie Goncare, Shipping, London – Senior Associate; Trudie Protopapas, Shipping, London– Senior Associate.
In particular, promotions within the health team reflect a period of rapid growth across all of the firm's UK offices and at all levels. To date in 2019, the firm has made nine senior and partner promotions in the health team and welcomed eight new hires, including life sciences and healthtech specialists Jamie Foster, James Lawford Davies, Nils Hoppe, and Eleanor Coets.
::
Borough Care has appointed new home managers at four of its homes.
Borough Care is the largest not-for-profit provider of care for older people in Stockport and has 11 homes across the borough.
Hayley Weston has been promoted to home manager at Lisburne Court in Offerton. Hayley has worked at Borough Care for more than 20 years, starting as a care assistant and working her way up to become a home manager.
Hayley has taken advantage of every training opportunity offered to her by Borough Care and attained a number of health and social care qualifications.
The company has also welcomed some new faces to the role of home manager. Tammie Love has been appointed at Wellcroft in Gatley, and Rebecca Abrahams joins the Shepley House team in Hazel Grove.
Tammie has more than 20 years of experience working in social care, helping both adults and children, Previously a beauty therapist, Rebecca began her career in care after looking after her grandma following a dementia diagnosis.
It was her grandma who first said Rebecca would make a fantastic carer, which led her to look into a career in care. Rebecca has worked for a number of different organisations, always specialising in dementia care, and has worked her way up from care assistant.
Damon Braithwaite is taking over the reins at Borough Care's Silverdale home in Bredbury. Damon has a huge amount of experience, gained working in many different aspects of care.
He has developed a broad range of skills from previous jobs in organisations providing services for independent living, supported living, complex needs, residential autism, extra care and learning disabilities.
Chief executive, Dr Mark Ward, said: "Our new home managers bring with them a wealth of professional and personal experience.
"They will have a crucial role to play in continuing to improve the high standards of care we provide. Borough Care is a company that likes to promote talent from within and help staff reach their full potential.
It is great that Hayley Weston, one of our long-serving employees, has shown the ambition and dedication to be promoted to home manager, having started her career with us as a care assistant."
::
Fast Web Media has welcomed Mark Brickles to its senior leadership team as business development manager.
Mark will be responsible for bringing in new business to the established digital marketing agency and working with the 15-strong team to provide added value to both existing and new clients.
Prior to joining, Mark was the founder and CEO of InterRisk, a venture capital group born out of the North West Regional Growth Fund, which gave him experience on the client side of agency services.
With a firm background in business development working with a number of top 50 law firms and tech start-ups, Mark has the experience of working within a variety of client sectors both as client and supplier himself. The new senior hire comes at an exciting time for the agency which celebrates its 25th birthday soon.
Fast Web was recently acquired by Inc & Co, an agency group which offers a robust central resource infrastructure and shared services for a number of Manchester agencies. Fast Web is set to undergo an imminent rebrand and will continue with an evolved service offering, which includes website development as well as digital marketing and SEO.
Mark said: "This is an exciting and pivotal time to join this fantastic, well-established agency.
"My experience as a brand founder and CEO puts me in a unique position to understand client business objectives as well as team pressure points and strengths.
"The talent already in the business means we can deliver these objectives, and it will be a great privilege to work with this amazing team to see how we can further enhance our client offering and grow our portfolio."
Jack Mason, chier executive and founder of Inc & Co, said: "We are thrilled to welcome Mark to the team. His incredible background and bold approach to business will be a welcome addition to Fast Web Media and wider Inc & Co family."
::
Forensic accounting and insolvency practice Inquesta has recruited Steven Mason as a senior manager in its corporate insolvency division.
Steven, 39, specialises in advising directors of small and medium-sized businesses on their options when faced with financial problems, including liquidations, administrations, company voluntary arrangements and company closures.
He has more than 12 years' experience in the insolvency profession, including nine years at Kay Johnson Gee in Manchester.
His role at Inquesta sees him working with accountants, solicitors and finance professionals across the UK to help their clients in financial difficulty.
In addition, he is taking on a business development role to help further grow the practice.
Steven is based at Inquesta's head office in Radcliffe, Greater Manchester. The firm also has an office in Leeds.
Director Steven Wiseglass, who heads the insolvency team, said: "Steven has an impressive track record and is a welcome addition to the practice as we expand our corporate insolvency division.
"He takes a commercial and pragmatic approach when advising directors of SMEs and negotiating financial settlements to maximise returns to creditors, and his skills will prove extremely valuable as demand for our services grows. Further recruitment is planned in the months ahead."
Steven Mason said: "It's an exciting time to join Inquesta and I look forward to assisting the directors as they look to further develop the firm's corporate insolvency business."
::
Blackburn-based vape company Vape Dinner Lady has appointed John Taylor as it's new chief marketing officer.
Taylor, who was born in Failsworth, Manchester, was previously group brand and marketing director for Thinksmart, an AIM-listed, disruptive digital retail finance business based in Old Trafford, Manchester.
In 2017, Taylor led the set-up and go to market strategy and execution for a new disruptive digital finance brand called ClearPay, which was set up and spun-out of ThinkSmart, leveraging the company's proprietary technology SmartCheck and a new mobile app – resulting in the sale of ClearPay to AfterPay, which today has a market capitalisation of £8.7bn and operations in Australia, USA and now the UK.
The hire of Taylor to lead the marketing activity comes on the back of a hugely successful couple of years for the firm. Part of the GM Group, Vape Dinner Lady has won more than 22 awards for its products since it was first established in 2016 and has gone on to secure distribution deals in 95 countries.
Multimillion-pound investments have been made in Vape Dinner Lady's manufacturing facilities and the company now employs more than 150 people, with 70 additional roles recruited in the past 12 months alone.
John said: "Vape Dinner Lady is well positioning to take advantage of the global growth opportunity presented by the nascent Vape and CBD markets.
The company has invested several million pounds in developing its own operations and production capability to make the premium quality products on which it has made its name and is one and a new, emerging, fast-growth company in the UK.
"It's great to be joining such a successful business operating in the North West."