People on the Move: Northcoders; The Marketing Centre; Grant Thornton; BDO; GHP Legal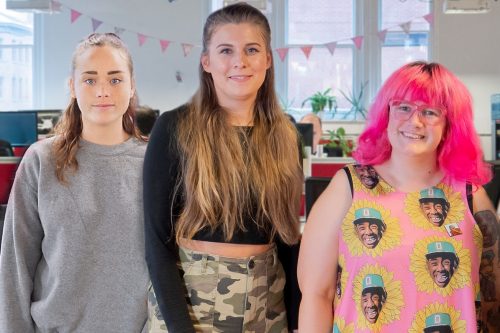 Manchester and Leeds-based coding bootcamp Northcoders has made three new additions to its partnerships and growth teams.
These latest starters follow the three tutors who have been appointed over the past couple of months.
The first appointment is Hannah Bratley who is Northcoders' newest partnership success manager. Her new role will see her working closely with the firm's hiring partners to match them with the very best graduate talent.
Prior to joining Northcoders Hannah worked for five years in sales at Dee Set – the technology-focssed retail solutions business.
Bethan Wafer, who has a degree in Criminology from Leeds Beckett University, has joined as an onboarding manager. Bethan's focus is on helping prospective students understand what each course entails, answering any questions they may have, as well as ensuring the process, from application to start date, runs as smoothly as possible.
The final new starter is Frankie Buttons who is Northcoders' new content manager.
Before arriving at Northcoders, Frankie managed an independent wholesale accessories company for eight years – an important part of her role in the business was its marketing and communications activities.
She will now be creating engaging digital content and will be working alongside the wider marketing/growth team.
Hannah said: "I discovered Northcoders through the Manchester tech scene and was inspired by its work around community, diversity, inclusion and quality. I instantly knew that I wanted to be a part of that journey. I'm now looking forward to supporting our hiring partners in finding superb Northcoders talent for their teams."
Chris Hill, Northcoders chief executive, said: "Hannah, Bethan and Frankie are great additions to the Northcoders family. Each one of them brings a fantastic mix of experience, talent and enthusiasm, which is what we are all about."
Since its inaugural course four years ago, Northcoders has helped more than 400 people switch career into tech on average starting salaries of £25,000.
Over the past year it has opened a new campus in Leeds, was selected as one of the country's brightest tech stars in Creative England's CE50 list, and was named Business of the Year at the 15th Annual Chamber Business Awards.
It has also launched scholarship schemes and a deferred payment programme aimed at women and gender minorities, as well as those who identify as BAME or LGBTQ+, have a disability or have had limited access to education, to help address diversity in tech.
::
The Marketing Centre is rapidly expanding across the North West with its latest appointee, Fiona Bowyer.
With Julie Brook leading the regional team, Fiona will be supporting local businesses who are seeking access to professional, experienced marketing advice through her role as part-time marketing director.
The Marketing Centre, a seven-year-old business that says it has pioneered the concept of part-time marketing directors, has a team of more than 85 part-time marketing directors covering nine regions across England, Scotland and Wales.
There is growing demand for the service, which was founded in response to the increasing number of SME's looking to invest in marketing, but who were unable to budget for the creation of a full-time position.
Fiona is a strategic and commercial marketing director with more than 25 years' experience in manufacturing and distribution businesses selling consumer durables and building materials to multiple channels.
She has managed premium brands at Kohler & Franke and a market-leading trade brand at Bristan.
Her approach is to engage individuals and teams across businesses, building collaborative relationships with sales, operations, aftercare and senior management teams to deliver profitable revenue growth and engaging all stakeholders to ensure smooth implementation of new ideas and changed processes.
Julie Brook, regional director for the North West, said: "I am delighted to have Fiona joining the Marketing Centre. As a team we are expanding rapidly and we are looking forward to working with more businesses in the region to help build growth and profitability for their shareholders."
Fiona said: "I'm thrilled to be joining the North West team at The Marketing Centre. There are so many exciting and innovative businesses in our area and I hope to be able to support these local organisations in achieving profitable growth through bespoke marketing strategies that deliver real results and maximise ROI."
::
Business adviser Grant Thornton has strengthened its corporate finance team with the appointment of a debt advisory director for the North and Midlands.
Craig Cheetham has more than 15 years' experience of structured corporate lending, with a particular focus on the mid-market.
He joins from Yorkshire Bank, where he worked for three years as a senior director corporate and structured finance. Before that he spent eight years at RBS across a range of corporate roles in the North West.
Craig has led a broad range of complex transactions, from acquisition finance, buy-and-build facilities and development capital. In the process he has developed strong relationships with the region's private equity community and management teams at some of the North West's most dynamic businesses.
Last year he helped oversee several private equity-backed and owner-managed business transactions with a range of different facilities contributing to Yorkshire Bank winning funder of the year for the second year running.
Peter Terry, partner and North West head of corporate finance at Grant Thornton, said: "Craig is an established figure in the market and brings a wealth of specialist lending experience to our team, having led the full spectrum of mid-market debt advisory transactions.
"He has strong relationships with both the region's private equity houses, and the leaders of a raft of exciting owner-managed businesses in the North West. We're incredibly pleased to welcome him to our growing team."
Craig added: "Grant Thornton has been the go-to firm for mid-market and owner-managed businesses for some time now. But over the last two years in particular, Pete's multi-award-winning team has set itself as a really important member of the corporate finance community.
"Their reputation is deservedly at an all-time high and the deals they've been involved with fit my area of expertise perfectly. I've been looking to make the move to an advisory role for some time now and am delighted to join the team."
::
Accountancy and business advisory firm BDO has strengthened its forensic team with the appointment of partner Richard Cameron-Williams.
Richard joins from BTVK Advisory where he headed the company's Manchester office.
With almost 15 years' experience in forensic accounting, Richard specialises in the review and measurement of complex financial losses globally.
He has extensive experience in handling complex business interruption claims across a wide range of sectors. Richard has acted on a number of high-profile cases involving loss of profits, breach of contract, public procurement disputes, business valuation, fraud investigation and subrogation.
At BDO Richard will work with clients across Manchester, Liverpool and Yorkshire. He will primarily focus on expert witness and investigation matters and developing an insurance offering at BDO.
Ed Dwan, partner and head of the North West at BDO, said: "Richard's international expertise and exceptional experience will strengthen our forensic accounting offering for clients across the North, as well as boosting our national credentials.
"Our business has seen growth across all areas this year and we are well-positioned to continue helping our clients and teams to have another successful year.
"We recognise that to do this we need to build the best team of advisers who will embrace tackling the opportunities and challenges our clients face."
Richard Cameron-Williams added: "A combination of BDO's reputation in the market as a leading adviser and its supportive and high-performance culture made the opportunity to join the business a compelling one. We have ambitious plans in the region and across the UK to continue to grow our team and reach which I look forward to working with my colleagues to achieve."
::
North Wales and Shropshire law firm GHP Legal has appointed Ronald Carter as senior associate chartered legal executive to its corporate and commercial department, with responsibility across all five of the firm's offices.
After embarking on a legal career in London's West End, Carter's subsequent appointments included positions with Mishcon DeReya and Nabarro Nathanson, now part of the CMS Cameron McKenna Nabarro Olswang LLP.
During his 15 years as a general litigator and 10 years as a company commercial lawyer, among other corporate giants he represented British Airways, Singapore Airlines, ICI, Unilever, Nat West Group, Midland Bank and Societe Generale, as well as high net-worth individuals.
The wide and varied scope of Carter's experience includes the handling of several multimillion-$US cases, including the purchase of an international finance franchise on behalf of a bank, and advising on multimillion-$US investments for individuals in the Middle East and off-shore pension schemes.
Carter's expertise and reputation as a respected authority on transacting business in the Middle East has, on a number of occasions, led to him being invited by the Department of Trade and Industry and regional chambers of commerce to lead seminars.
On arrival at GHP Legal Carter he said: "After commuting into London for many years I decided it was time to take advantage of the international freedom that IT has brought to the workplace and enjoy a better quality of life in the more relaxed environment of rural Shropshire and North Wales.
"Now I am looking forward to representing both new and old clients within the growing company and commercial department at GHP Legal."