SMEs set to benefit from second phase of successful enterprise initiative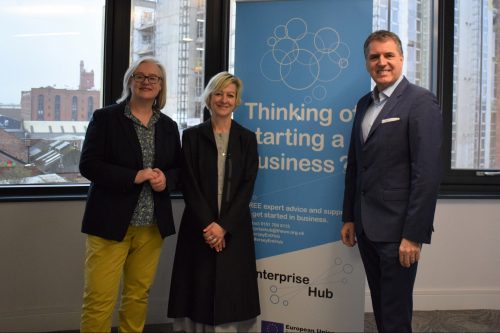 Thousands of entrepreneurs across the Liverpool City Region are set to benefit after an enterprise initiative launched its second phase.
The Enterprise Hub programme has helped launch more than 1,000 new businesses since 2015.
The official launch yesterday (November 26) of its second phase marked the continuation of support available to those who are thinking about starting or growing a business.
Liverpool-based social enterprise The Women's Organisation hosted the launch event at its purpose-built St James Street headquarters, as the lead and accountable body for the Enterprise Hub.
The event was attended by guest speaker Julia Sweeney, Director of European Programmes and Local Growth at the Ministry of Housing, Communities and Local Government, along with Liverpool Lord Mayor Cllr Anna Rothery and Liverpool City Region Metro Mayor Steve Rotheram.
Enterprise Hub coordinates and simplifies the business start-up and growth support available across the Liverpool City Region by bringing together partners to deliver business support, advice and training.
Since launching its first phase in December 2015, Enterprise Hub support has helped to create more than 1,060 new businesses, so far.
Thousands of budding and early-stage entrepreneurs have benefited from the programme over the past four years, with nearly 6,000 individuals registering for support.
In a change to the first programme, this second phase of support now includes the provision of business growth support for those in their first three years of trade.
This move comes in response to the successful first phase of the programme which showed that there was real entrepreneurial spirit across the region. This second phase is now able to ensure the sustainability of those businesses through an ongoing programme of support.
During the launch reflections were made on the importance of investing in entrepreneurship and developing core entrepreneurial skills to grow our local economy.
Julia Sweeney said: "Tailored, comprehensive support is really important to SMEs and the Hub will build on the success of Enterprise Hub 1 to enable more businesses to achieve sustainable growth."
Steve Rotheram said: "I know from personal experience, having set up my own building company when I was in my early 20s, that establishing a small or medium-sized enterprise can often be fraught with hurdles and challenges.
"Statistics show that roughly 80% of UK companies fail within their first year – so it's vital that organisations get the support they need early on if they are to have a chance of success.2
He added: "Enterprise Hub have shown in recent years that they are perfectly placed to provide that support, with their work having led to the creation of over 1,000 local businesses. We're doing all we can to provide funding support at a regional level for SMEs to start up and scale up – and phase 2 of the Hub's work will only complement this."
The Women's Organisation chief executive, Maggie O'Carroll, said: "We are delighted to be steering the Enterprise Hub programme forward into this exciting second phase. The initiative has so far proved to be a vital resource for those budding entrepreneurs who have an entrepreneurial idea, but not necesssairly the know-how to turn it into a sustainable and profitable business.
"We know that this support has been vital to reducing unemployment, raising aspirations and giving people that all-important opportunity to pursue entrepreneurship. All of which play a key role when it comes to keeping our local and national economy thriving.
"With this refreshed focus on business growth support, we now have real opportunity to build on the first phase and enable the ongoing development of enterprises of real substance.
"I would urge anyone who has a business idea they would like to explore, or those who might be navigating the tricky early years of self-employment, to get in touch and see what support is available."
Fully-funded support is available to residents from the Liverpool City Region, with delivery partners working in Sefton, Knowsley, Liverpool, St Helens, Wirral and Halton.
The Enterprise Hub programme is part-funded by the European Regional Development Fund (ERDF), which aims to help local areas stimulate economic development by investing in projects like Enterprise Hub which support innovation, business growth and job creation.