People on the Move: Glaisyers; BGF; Mobica; Cheshire & Warrington LEP; Champion Accountants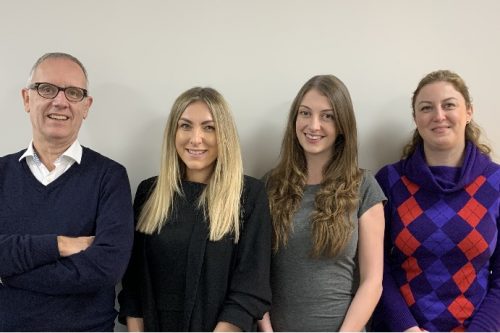 X

Register for free to receive latest news stories direct to your inbox
Register
Manchester and London-based Glaisyers Solicitors has boosted its team with 11 new hires, increasing its total headcount to 75.
The new team members include a commercial property partner, three solicitors and three paralegals.
The firm's rapidly-growing commercial property practice accounts for three of the new recruits. These include Ross Wellman, who has joined as a partner with more than 30 years' experience.
Mr Wellman has appeared several times in the Legal 500 and has held senior roles in several law firms, including having been an equity partner at DWF. Most recently he has acted as a consultant to law firms on property and commercial matters.
Mr Wellman has recently been involved in the acquisition of wind farms, bridging and longer-term finance of property deals, the acquisition and development of hotels and student accommodation, agricultural property matters and acting on landlord and tenant transactions.
Also joining the commercial property department is Sarah Milligan, who qualified as a solicitor in Spring 2017 while working for Nexus Solicitors. She has since worked for JMW Solicitors and HRC Law, before taking on her new role with Glaisyers.
The third new hire for the commercial property department is Emer McMcool, who has been taken on as a paralegal. She has two years' commercial conveyancing experience and is currently studying toward a Graduate FastTrackDiploma through CILEx Law School.
Glaisyers' corporate team, meanwhile, has been bolstered by the appointment of experienced solicitor Niki Polymeridou. Ms Polymeridou qualified as a solicitor in the UK in 2014, having already practised law in Greece since 2006. Before joining Glaisyers she held roles in the corporate and commercial teams at CH Legal, Linder Myers and Pearson Solicitors.
The employment team has also made a solicitor-level appointment, welcoming on board Stevi Hoyle who qualified earlier this Autumn. Ms Hoyle joins from Farleys Solicitors in Manchester, where she completed her training contract, having been awarded her LPC by the University of Law in 2017.
Glaisyers' commercial litigation department, meanwhile, has appointed Charles Hughes and Grace Sloan as paralegals.
Mr Hughes, who completed his LPC at BPP Law School in Manchester in 2017, previously worked for DWF in various paralegal roles for almost two years. Ms Sloan, who previously worked at Shoosmiths, holds a degree in Law from Sheffield Hallam University.
Other appointments include corporate PA Lisa Walker, who worked as a PA at Kuits Solicitors for more than 11 years before joining Glaisyers. Front-of-house, the firm has appointed Morgan Denham, who previously held a similar role at Shoosmiths, as receptionist.
The firm has also taken on Lucas Arrona as a marketing assistant. Mr Arrona, who works alongside the firm's business development and marketing manager Bethanie Bailey, holds a degree in journalism and previously worked for Northern Media as a digital marketing intern.
Finally, Jade Dobson has joined Glaisyers as a legal services assistant. Previously a college student, Ms Dobson has been taken on as a business admin apprentice through a scheme arranged by the Apprenticeship Academy.
This latest round of appointments means that the firm has increased its headcount by 25% since being acquired 12 months ago in a management buy-in backed by the international professional services giant ETL Global.
Further new recruits are due to start in the coming weeks and the firm is on course to increase its revenues from £4.3m to £6m in the current financial year.
Equity partner, David Jones, said: "I would like to welcome all our new team members on board at such an exciting time for the firm. A year ago Glaisyers was a well-respected Manchester practice but we have made massive strides since then and now the firm is taking on instructions from clients based all over Europe and beyond.
"Our new recruits will have an immediate impact on the teams they have joined but, as the number of paralegal appointments shows, we are also committed to building the next generation of lawyers. Our goal is to become the pre-eminent law firm for privately-owned business and that means planning for the future as well as ensuring we can provide a great service right now."
::
BGF, the UK and Ireland investor in growing businesses, has appointed James Marshall to its Manchester investment team, covering the North West.
James joins from Clearwater International and brings more than five years of working on deal origination, having joined the business with an economics degree in 2014.
James's role at BGF will see his continued focus on deal origination as he works alongside the investment team to identify ambitious entrepreneurs and management teams looking to secure investment to support their growth ambitions.
He said: "BGF's team in the North West has been consistently active in identifying and backing quality, high-growth businesses across all sectors and all corners of the region. I'm really looking forward to building on BGF's strong track record and proposition which appeals to entrepreneurs looking to take their business to the next level."
BGF has backed more than 33 businesses in the North West, committing in excess of £300m, since it was set up in 2011.
New additions to the portfolio in 2019 include Joloda International, a fast-growing manufacturing firm based in Merseyside, Manchester-headquartered FinTech company Planixs, and international schools group Orbital Education.
Neil Inskip, head of BGF's North West team, added: "It's been another positive year for BGF in the North West as we've expanded the team and added a number of strong, high-growth businesses to our portfolio.
"Having James on board as we look ahead to next year will mean we can build on the success of the office to date and expand our reach within the region."
::
Global software services company Mobica has strengthened its senior leadership team with the appointment of technology expert Sean Whitty as head of solutions.
Whitty will be based at the company's new Munich office and will oversee Mobica's complete technology solutions offering, from chip to cloud.
His responsibilities include enhancing Mobica's existing technology portfolio by growing a new range of solutions that will enable customers to tackle their technical challenges.
Whitty brings more than 15 years' experience in software services and solutions, having joined from Luxoft, an international custom software development company.
His previous work saw him coordinate delivery for consulting and engineering services, develop customer-specific tools and apply technical focus to complex domains, such as E/E architecture and in-vehicle network design for the automotive industry.
He said: "I'm thrilled to be joining the team at such an exciting time for the company. Its reputation as a strategic partner and unrivalled technical expertise were both a huge draw for me. I'm thoroughly looking forward to building on existing customer relationships and bringing my own industry expertise to new clients."
Based in Wilsmslow, Mobica also operates offices in America, Poland and Germany.
Chief executive Simon Wilkinson said: "As part of our continued growth strategy we are focused on hiring and nurturing the very best talent so that our customers can successfully leverage enabling technologies such as AI, computer vision and IoT.
"Sean certainly falls into that category. His experience in leading teams of technical engineers and his strong business acumen will make him a valued member of our team as we look to support our customers in the future."
::
Cheshire and Warrington Local Enterprise Partnership (LEP) has appointed Colin Brew as key account manager within the Growth Hub team.
Colin brings a wealth of experience and local knowledge to the role, having held senior roles at both the West Cheshire and North Wales Chamber of Commerce and The Tim Parry Johnathan Ball Peace Foundation.
Colin's role will focus on attracting inward investment in the area and working closely with strategic foreign-owned businesses in the area.
As key account manager, Colin will be working with the Department for International Trade to help these businesses as they develop their future investment and strategic plans in Cheshire and Warrington.
The Growth Hub team provide bespoke support to businesses at every stage of their growth journey, from start-ups to large business.
The team helps businesses in Cheshire and Warrington to grow, develop their teams, innovate and trade more successfully. As part of a national Growth Hub network, the team can provide unrivalled local knowledge of the support that is available across business growth challenge areas such as skills, marketing and innovation.
Philip Cox, LEP chief executive, said: "We are delighted to welcome Colin to the team, he brings a wealth of experience having worked extensively with businesses in Cheshire and Warrington and a solid understanding of the business landscape.
"He will be fundamental in helping us to attract and retain high-quality inward investment, working in close partnership with the three local authorities, DIT and the wider business support community."
Colin said: "I am delighted to take up this opportunity, working within the Growth Hub team at the LEP. It is a significant time for businesses with fundamental changes to the business environment looming, so it's vital that – working with our partners – we provide market-leading support to ensure our existing businesses can continue to thrive and that new businesses get the specialist support they need to operationalise quickly."
::
North West business advisory and accountancy group, Champion Accountants, has appointed a new semi-senior to support a flurry of audit client wins.
Monika Badauskaite, 24, who has four years' experience in audit and accountancy, joins the group's Chester practice, based on Watergate Row, and is currently working to achieve Chartered Accountant status.
Her remit as a semi-senior accountant will be to support the firm's growing charity and SME portfolio, working together with clients to achieve their strategic objectives.
Sue Harris, partner at Champion Accountants, said: "Monika displays all the tell-tale signs of a talented accountant, and brings with her an excellent understanding of multiple business industries, particularly the charity sector and the financial, accounting and regulatory nuances it faces.
"We've a real passion for identifying, developing and retaining home-grown talent across the Champion Group and look forward to supporting Monika on her journey to becoming a qualified accountant and beyond."
Monika said: "Champion has an excellent reputation and I'm looking forward to utilising my expertise in the charity sector to help organisations at every stage of their development, whilst also getting my teeth into new challenges and opportunities across a real variety of sectors and specialisms."
Champion Accountants occupies offices in Chester, Manchester, Preston and Blackpool and employs more than 104 accountancy, tax and advisory specialists across the group.