Manchester Airport signs up to national scheme to tackle rogue parking firms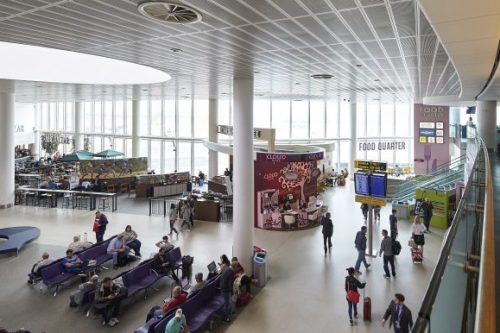 Manchester Airport has signed up to a scheme which aims to tackle rogue parking firms.
The airport along with the city council have published the names of meet and greet parking companies that have signed up to a "Buy with Confidence" initiative.
Six operators have achieved the standard, which involves them giving a commitment to trading fairly.
The businesses have undergone a series of detailed checks before being approved as a member of the scheme.
The publication of the list is in response to concerns from local communities that so-called "rogue" meet and greet firms are falsely claiming to be officially associated with the airport and advertising that customers' vehicles will be stored securely.
In reality they are being left on residential streets or in car parks that have no security and in some cases are just a muddy field.
There have also been numerous reports of vehicles being lost or damaged and customers' keys going missing.
Trading Standards officers advise those looking to book parking ahead of a trip use the Buy with Confidence list to help them make an informed decision.
Manchester Airport has confirmed only those to have achieved the accreditation will be eligible for discount permits for dropping-off and picking-up on its forecourts.
The firms on the Buy with Confidence list are:
• Ringway Ride
• Day By Day
• M90
• Care Park
• Vacation Care
Manchester Airport itself has also achieved the standard.
The airport is now offering visitors to its website directions to the Buy with Confidence and Park Mark status websites to try and cut down the number of customers that suffer at the hands of these companies.
Brad Miller, chief operating officer at the airport, said: "For a number of years the issue of rogue meet and greet operators has been something that those living in surrounding communities have consistently raised with us.
"We have been working hard with neighbouring councils and Greater Manchester Police to tackle this and the launch of this new 'buy with confidence' scheme is the next milestone in assisting customers.
"We'd always recommend customers do their research into a company before handing their keys over. This new scheme should give customers that peace of mind when they go off on their holidays that their car will be safe."
Councillor Rabnawaz Akbar, executive member for neighbourhoods for Manchester City Council, said: "The scammers who run these rogue meet and greet firms feed off people's lack of knowledge. This scheme will redress that balance.
"By giving holidaymakers a clear choice of reputable firms we will drive business away from companies who engage in shady practices, and who have turned parts of Manchester into nothing more than an overflow car park.
"I am very pleased that the Buy With Confidence scheme is up and running, and am confident it will make a huge difference in winning the fight against rogue meet and greet firms."
Buy with Confidence is a national initiative that provides consumers with a list of local businesses which have given their commitment to trading fairly. Every business listed has undergone a series of detailed checks before being approved as a member of the scheme.
It is the latest step being taken to address the issue of anti-social parking in communities surrounding Manchester Airport.
These include the launch of a dedicated private hire waiting area, road layout changes and signage on the street to deter people from dumping cars.