Shortlist for annual Business Masters Awards unveiled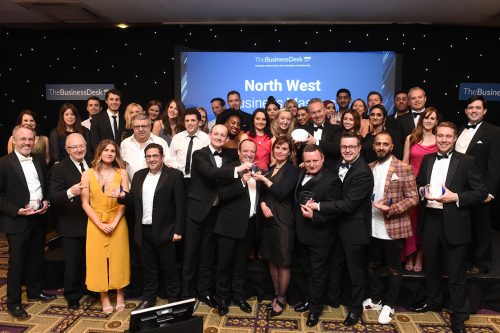 The shortlist for our annual Business Masters Awards has been revealed with a range of businesses across the North West recognised for their achievements.
Winners of the prestigious awards will be announced at TheBusinessDesk.com's black-tie awards dinner on Thursday, March 5th, at the Hilton Deansgate.
The shortlist was selected by an independent judging panel comprising of senior leaders from the business world.
The panel included Emma Degg, from the chief executive at the North West Business Leadership Team, Damian Waters, North West director of the CBI, Claire Smith head of business development at Moneypenny and Paul Griffiths, chairman of the Gorton Monastery Trust and the Vice Lord-Lieutenant of Greater Manchester.
To book a place at the event book here.
Mike Ribbeck, North West editor of the BusinessDesk.com, said: "We were overwhelmed by the quality and quantity of entries for this year's awards.
"The judges had some very tough decisions to make over the shortlist, as the competition was extremely high.
"This year's shortlist features a variety of interesting businesses, of different sizes, who are focused on ensuring success for their business, as well as supporting their employees, the regional economy and the planet, with sustainability being highlighted in a number of entries.
"I'd like to thank all of our judges for giving their time. Congratulations to all of those shortlisted, we are very much looking forward to celebrating the region's business achievements in March."
Our Business Masters Ambassador will be announced on the evening.
The shortlist is as follows.
Newcomer of the Year
Future PR
Enso Accountants Limited
Graffiti Spirits Group
JP McGuire Developments
Mortgage Experience
Contribution to the Community
Hope Capital
Riverdale Insurance
Workspace Design and Build
Property Business
Workspace Design and Build
Hope Capital
Myersons Solicitors
JP McGuire Developments
RW Invest
Small Business
Gleaming Insurance
Alison Handling Services
Social
Enso Accountants
Hope Capital
Mortgage Experience
Medium Business
Genlec
Omni Resource Management
Alpine Fire Engineers
DA Languages
EPIC Group
UCFB
Large Business
Urban Splash
Graffiti Spirits Group
Myerson Solicitors
Innovation
AlphaBiolabs
Equitus Engineering
Gleaming Insurance
Alison Handling
Enso Accountants
UCFB
Investment
Alpine Fire Engineers
Graffiti Spirits
Alison Handling
DA Languages Limited
Professional Services
Future PR
Gleaming Insurance
Glaisyers Solicitors
Omni Resource Management
Myerson Solicitors
Riverdale Insurance
Family Business
Abbey England
JP McGuire Developments
Omni Resource Management Solutions
Epic Group
Fast Growth Business
Omni Resource Management
Alpine Fire Engineers
DA Languages
Mortgage Experience
Riverdale Insurance
Epic Group