Salford roles affected in BBC News jobs' purge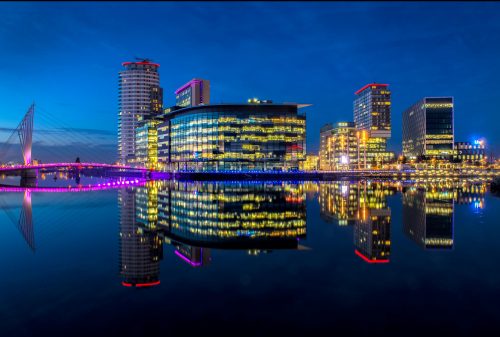 Around 450 jobs are being axed in the BBC's news division, including roles at its MediaCityUK operations in Salford where around 3,200 BBC staff are employed.
The organisation said the redundancies will affect staff at Radio 5 Live, which broadcasts from Salford.
Last week it confirmed it was scrapping the Victoria Derbyshire daily news programme later this year, which is produced at MediaCityUK, saying "it is no longer cost-effective to produce for TV".
Another major news programme broadcast from the Salford site is the BBC's flagship Breakast show.
It is estimated that one in seven jobs in the news operation will go.
The job cuts, under director of news and current affairs Fran Unsworth, are part of plans to save £80m.
Ms Unsworth, who is paid a £340k-a-year salary, said the plan is to have "multi-skilled story teams" in a drive to meet stronger demand for digital content.
She said there will be "a review of the number of presenters we have and how they work".
She added: "The BBC has to face up to the changing way audiences are using us.
"We have to adapt and ensure we continue to be the world's most trusted news organisation, but crucially, one which is also relevant for the people we are not currently reaching.
"We need to reshape BBC News for the next decade in a way which saves substantial amounts of money.
"We are spending too much of our resources on traditional linear broadcasting and not enough on digital.
"Our duty as a publicly-funded broadcaster is to inform, educate, and entertain every citizen.
"But there are many people in this country that we are not serving well enough.
"I believe that we have a vital role to play locally, nationally and internationally.
"In fact, we are fundamental to contributing to a healthy democracy in the UK and around the world. If we adapt we can continue to be the most important news organisation in the world."
MediaCityUK is home to a number of national business divisions of the BBC, including BBC North, BBC Breakfast, CBBC, CBeebies, BBC Radio 5 Live, BBC Research, BBC Sport, BBC Learning and the BBC Philharmonic. BBC North West is also located on the site