University spin-out gets £300k to develop indoor air pollution control technology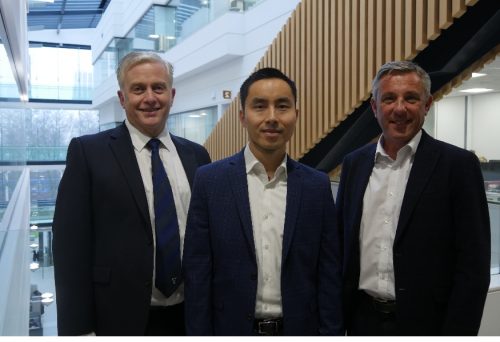 A new University of Liverpool spin-out company, CageCapture, has secured £300,000 funding from Innovate UK to take forward technology to remove toxic pollutants from the air.
CageCapture has been formed to commercialise a new cage-based material invented by Dr Ming Liu and Prof Andrew Cooper at the university's Materials Innovation Factory.
They designed and synthesised new cage molecule solids that act like a 'cage prison' and can capture low concentration pollutants using a combination of chemical and physical adsorption.
The patented technology has been proven to efficiently capture the most common indoor air pollutant, formaldehyde, at both high and low levels and even in humid conditions.
Formaldehyde is often released as a pollutant from building materials such as paint and plasterboard, as well as many other household products. It is believed to cause various health problems and is classified as a Group 1 human carcinogen by the World Health Organisation.
The Innovate UK funding will be used to develop an in-house formaldehyde testing facility to validate the new technology and to explore other applications for the new technology, including different pollutants.
Dr Ming Liu said: "CageCapture is an exciting new spin-out company which has been created to commercialise new cage materials which were developed through our research.
"Our technology has been proven in the lab to be more effective at capturing formaldehyde than current methods and this new funding will help us to take this forward and actively pursue collaborators to scale-up manufacturing of the new material."
Prof Anthony Hollander, pro-vice-chancellor for research and impact at the university, said: "The university's Materials Innovation Factory is known for its world-class research in advanced materials and CageCapture is an excellent example of how leading academic research can be translated into commercial ventures, contributing to economic growth and creating an impact."
CageCapture has been awarded a total of £298,754 funding via Innovate UK with matched funding from the university's Enterprise Investment Fund, through the Innovation to Commercialisation of University Research (ICURe) 'follow on funding' competition.
The Materials Innovation Factory is an £81m facility dedicated to the research and development of advanced materials.
A collaboration between the University of Liverpool and household goods and foods conglomerate Unilever, it brings together materials chemistry expertise with the latest computational and robotic equipment to accelerate research and reduce the time it takes to develop new products which have the potential to address a range of societal challenges.
North by North West (NxNW) ICURe programme (Innovation-to-Commercialisation of University Research) trains, funds and supports teams led by university early-career researchers to determine whether there is a market for products or services that utilise their research, science or technology.
Up to £35,000 of funding is available to 'get out of the lab' and validate these commercially-promising ideas in the marketplace.