People on the Move: Imagile Professional Services; Studio OBI; Redrow Homes; JMW; M247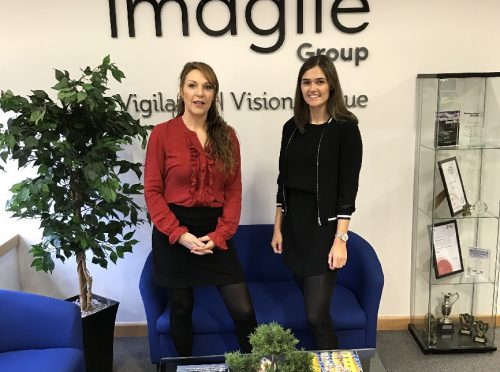 Daresbury-based Imagile Professional Services has announced a trio of new hires as it looks to embark on another period of growth in 2020.
Ben Forward has been appointed to the role of sector head of construction delivery-south and will focus on ISPL's projects in the south of England, with the company seeking to expand its offering in the region.
Philippa Kilgallon has joined the team as a SHE advisor. Philippa's role promotes excellence in professional practice and design, which includes construction health and safety risk management and helping key duty holders to manage risk.
And Bethan Gowling has secured the role of assistant lifecyle manager. Bethan will help to strengthen and support IPSL's growing lifecycle planning team and will be based at the firm's Daresbury office.
Luke Body, IPSL managing director, said: "I'm thrilled to announce these three new additions to our expanding team. It's certainly an exciting time to join us and Ben, Philippa and Bethan all bring something unique and fantastic to their new roles.
"This year is already shaping up to be a great one and each of our new recruits has an integral role to play within their departments. I'm excited to continue expanding our services in the South and delivering exceptional results for clients."
Ben said: "I'm incredibly excited to take on this new role at IPSL and be a part of its exciting and ambitious plans for 2020 and beyond. Without question, people are the integral part of any business, so I intend to focus on bringing the entire southern construction delivery team together.
"On a personal note, this an exciting new challenge for me and I'm thrilled to get stuck into the new role. There's so much to learn, but I'm confident I can work alongside the other sector heads to build on IPSL's brilliant reputation and results."
Phillippa will be integral to implementing construction, (design and management) regulations and building regulations effectively and proportionately across the firm's construction projects throughout the UK.
Bethan's role is a key appointment for the firm as it looks to grow it's lifecyle planning department. Thanks to ever-improving technology, more efficient solutions coming to market and a growing focus on holistic environmental considerations, there's more interest in lifecycle planning than ever before.
IPSL was established in 2017. It delivered £4m of work across schools in Summer 2019 and created one of the UK's first handback panels to steer the handback of the first wave of PFI projects within the Semperian Capital Investment Partners portfolio.
::
Jules Shale has been named managing director of Studio OBI.
He joins the integrated creative agency following 15 years as owner and MD of 90 Degrees.
Since launching less than 12 months ago, Manchester-based Studio OBI has notched up a number of significant wins in sectors including tech, law, recruitment, property and fashion.
Studio OBI – the spin-off business by multi-award-winning real estate consultancy OBI – is set to recruit a senior creative, account handler and web developer during the first quarter of 2020, which would increase headcount into double figures
Jules said: "I'm delighted to have joined at what is an exciting time for the agency, and I am working with many familiar faces, having worked with OBI on numerous successful projects over the years, with clients including Allied London, Aviva Investors and NFU Mutual to Boultbee Brooks.
"We have a talented team that is able to answer any brief related to branding, marketing materials, online platforms, video, web design and development and CGIs."
Studio OBI is based within parent company OBI's head office on Mosley Street, Manchester.
::
Andrew Craig has joined Redrow Homes, at Daresbury, Cheshire, as construction director.
The move comes after nearly eight years with Taylor Wimpey, almost seven of them in charge of build as production director.
And, having worked his way from apprentice carpenter to director during his career, he is the perfect candidate to take charge of Redrow's North West construction team.
At Redrow he'll head up a team of four area construction managers, four project managers, 15 site managers, 20 assistant site managers, trade apprentices and various support staff, between them responsible for output at around a dozen developments across Cheshire, parts of Merseyside and North East Wales.
Originally from Middlesbrough but now living in Wilmslow, Cheshire – not far from Redrow's flagship Woodford Garden Village development – Andrew, 52, started his career as an apprentice before becoming a time-served carpenter and then very quickly moving into site management.
His ambitious streak saw him progress through various managerial roles, studying for an MBA at Manchester Business School along the way, and his first directorship was with Bryant Homes in 1996.
The decision to join Redrow came as he sought a new challenge and was attracted to Redrow's product, quality and values.
"Redrow has a premium product and a great business culture," he said.
"In the way that its marketing and sales teams are already seen as class-leading, I want to bring the same reputation to our construction operation and will be targeting initiatives like the NHBC 'Pride in the Job' to ensure our site managers perform well."
Redrow Homes (NW) managing director, Jason Newton, said: "Andrew's knowledge, experience, commitment and ambition will be a real asset to the business as we aim to deliver circa 700 units per annum at sites across the North West, building everything from affordable properties to 3,000 sq ft, £1m executive homes."
::
Mark Havenhand has joined the clinical negligence team at JMW Solicitors as a partner after more than six years as a partner with Irwin Mitchell.
Mark has specialised in the field of clinical negligence law for 16 years and previously worked at MPH Solicitors as a solicitor, and, thereafter, director, for nine years before it was bought out by Irwin Mitchell in 2013.
His appointment to JMW's clinical negligence team takes the department's partner headcount to six and follows Steven Brown's promotion to the position in May 2019.
Mark was recruited to help the practice to service the increasing number of brain and spinal injury cases it attracts due to its specialist expertise and recent high-profile settlements.
This includes a cerebral case that settled for £24m in January 2020 and one that settled for £26m last year.
Mark, who was also brought in to work on further business development, said: "JMW has an absolutely fantastic reputation and a high calibre legal team. I am looking forward to working with them to obtain the best results for our clients."
Eddie Jones, head of clinical negligence at JMW, added: "Mark is very well-known in the Manchester legal scene and we are really pleased to be in a position where we can recruit someone of his stature and standing.
"We already have an extremely experienced team who obtain market-leading results for our clients. Mark's appointment will enhance that and help to cement our position as one of the best clinical negligence practices in the country."
JMW's clinical negligence team has Tier 1 rankings in both legal industry guides Chambers and Partners and the Legal 500 with several partners named as leading individuals. Mark has also been regularly ranked in both of these guides.
::
M247, a global provider of secure connectivity, cloud and hosting services, has welcomed Paul Sheard as customer solutions architect.
Coinciding with the launch of M247's own cloud solution, 247Cloud, Sheard's appointment will bolster the pre-sales team in its support of businesses through their digital transformations to future-proof their businesses.
In his new role Sheard will be working from M247's Manchester offices with customers to design and deliver a cloud solution that fulfils their current and future cloud computing requirement.
With more than 15 years' experience working both in-house and as a consultant, Sheard has a wealth of experience in providing cloud services and delivering complex IT infrastructure projects. He holds all four VMware VCP6 qualifications and an AWS-certified solutions architect qualification.
M247's 247Cloud solution, which launched in December 2019, offers customers a choice of public, private and hybrid cloud services.
The infrastructure, hosted from M247's data centres in Manchester and Bucharest, is supported by data backup, disaster recovery, networking, security and storage technologies, and offers businesses a flexible and agile cloud operating model with the ability to scale at speed.
Darryl Petch, M247 pre-sales team leader, said: "We pride ourselves on our pre-sales team, employing best in the industry to provide solutions and help customers make the best possible technology choices.
"As digital transformation and the move to cloud becomes increasingly important to our customers, and with the launch of our new cloud product, 247Cloud, it's a critical time for our business to offer support and expertise in this area. Paul brings an incredible amount of technical experience in this area, as well as a deep understanding of project management and customer relationships."
Paul Sheard said: "I am excited to join the team at such a pivotal time for the business.
"M247's rapid growth and opportunity within the cloud space, alongside their technologies and investment in them, were huge factors in my decision to join the company. I'm looking forward to helping the business support its customers as they grow."