Train operator invests £25m in new fleet for London services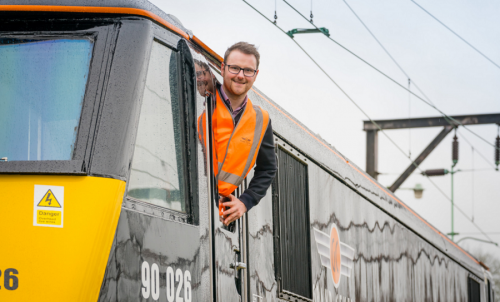 Train operator Grand Central is investing more than £21m in its fleet of trains on its new North West to London route.
The operator has leased 24 coaches and five locomotives, to run daily direct services between Blackpool North and London Euston starting later this year.
The new route is the first chance to travel to London from Blackpool without having to change at Preston.
It will also give more opportunities for commuters travelling from Nuneaton and Milton Keynes to travel to London.
Four sets of coaches have been leased from Eversholt Rail until December 2026.
The coaches will be maintained at Alstom's Wembley depot and serviced overnight at Arriva North's Blackpool depot.
The coaches are currently undergoing a £1.5m refurbishment at Alstom in Widnes, which will include Grand Central livery and a full interior refresh.
Each of the trains running along the North West to London route will include First Class carriages, free Wi-Fi throughout, buffet, accessible toilets and baby changing facilities.
There will also be wheelchair and priority seating available.
From next month, people living and working in the vicinity of stations along the new North West to London Euston route may spot three sets of coaches (MK4s), as driver training gets underway.
These coaches have been secured under short-term lease from Eversholt Rail.
Grand Central has also hired a pool of five locomotives (Class 90s) from DB Cargo UK (pictured).
Four of these will be in service at any one time, with one locomotive spare for maintenance purposes.
These electric, non-tilting trains, will run along the North West – London Euston route, as well as other cleared routes between Blackpool, Preston, Nuneaton, Milton Keynes and London when diversions are needed.
The trains will be maintained by DB Cargo UK at Crewe Electric Maintenance Depot. Grand Central's North West fleet is compliant with disability and accessibility standards (PRM).
Paul Batty, fleet project manager for Grand Central, said: "We are incredibly proud of the work that has been done to bring our new fleet of rolling stock to fruition, starting with our first locomotive ready to begin driver training in a couple of weeks' time.
"It's taken a lot of planning and a considerable team effort to get to this stage and it's fantastic that our customers will soon be able to see our refurbished Grand Central trains in operation."
Grand Central currently operates direct trains between towns and cities in Yorkshire and the North East of England and London. The company has an industry-leading reputation for customer service and value for money and a track record of supporting and investing in local communities around its networks.