People on the Move: Dow Schofield Watts; Pearson Solicitors & Financial Advisers; JLL; Kemtile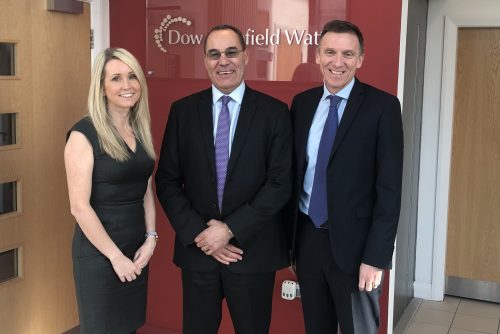 One of the North's best known bankers has joined Daresbury-based Dow Schofield Watts to launch a debt advisory arm.
Phil Tarimo will lead the new service, DSW Debt Advisory, which is aimed at medium-sized companies seeking debt funding of £20m or above. It will initially operate from the firm's Northern offices but the aim is to roll it out nationally.
Phil, who was the North of England regional managing director for corporate & structured finance at Royal Bank of Scotland, also helped to found Deloitte's debt advisory business in 2005 which was the first of its type outside London.
He went on to Clydesdale and Yorkshire Bank where he became UK head of working capital solutions and a member of its leadership team. Most recently he was an executive board member at AIM-listed DF Capital.
DSW Debt Advisory will help companies and private equity firms raise funds to support acquisitions, growth or simply to refinance to increase liquidity.
It comes as businesses are negotiating an increasingly complex funding landscape, and as many are seeking additional funding to deal with unforeseen events. Phil will work closely with Dow Schofield Watts' corporate finance team who provide advice on raising equity funding.
He said: "Having worked in large corporate environments, I am looking forward to dealing with businesses on a more personal, one-to-one basis. We know many companies are currently looking to refinance to give themselves additional headroom in view of the uncertainties they face in a post-Brexit environment.
"Given the bewildering array of different funders and products in the market, most businesses will be unaware of the full range of options open to them. Our aim is not just to manage the fundraising process, but to add real value by helping them to find the most appropriate sources, negotiate the best deal and get ahead of their funding requirements."
James Dow, founding partner of Dow Schofield Watts, said: "It is great to be able to welcome someone of Phil's calibre on board.
"He is the only specialist of his type within the North who has both operational board-level experience in banks and across the full range of banking products. We know that his expertise will be welcomed by many companies in the region and will be a valuable addition to the extensive range of services we offer."
::
Pearson Solicitors and Financial Advisers has appointed a new conveyancing executive to join its growing residential conveyancing team based at Oldham's Hollinwood Business Centre.
Tracy Rostern, who has many years of legal experience gained from various local law firms, specialises in residential conveyancing.
With more than 20 years of experience of working in the conveyancing world she brings a wealth of knowledge.
Tracy says she is looking forward to assisting in the development of the team, which is an area of law she is highly experienced in.
Joanne Ormston, practice manager, said: "It's great to have Tracy on board. The experience she brings will be a great asset to us.
"She certainly understands the stresses of buying and selling property so will be able to deliver a great customer experience for our clients."
::
JLL has appointed a new head of residential advisory for its North West office, as its client roster continues to flourish.
James Lockwood will oversee the team's secured lending and valuation advisory services, residential consultancy, affordable housing, and retirement living offer.
He will be building on existing relationships with major bank lenders, developers and registered providers, and brings experience in national student housing valuation to the team.
Steve Hogg, JLL North West's lead director, said: "The residential advisory team has had a strong year, with our build-to-rent valuation advice in particular being increasingly sought after.
"We've provided advice for both investor and development finance, advising high-profile clients such as Renaker, Town Centre Securities, Barclays, HSBC and Wells Fargo.
"James joins us at an exciting time, and I'm confident his expertise will help to propel the team even further forward."
James has joined from Cushman & Wakefield, where he was based for more than six years.
Initially joining as associate director, he was later promoted to partner in the residential valuation, development and agency department. He was also one of the lead partners for student valuation and advisory nationally.
He said: "JLL has a global reputation for excellence, and its North West office is no different. I'm very much looking forward to working with such a highly-regarded team in the region, and to connecting with its dynamic client base."
As well as advising Barclays on a major new Warrington scheme, JLL's North West residential valuation team has also recently worked with Your Housing on a number of build-to-rent projects in Liverpool. The team also recently advised Transport for Greater Manchester on Stockport Exchange.
::
Hygienic flooring company, Kemtile, has put the experienced George Morton in charge of existing clients and new business development across the North of England.
George brings 30 years of construction and flooring installation expertise to the territory manager role and will now work as part of an extensive commercial team based in Kemtile's UK HQ in Warrington.
Kemtile, which celebrated 40 years trading history in 2019, was acquired by US-based RPM Performance Coatings Group in July 2018, joining the worldwide Stonhard division, a specialist epoxy resin flooring manufacturer with a 90-year pedigree of its own.
It represents a new era in the UK for both firms, combining in-depth expertise for specification, manufacture and installation all under one roof for the first time.
It's full circle for George, who spent three years with Stonhard until 2013, where he added resin flooring to a vast knowledge of concrete floors and construction in general, and established an enviable sales record.
Taking some time out to run his own business, developing opportunities and managing all aspects of flooring build and install across the UK, George has now returned to the company in an exciting new role in the newly-merged organisation.
He will be tasked with selling the 'single source' commercial flooring solution across Kemtile's heartland food and drink marketplace and exploring opportunities in pharma, aerospace and engineering where the Stonhard UK brand is strong.
Current customers across both brands include Wright Foods, GKN Aerospace, Wrights Pies, Rhokett and KP Snacks.
George said: "Selling bespoke flooring solutions for both Kemtile and Stonhard is a really fantastic opportunity for me and a chance to complete unfinished business here.
"I think the sky's the limit for these two brands. Both are second to none in experience, knowledge and commitment to delivering a high-quality service. I can't wait to get started."
Jamie Cooke, operations director, said: "We are delighted to bring George back into the business.
"He has a first class understanding of how to source and create tailored flooring solutions for customers in a wide range of sectors and is already familiar with the Stonhard brand and our commitment to on time, on budget delivery.
"He is going to be a great asset to our Northern client base and will help us lead Kemtile into the next phase of growth as part of an exciting worldwide group."