People on the Move: Brock Carmichael Architects; Showtown; Impey; Clarke Nicklin; Together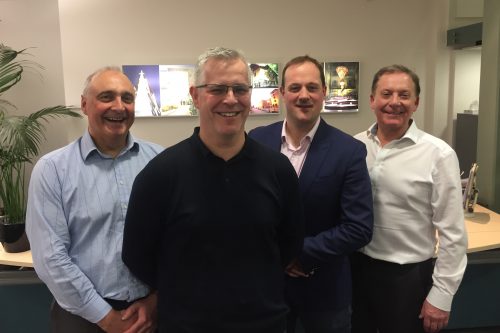 Liverpool-based Brock Carmichael Architects has announced the promotion of Phil Malthouse to partner in the practice.
Managing partner, Chris Bolland, said: "Phil joined the practice in June 2016 as a senior architect and became an associate in December 2017.
"His promotion will strengthen our ability to manage the practice in the light of a growing workload and expanding client list."
Partner John Cassell said: "In addition to being a talented designer Phil has already shown that he has a natural aptitude for winning business with clients."
Partner Michael Cosser said: "We were delighted that Phil accepted our invitation to join the partnership. As the practice celebrates its 45th year in business this latest evolution of the firm's succession plan, its 'fifth generation,' signifies our confidence in the future of the business as well as the ongoing opportunities for career progression in the team."
Phil has extensive and wide-ranging project experience. Since joining Brock Carmichael he has led teams working on several important projects in the residential and leisure sectors, including projects for Crossfield Group, Torus and Liverpool City Council.
Phil said: "The partners and staff of Brock Carmichael made me feel welcome from day one. The practice is well established with a great track record and an exciting future.
"With the support of a fantastic team, this provides an unmissable opportunity for me to become part of the business, and assist in its further growth with both new and existing clients."
::
Showtown, Blackpool's first museum, has appointed two senior positions to its board.
Spencer Phillips, chair, and Rupinder Ashworth, vice chair, will take the reins of the operating company prior to opening to the public in 2021.
The new £13m attraction, Showtown, will be located on the seafront in Blackpool in the new Sands Venue Resort & Spa, Blackpool's first five-star hotel.
Showtown will be the first museum in the UK dedicated to telling the story of Blackpool's role in seaside entertainment and variety and its huge impact on entertainment across the world.
Spencer Phillips is a proven brand builder in both the commercial industries and not-for-profit sectors.
Phillips has delivered impressive sales and marketing strategies for some of the largest names in ticketing, tourism and the performing arts, including Andrew Lloyd Webber's, Really Useful Theatre's Group, London's leading operator of musical theatres, Ticketmaster, Crystal Holidays, Silverstone and Rockingham motor circuits and International Cruise & Excursions (ICE).
He also holds chairman and trustee roles with a number of not-for-profit groups, collaborating with CEOs to boost public awareness as well as improve income targets.
Spencer Phillips said: "I'm thrilled to be joining Showtown at this early stage, as it's such a great opportunity to celebrate the rich history of this wonderful town and the leading role it has played in the history of show business.
"The key focus between now and when Showtown opens its doors to the public next year will be working to deliver an amazing museum offering the best experience possible for our customers."
Rupinder Ashworth brings 30 years of strategy, marketing and experiential expertise for agencies and brands to Showtown.
She has used her skills in both the private and public sector to bring consumers and brands closer together. She is a director and trustee at The Piece Hall, Halifax, where the £22m revitalisation funded by the National Lottery Heritage fund and Calderdale Council has transformed the town and delivered five million visitors over two years.
It is now recognised on the national and international stages as a significant heritage and cultural attraction.
Rupinder is also a trustee at British Weightlifting alongside her private consultancy work.
She said: "It's great to be joining Showtown. I look forward to working with Spencer and together we aim to showcase the variety and entertainment heritage of Blackpool, its impact on the world of entertainment over the decades.
"We'll also be bringing it right up to date to convey variety to new generations. There are so many great stories to tell."
Cllr Gillian Campbell, deputy leader of Blackpool Council, said: "We are delighted to have Spencer and Rupinder on board.
"With their considerable experience across the not-for profit and commercial sectors and their enthusiasm and ambition for great experiences, they are ideally placed to get Showtown ready to be a major player in Blackpool's visitor economy."
Showtown will be a must-visit attraction creating a buzz for all ages, aiming to attract 300,000 visitors and will play a critical role in Blackpool's ambitious regeneration plans.
It will create jobs and further volunteer opportunities, in addition to schools and group activity programmes targeted at areas covering mental health, wellbeing, increasing skills, encouraging cultural participation, employment opportunities and building civic pride.
::
Stockport-based independent property company, Impey, is celebrating 40 years of business in the town, and has grown its team with the appointment of John Poole as surveyor in the office and retail agency department.
The landmark anniversary also coincides with the company's instruction, together with Colliers, to market and manage the iconic Pyramid building on junction one of the M60 in the town centre
John joins Impey after running his own property consultancy for the past 18 months. Prior to that he worked for MCR Property Group for four years and has also held positions with WT Gunson and Hallams in Manchester.
Based on Lower Hillgate, Impey is an eight-strong family-run business which advises on all aspects of commercial and industrial property in Stockport and across South Manchester.
Services include industrial and commercial property sales, lettings, rating appeals, valuations, acquisitions, management, rent reviews, lease renewals and dilapidation advice.
As well as the 86,000 sq ft Pyramid office scheme, Impey is also representing many of Stockport's landmark commercial properties including Dale House on Tiviot Dale, Sula House on Greek Street and Spur Mill in Reddish.
Managing director Julie Morris said: "We are so proud to have been Stockport's leading property advisors for the last four decades and we have really exciting plans for the future of the business.
"Our success is founded on the team's extensive knowledge of the local commercial property market and, with so much investment and transformational plans ahead for Stockport, it is a really exciting time to be part of what is happening.
"John brings with him 10 years' experience working on both client and agency side, as well as owning his own consultancy and he knows South Manchester inside out. We are continuing to invest in the business and have secured a raft of new instructions since the start of the year, so we are very much looking forward to the next 40 years in business."
John said: "Impey is a well-established business with a very loyal local client base of landlords, investors and tenants. I'm delighted to be joining such a well-known and well-respected company which prides itself on being an experienced and trusted partner and giving the best property advice possible to clients. Working with the team, my remit will be to help further expand the retail and office agency offer across the South Manchester region. To have the Pyramid building on our books is a great start for 2020."
::
The Clarke Nicklin team continues to grow as Alice Atkinson, recent graduate from Manchester Metropolitan University, was appointed as marketing executive on March 2, to support marketing manager, Laura Frost, at the chartered accountants and business advisers.
Alice's role will involve duties such as creating content and updating social media, as well as supporting Laura with Clarke Nicklin's ongoing planning and organisation of the annual Stockport Business Awards.
Alice said: "I was delighted when I was chosen to work for Clarke Nicklin, as the marketing role is really varied and there's lots to get involved with.
"I'm particularly excited to be a part of helping with the Stockport Business Awards as I'm aware of just how positive it can benefit local businesses."
Marketing manager, Laura Frost, said: "We are thrilled to have Alice on board to support on some really exciting projects we are working on this year, including this year's Stockport Business Awards."
Alice, originally from Sunderland, graduated with an MSc in Marketing and Creative Advertising in September 2019 and decided to stay in Manchester to pursue her marketing career.
::
Two financial services experts with more than three decades of combined industry experience have joined Cheadle finance specialist Together as it expands its intermediary relationship team.
Phil Quinn started his new position as head of national accounts with the specialist lender this month as it continues to grow its share of the UK mortgage market.
He will be joined by experienced business development and commercial relationship manager Sally Precious Ward, who is the group's new regional account manager for the Midlands and the South West.
Richard Tugwell, intermediary relationship director at Together, said: "I'm delighted to welcome Phil and Sally.
"It's fantastic to have brought on board two such well-respected industry professionals to further enhance our proposition in the mortgage market.
"These two new appointments underline our deep commitment to intermediaries and our appetite to grow our presence even further."
Manchester-born Phil, who lives in London, has 10 years of experience in high street and specialist lending.
He worked as a business development manager at Scottish Widows Bank and a mortgage manager for Halifax before joining Pepper Money as a regional account manager. He was promoted to national account manager in 2018.
At Together, Phil will operate across the group's personal and commercial finance divisions and have responsibility for building relationships with key members of some of the country's leading networks and clubs.
Phil said: "I've always been very strong on relationship management, strategy and planning, particularly when it comes to sales and marketing, which will be at the core of my new job. I'm looking forward to using my skills to benefit an already-strong team as we increase the volume and share of business through networks and clubs."
Sally brings 24 years of financial experience to Together and will work alongside a network of relationship managers across the country.
She previously held roles as business development manager at Mortgage Express, part of Bradford & Bingley (B&B), before the building society was nationalised following the 2008 credit crunch.
Sally later worked as a commercial relationship manager for UK Asset Resolution (UKAR) and in the same role for Computershare, whose loan book was acquired by UKAR.
The married mum-of-two lives in Wiltshire, is a keen runner and has raised thousands of pounds for Sarcoma UK, a charity supporting people with bone cancer.
Sally said: "I will be working with some of our closest business partners to further strengthen our relationships. Joining Together is an exciting opportunity to work for a leading specialist lender to help it realise its growth ambitions."