Wembley topping out for student accommodation scheme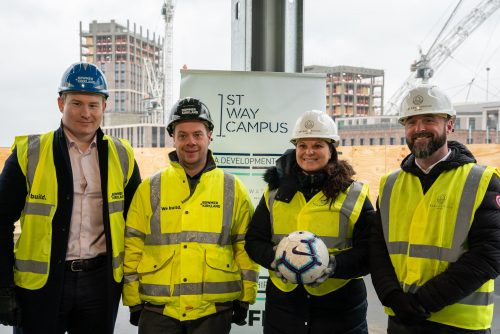 Manchester's Cole Waterhouse has celebrated the final whistle at its Wembley student accommodation scheme.
The final module of 678-bedrooms has been installed at First Way Campus, Wembley.
Construction partner Bowmer + Kirkland joined UCFB, Unite Students and the project delivery team for the event, which was held on the roof of the building overlooking the famous Wembley Stadium arch.
Bowmer + Kirkland is delivering the project that will provide accommodation, more than 37,000 sq ft of commercial and academic space, and a vast array of student ancillary space – including sports labs, a café, gym, library and rooftop terraces.
The campus is due to be occupied by Burnley-based University Campus of Football Business (UCFB) and owned by student accommodation specialist Unite.
UCFB operates campuses at Burnley's Turf Moor ground, Manchester City's Etihad Stadium, and Wembley.
Since August 2019, 438 pre-manufactured modules have been installed which make up the bedrooms, kitchens and corridors of the residential areas of the project. The development also includes four floors of flexible office space and a new teaching campus for UCFB.
Damian Flood, Cole Waterhouse chief executive, said: "It is great that the final unit was able to be lifted into place in such a short space of time.
"We decided on a modular design to ensure swift installation with limited delays and to achieve the highest level of build quality possible. We are delighted that First Way Wembley is nearing completion and look forward to handing over to UCFB and Unite by July."
Brendan Flood, UCFB chairman, added: "The First Way project represents a significant investment for UCFB in new facilities for both our students and staff within the Wembley Campus.
"We plan to invest further in an innovative fit out to provide exciting new degree programmes and a fabulous student experience. We are grateful for the hard work and expertise of the Cole Waterhouse team and Bowmer + Kirkland, and we look forward to moving in this Summer."
Matthew Cruttenden, regional director from Bowmer + Kirkland, said: "The safe installation of the final modular unit is a significant milestone in the delivery of this fantastic new facility, the fitting out and finishes are now well under way and we look forward to handing over the keys to Unite and UCFB in the near future. A big thank you to the whole team for making this happen."