People on the Move: Mitchell Charlesworth; Pinsent Masons; Aaron & Partners; DLA Piper; Creative Lancashire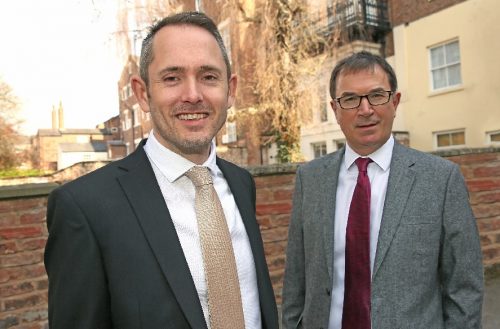 North West accountancy Mitchell Charlesworth has appointed a new partner.
Alex Makinson has more than 20 years of experience in audit, accounting, corporate and personal tax planning, including profit extraction, business succession planning, corporate restructuring and growth support.
He has a keen interest in owner-managed businesses and advises organisations across a variety of sectors, ranging from professional and medical services, through to the manufacturing and transport industry.
A particular area of expertise is in education, supporting a significant number of academy schools and multi-academy trusts across the North West.
Alex joins the firm from UHY Hacker Young and will be based in Mitchell Charlesworth's Chester office.
Mitchell Charlesworth Chester-based partner and chairman, Rob Hall, said: "Alex's extensive expertise and experience will be a valuable addition to our team. During this challenging time for businesses, Alex will play a significant role in supporting our clients through the ongoing situation.
"Alex's appointment demonstrates our strong commitment to invest in the future success of Mitchell Charlesworth and attract leading talent to our growing team so we can offer the highest level of service to our clients."
Alex said: "I am looking forward to being part of a uniquely progressive, dynamic and contemporary firm, that goes above and beyond to help their clients."
::
Multinational law firm Pinsent Masons has announced 17 new partners in its 2020 promotion round, with three of them in its Manchester office – Ann-Marie Salmacis and Michael Smith in real estate and Alasdair Weir in corporate.
Ann–Marie Salmacis joined in 2008 and works in Manchester's property development and investments team advising clients on large scale commercial transactions with a focus on logistics, regeneration projects, strategic land assembly and promotion.
Michael Smith has worked for Pinsent Masons for 20 years specialising in property dispute resolution with a focus on complex disputes concerning trespass, interpretation of property contracts, restrictive covenants and dilapidations and contentious issues under the Electronic Communications Code.
Alasdair Weir joined the corporate team in 2014. He specialises in public company law advising on IPOs, secondary offerings and takeovers, and M&A acting for private companies, PLCs and financial sponsors. Alasdair works closely with the firm's energy and infrastructure teams advising on M&A and joint ventures.
The round includes promotions outside of traditional legal services for the first time.
Hayley Boxall has been made partner in forensic accounting services, while director of client solutions, David Halliwell, has also been promoted to partner as the firm strengthens its capabilities as a professional services business with law at its core.
The promotions, which take effect on May 1, bring the total number of partners to 474 with female representation across the partnership reaching approximately 28%.
This year, almost half of those promoted are women, signalling the firm's continued progress towards a position where promotions demographics reflect the pool from which candidates are drawn.
Helen Ridge, partner and head of office in Manchester, said: "I am delighted that we are promoting three talented lawyers who each make an important contribution to the offering we provide to clients in Manchester and to North West firms working internationally."
Richard Foley, senior partner, said: "We are incredibly proud of the talent, skill and dedication of all of our people. As we all take stock and adjust to the challenges we face prompted by COVID-19, it's heartening to have some positive news that helps us look to the future.
"Those promoted strengthen our position as a leading sector-focused, multinational legal services provider and mark an important step in our transition to become a professional services business with law at its core.
"The firm's commitment to provide its clients with innovative, solutions-based legal services is the touchstone of our business. Now, more than ever, developing talent that supports this is critical as our clients grapple with the challenges posed by coronavirus."
Pinsent Masons said it was one of the first law firms to establish an in-house forensic accounting team, offering clients a multi-disciplinary approach to disputes, consultancy services and investigations.
As the partner leading client solutions, David Halliwell works with a wide range of professionals across the firm to help clients transform the way they deliver legal services to their businesses, both through the firm's existing portfolio of process, resourcing and technology solutions and through collaboration to create new ones.
::
Top 200 legal practice Aaron & Partners has strengthened its services by appointing a senior construction expert.
Phil Caton joins as a senior associate solicitor, specialising in construction law.
Phil is highly experienced in both contentious and non-contentious work but has a particular focus on transactional law, including drafting and negotiating contracts, drafting development agreements and offering advice on bespoke forms and building standards.
His in-depth knowledge of the sector and understanding of the complexities of construction law has also put Phil in good stead to manage the resolution of a range of construction disputes, including breach of contracts and adjudication.
"Aaron & Partners is a highly-regarded firm in the North West and it's fantastic to be able to bring a new set of skills to such a great team." said Phil.
"Now, more than ever, it is vital that businesses have access to expert legal advice.
"Coronavirus has had a significant impact on all aspects of business, perhaps especially within the construction sector, and my role has never been more crucial.
"Whether companies require advice on breach of contracts or management of dispute resolution, it is vital that they know we can provide the expert support they need during these challenging times."
David Harries, partner and Phil's team leader, said: "Phil is a tremendous addition to the firm and his wealth of specialist construction knowledge will be a huge asset to us and to our clients, especially during the current crisis."
::
DLA Piper is strengthening its UK restructuring team with the addition of partner David Manson.
David joins from Paul Hastings, where he has been a partner in their London office since 2017. Prior to that, he was a partner at White & Case.
David will be based at DLA Piper's North West office, in addition to spending time in London. He will work with the UK team, focusing on special situations investing, national and cross-border restructurings, financings, refinancings and strategic restructurings in the energy, maritime and offshore sectors.
He advises banks, funds, noteholders, insolvency practitioners and companies on all aspects of insolvency, reconstructions, and cross-border restructurings.
David will be joined by senior associate Philip Povey, who also has extensive experience in counselling on distressed debt, restructuring, and special situations mandates.
DLA Piper's UK head of restructuring, Robert Russell, said: "Our restructuring team competes at the top end of the market and David's expertise and synergy with our existing client offering make him a strong addition, deepening our global team of experts and our ability to support clients to respond to market challenges in these uncertain times.
"As we move into a new decade we are welcoming a number of new senior hires to our team as the practice goes from strength to strength, advising on a number of major deals for both longstanding and new clients."
DLA Piper's restructuring practice has had exceptional growth over the past few years, attracting a number of high-profile international restructuring mandates, including Bristow Helicopters, Four Seasons Health Care and global insolvencies and distressed situations such as Abraaj and Thomas Cook.
The UK team has more than 50 dedicated lawyers across six offices including Birmingham, Edinburgh, Leeds, London, Manchester and Sheffield.
Clients range from debt and equity investors, financial advisers, boards, governments and development banks. The team also advises financial institutions on leveraged, syndicated, club and bilateral matters.
::
A leading figure from the county's creative sector has been appointed to Creative Lancashire and is already looking to support the sector during the coronavirus pandemic.
Jenny Rutter's work led to the creation of Creative Lancashire, and now she returns to champion, promote and support this important sector in her new role.
It comes at a time when the creative sector helps us deal with the impact of coronavirus and the new restrictions.
Creative Lancashire is dedicated to helping raise the profile of Lancashire's creative talent and to harnessing the economic potential in companies and organisations working in the sector.
The service is provided by Lancashire County Council, through its economic development company Lancashire County Developments Ltd (LCDL). The county council recognises the crucial role that creativity and innovation play in driving the economy.
Jenny, who lives in Preston, said: "The creative sector has always been very agile and flexible, adapting quickly to meet new challenges. And the current challenge from coronavirus is one affecting businesses and creative practitioners right across the globe.
"We'll be working to support our whole creative sector during this time, while also reminding partners and businesses of the importance of creativity and design in helping to open up new opportunities and bring something new to the table."
A producer with two decades' experience supporting and developing creative practice in the North West, Jenny's career has included local government regeneration, creative industries and professional development roles, as well as managing and producing a wide variety of creative industry and arts programmes, including major festivals and events.
Jenny is a founding board member of the Lancashire 2025 City of Culture bid company.
She delivered the first dedicated Creative Industry development programme in Preston and supported a funding bid which saw her work replicated across the county as the original Creative Lancashire service.
Creative Lancashire aims to strengthen existing businesses, support new enterprises and to raise the competitiveness and profile of the creative and digital sector in Lancashire.
This includes advocating for creativity and design, building collaborations and networking opportunities, offering creative and digital business advice, and providing information on finance, funding and growth.
Jenny said: "My work across Lancashire has re-enforced my belief in the power of arts and creativity to drive social change and to help shape positive futures for marginalised people and places.
"I am really proud to be asked to chair Creative Lancashire, an organisation which has had such a positive impact on the creative landscape in the county over the last 15 years."
She has most recently been working with two Arts Council England Creative People and Places programmes: LeftCoast in Blackpool; and Super Slow Way in Pennine Lancashire.
Jenny co-developed the first British Textile Biennial, which invites artists, designers and makers to explore the politics of cloth in performances, artworks and events across Pennine Lancashire.
She also manages Super Slow Way's three-year programme of commissions and residencies working with communities, partners and heritage assets along their 20-mile stretch of the Leeds-Liverpool Canal.
Jenny takes over from Charles Hadcock, businessman and sculptor, who held the role for 15 years.