People on the Move: Beattie; Pixel Kicks; It's Gone Viral; Napthens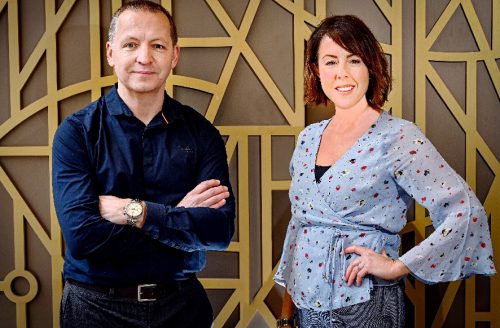 Beattie, the integrated communications agency, has signed the former boss of a rival agency in the North West.
Wayne Silver, who was managing director of One Brand Magic in Sale, has joined Beattie as managing director of integrated marketing.
Rachel Gladwin, who heads up Beattie's North and Midlands division, said: "We're delighted to have snapped up one of the region's most respected and best connected integrated marketers.
"Like every agency in the country, we have experienced a serious dip in revenue because of the coronavirus crisis, but Wayne's arrival signals our determination to ensure that Beattie bounces back stronger than ever when business life returns to normal."
Wayne Silver said: "Beattie is one of the most progressive agencies in the UK and I look forward to bringing more clients on board as well as expanding their range of specialist marketing services when the crisis is over."
Silver was at One from 2008, first as business development director and as managing director from 2014.
Based in London, Beattie has 16 offices in the UK and Canada including Manchester, Leeds, Glasgow, Belfast, Toronto, Calgary and Vancouver.
::
Pixel Kicks, the Manchester-based full-service digital agency, has appointed Will Crawford as its newest web developer.
Will joins from Nuttersons where he worked for two-and-a-half years, first as an apprentice and then as a full-time web developer/designer.
In his new role Will be focusing on all core web development disciplines, including WordPress, PHP, CSS, Responsive Design, Magento and eCommerce for the agency's roster of clients which spans the property, technology, medical research, hospitality and leisure sectors.
Will said: "I was looking for the next challenge in my career and Pixel Kicks seemed like the ideal company where I could hone my experience and add real value. It's great to now be part of the team and I'm looking forward to making my mark in the ongoing success of the company."
Chris Buckley, Pixel Kicks managing director, added: "We are really excited to welcome Will to the team. He brings with him an excellent attention to detail, first class client communication skills, a keen eye for design and a great knowledge of best practice in modern website design."
::
It's Gone Viral, the Manchester-based social media marketing company, has added two new members to its team.
Jessika Deans has joined as a junior video editing coordinator in the Long Form Content Team. She has previously worked at LADBible and UNILAD. Jessika's new role will see her work across the company's portfolio of pages.
Katie Robertson is the firm's newest account executive. Katie moved to Manchester a few months ago from Brighton where she worked as a social media manager for tech company Hyve Managed Hosting.
She previously worked as a PR and marketing assistant for homeware brand Rockett St George. Her new role will see her assisting with the wider team in the day-to-day management of clients and their social media accounts including scheduling, creating original content as well as posting and sourcing new content.
Katie said: "I have followed It's Gone Viral for a few years and have always enjoyed their engaging and hilarious content when scrolling down my feed, so when the opportunity to work for them came about I jumped at it. To be surrounded by such creative and talented people is so motivating and inspiring and every day I'm learning new skills."
Managing director Andrew Trotman said: "The It's Gone Viral team has grown massively over the past year and we are delighted to welcome both Katie and Jessika who are already adding value to the business."
It's Gone Viral was founded in 2016 and is led by Andrew Trotman and Ryan Williams.
Over the past four years its team of content creators, analysts and video producers have made and then distributed video content and viral campaign adverts for international brands such as BBC Films, O2, Universal, Bud Light and Disney.
The past six months has seen the company reach various milestones including delivering more than six billion views across its portfolio of pages, relocating its HQ to Beehive Mill in Ancoats, reporting its highest ever NewsWhip results, acquiring social media brand Happiest Media and appointing Urban Splash's Sam Lenehan as its new non-exec director.
::
Regional law firm Napthens has made five new promotions across its teams.
Nicole Chrisham is promoted to associate solicitor in the firm's residential property team following her success at the Law Firm Services Conveyancing Awards when she was named as North West's Best Young Conveyancer.
Farida Isaji becomes an associate solicitor in Napthens' wills and estates team, while other promotions for Napthens include Charlotte Walsh, who becomes an associate solicitor in the corporate team after joining the team as a trainee in 2014.
Others moving up are Victoria Taylor who becomes associate solicitor in the firm's litigation team in the Blackburn office, and Sally Calvert who is promoted to senior associate legal executive in the residential property team supporting the Fylde coast.
Shru Morris, chief executive, said: "We are keen to support and develop talent within Napthens.
"It's particularly pleasing to see our people grow with us as we continue to deliver exceptional client service utilising the skills and knowledge that these individuals bring to our teams.
"I look forward to seeing their continued success and all that they can achieve within their careers as part of the Napthens family."