Parliament Square scheme reaches major milestone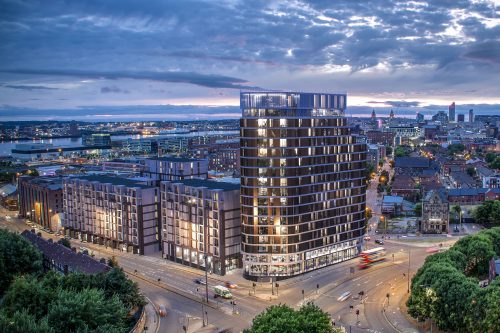 Legacie Developments is pressing ahead with its Parliament Square project in Liverpool after a major milestone was reached.
As work continues under new social distancing restrictions, two huge steel frames have been erected to give a first glimpse of how the new development will look.
The £90m project will see the construction of 500 contemporary state-of-the-art apartments across four blocks.
The scheme will help transform a major thoroughfare into Liverpool city centre.
It will include a public plaza with restaurants and boutique shops which will connect it to the Baltic Triangle.
Work on the Parliament Square site started in October last year when it was praised by Liverpool Mayor Joe Anderson for its economic impact and job creation.
Legacie Developments founder and managing director, John Morley, said: "The steel frames form the skeleton of what will be a striking addition to the area on the edge of the city centre.
"This is a key milestone in the development and is a very exciting one at that.
"Work is continuing on the site as much as it possibly can given the restrictions."
He added: "This scheme is going to transform a key route into the city centre, it will be a residential development that the city will be proud of."
In February the project was given a major boost when Legacie secured a £20m finance deal with UK development lender Maslow Capital.
Legacie, which has delivered a number of residential development schemes in the city including Renshaw Street's Ropemaker Place and Water Street's Reliance House, said the funding from Maslow Capital underlines confidence in the company as an emerging developer.
Work on the development is expected to be complete by Summer 2021.