COVID-19 lockdown leads to record fall in North West business activity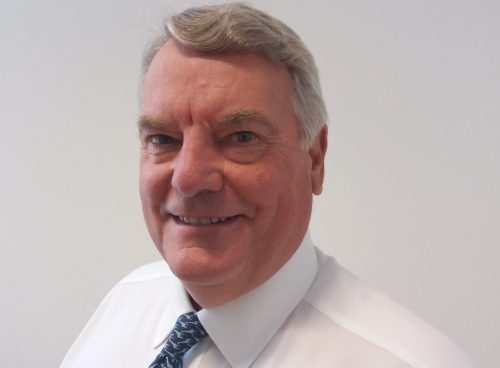 COVID-19 lockdown leads to record fall in North West business activity
April saw an unprecedented collapse in business activity across the North West amid continued disruption from the coronavirus pandemic and resulting containment measures, latest PMI data from NatWest and IHS Markit showed.
Employment was also found to have fallen at the fastest rate on record as firms looked to cut costs and reported concerns about the longer-term impact of the virus outbreak on demand.
Published today, the headline NatWest North West Business Activity Index – a seasonally adjusted index that measures the change in the combined output of the region's manufacturing and service sectors – registered 19.7 in April, down sharply from 40.7 in March and below the previous record low in December 2008, following the banking crash.
The decline in activity was led by services, though manufacturing production also fell sharply.
The trends observed in the North West matched those seen across all 11 other UK regions monitored by the survey, with each seeing a record fall in business activity.
However, the decline in the North West was the slowest nationally.
Business closures, heightened uncertainty, and a squeeze on export opportunities all contributed to a sharp drop in client demand for goods and services across the North West private sector in April.
New orders fell at by far the fastest rate seen since the survey was first compiled in 1997.
Firms in the North West cut staff numbers for the third month in a row in April.
Furthermore, after only relatively moderate job losses in March, the pace of job shedding accelerated to a survey record.
At the same time, numerous businesses reported putting employees on furlough.
Despite the reduction in staffing capacity, April saw an unprecedented drop in backlogs of work.
Average prices charged for goods and services by firms in the North West fell for the first time in more than four years in April.
The decline was the steepest seen since this series began in 1999, reflecting widespread discounting in the service sector in particular.
Firms' input costs, likewise, fell for the first time since early-2016 in April. Alongside a reduction in average payroll costs, linked in part to shorter working hours, anecdotal evidence highlighted the impact of a demand-related slump in global commodity prices, including crude oil.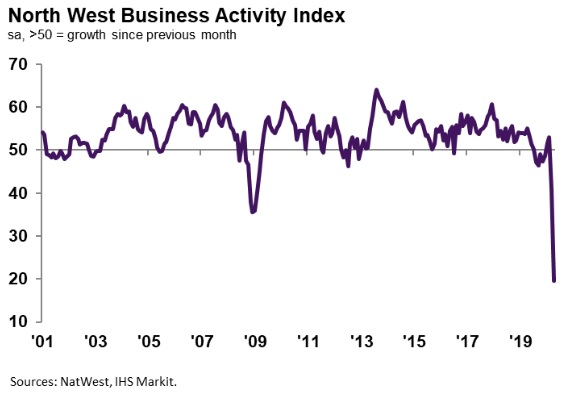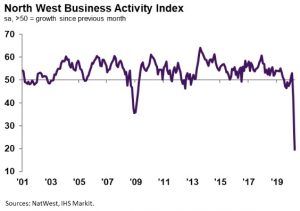 Worries about the longer-term effects on demand from the COVID-19 pandemic and associated public health measures continued to weigh on business confidence in April.
Though recovering slightly from March, output expectations were still much lower than at any other time since the start of this series in 2012.
Richard Topliss, chair, NatWest North regional board, said: "In the last month, the UK economy has seen disruption on an unprecedented scale, and the impact has been felt severely by firms all across the North West.
"A collapse in demand has resulted in a record drop in the region's business activity, and has led local firms to shed staff at a rate that is unmatched.
"It's hard to find the positives in such a grim set of figures, but if there's one consolation to be had, it's that the North West did see the slowest decreases in both output and employment of all UK regions, which will, perhaps, stand it in good stead."