Discount retail chain reports growth, but higher costs due to pandemic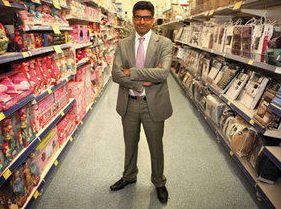 B&M European, the Liverpool-based discount retail chain, reported stronger trading figures, but higher costs, it said today.
The group, based in Speke, South Liverpool, issued a trading update covering the fourth quarter of the 2019/20 financial year (13 weeks ended 28 March 2020) and the first eight weeks of the 2020/21 financial year to 23 May 2020.
It reported a strong end to fourth quarter trading driven by an exceptionally strong March performance on grocery, with B&M UK like-for-like revenues of +6.6% over the quarter.
Strong revenue growth was experienced in the first eight weeks of the new financial year with revenues of +22.7%, driven by exceptionally strong DIY and gardening categories and despite a significant fall in customer count.
However, the update said the B&M UK business is experiencing higher than normal operating costs in distribution and at stores resulting from the application of social distancing measures put in place to protect customers and colleagues, as well as the payment of premium wage rates during the COVID-19 peak period.
Elsewhere, there was a strong performance from Heron Foods in both the fourth quarter and the early weeks of the new financial year.
Also, the 49 B&M UK stores which had previously been temporarily closed as a result of the pandemic have all now re-opened.
In addition, B&M has donated £1m to UK Food banks and has provided £2m in discount to NHS workers.
The group's B&M and Babou stores in France closed from March 15, and all but two re-opened on May 11.
B&M chief executive Simon Arora said: "We have encountered exceptionally strong demand in our UK business over recent weeks.
"Customers have been coming to our stores much less frequently through the lockdown, but their average spend has been much higher than normal.
"I would like to thank them for their patience and consideration in observing social distancing inside and outside our stores during this period.
"Their safety, and that of our colleagues and customers, has been of paramount importance to us and that is why we have put a range of measures in place to minimise the risks of infection, including screened checkouts, distanced queuing and a frequent cleaning regime across the business.
"We have also paid a wage premium to all store and distribution colleagues during the peak of the COVID-19 outbreak in recognition of their contribution in this unprecedented period.
"I would like to express my warm thanks to all our colleagues for their hard work, dedication and resourcefulness during this very difficult period – their courage and amazing service to customers has been an inspiration."
He added: "We have seen a significant bring-forward of demand in some key categories and the remarkably warm Spring weather in the UK has been a major factor behind this during recent weeks.
"We are not expecting this current level of trading to continue as normal shopping patterns resume. Clearly, there is also considerable uncertainty in relation to both the progression of COVID-19 and the economic outlook and it is, therefore, hard to predict future trading levels."
B&M will release its preliminary results for the 2019/20 financial year on Thursday June 11.
Russ Mould, investment director at Manchester investment platform AJ Bell, said: "The retail sector, as a whole, may be on the floor, but some participants remain on their feet, particularly those which were able to remain open throughout lockdown.
"The big sales advance for discount chain B&M European Value Retail is striking given it coincided with the worst of lockdown conditions as its homewares and groceries status allowed it to keep trading throughout.
"With people stuck at home the company's budget DIY and gardening products have clearly gone down a storm, with stores that were closed now re-opened it will be interesting to see if this proves to be a one-off phenomenon or a continuing trend.
"The company itself expects trading to settle down and this seems fair, particularly as DIY and garden specialists re-open.
"You could see a customer preference for fewer visits but higher average spend continuing and it will be interesting to see if B&M changes its operations in any way to accommodate this shift.
"As has been the case for its supermarket counterparts, the company's bumper sales have come at a cost. The introduction of social distancing measures and paying staff premium wages to incentivise them to work at the peak of the pandemic will take a big chunk out of the outsized revenue generated in recent weeks.
"This is a bit of a warning for other retailers as they prepare to lift the shutters. Some have already warned it may not be profitable to re-open in a post-coronavirus new normal."