Warehouse group considering fundraising to exploit acquisition opportunities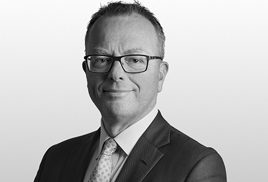 The Warehouse REIT, which has a Chester base, said it is in a strong position to resume growth after the coronavirus pandemic when it announced its final results for the year to March 31, 2020, today.
The UK occupational market remains strong as a result of structural trends underpinning the growth in internet shopping and 'last-mile' delivery.
COVID-19 has meant a change in people's behaviour which is accelerating these trends, contributing to ongoing demand for warehouse space for logistics and distribution.
And the Warehouse REIT said it has a strong pipeline of potential multimillion-pound investments, which is likely to lead to a second equity fundraising exercise.
The group said it enjoyed a positive year with further strategic progress and robust operational and financial performance, despite the outbreak of the COVID-19 pandemic in the final weeks of the period.
Revenues of £30.053m compared with £21.985m the previous year, although the pre-tax profit fell from £22.78m in 2019 to £20.676m in 2020.
During the latest fiscal year the group declared a fourth interim dividend of 1.6p per share for the quarter to March 31, 2020, meeting its revised dividend target.
The portfolio was valued at £450.5m at March 31, 2020, a like-for-like increase of 2.5% on the valuation the previous year.
The valuation of the same portfolio at January 31, 2020 was £454.9m, a like-for-like increase of 4.1% on March 31, 2019. The decrease in value since January reflects the uncertainty caused by COVID-19.
Since the end of the 2020 financial year the group has made an acquisition and two disposals.
In April it acquired Knowsley Business Park, a 116,900 sq ft multi-let warehouse investment opposite the group's Nexus, Knowsley asset, for £7.9m, reflecting a net initial yield of 7.1%.
The business park comprises five units and is fully let to two strong covenants, with a WAULT (weighted average unexpired lease term) of 6.4 years on acquisition.
The group also completed the disposal of two warehouses for a combined consideration of £1m, in line with their March 31, 2020 book values.
Going forward, the group said it has made good progress with the collection of March 2020 contracted rents, with payments made or agreed for 94.0% of contracted rent as at May 27.
Today's statement said: "As we progress through the quarter to June 2020, we continue to review the quarterly earnings available for distribution, in line with the REIT obligations to pay 90% of earnings as dividends.
"We continue to target a total dividend per share of 6.2p for the year ending March 31, 2021, and will monitor this as the impact of COVID-19 is better understood. We intend to declare the dividend for the first quarter of the year ending March 31, 2021, in August 2020, as usual."
At March 31, 2020, the group had available cash of £5.5m and £33.5m headroom in undrawn facilities, and was operating well within its banking covenants
It said it sees potential for further market rental growth, continued value creation through asset management and an attractive acquisition pipeline.
"Prior to the onset of COVID-19, we had identified a significant pipeline of attractive acquisitions.
"We still see good opportunities to continue with our investment strategy, with much of this pipeline still in place, and a proportion of it now at potentially more attractive values, as well as several new opportunities emerging in recent months.
"The pipeline, which has an increased focus on e-commerce opportunities, amounts to approximately £350m, of which over £100m are in exclusive or final negotiations or have solicitors instructed and approximately a further £250m are in detailed negotiations."
Today's announcement revealed the company is again considering an equity fundraising to enable it to capitalise on its pipeline and is starting a period of engagement with existing and potential new investors.
It successfully raised gross proceeds of £76.5m through an equity raise in April 2019, with strong support from existing and new shareholders.
A second equity raise in March 2020 was postponed as a result of the impact of COVID-19 on global equity markets.
Chairman, Neil Kirton, said: "The group continued to perform well during the period and made further strategic progress.
"We added high-quality assets to the portfolio and extracted value from the existing assets through active asset management.
"We are confident that we have built a resilient business, with around 560 tenants across numerous industry sectors and a portfolio of assets that are attractive to a wide range of potential occupiers.
"The board is, therefore, confident that we are well placed to navigate the short-term disruption caused by COVID-19 and that we are in a strong position to resume our growth."