New leader pledges to take Chester Business School into the future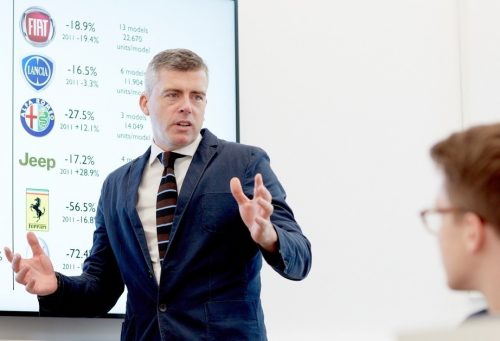 X

Register for free to receive latest news stories direct to your inbox
Register
The new leader of the University of Chester's Business School has pledged to develop the enterprising outlook and commitment of its staff and students further to become one of the UK's most business-friendly and connected business schools.
Prof Kurt Allman recently started his role as the Executive Dean of the Faculty of Business and Management.
He said he has been impressed by both colleagues and students and plans to harness their enthusiasm and talent to take the Business School forward.
He said: "My plans are clear, we are going to become one of the UK's most business-friendly and connected business schools.
"This means we will have significant connections and interactions to the vast array of dynamic businesses that reside in the region – from agricultural businesses in the South of the county to high-tech aerospace.
"What struck me immediately at Chester Business School, the moment I walked through the doors at Queen's Park, was its collegiality and enterprising outlook: Collegiality cascading through everything we do, with an entrepreneurial outlook, enables us to do extraordinary things – it's very empowering.
"Couple this with our students, their thirst for knowledge and their energy, then we have something very powerful.
"Bringing people and ideas together are the key ingredients for change and innovation, enabling communities and organisations to respond to the many challenges we are facing."
He added: "We are a significant enabler to the Cheshire economy, which, in turn, is a powerful dimension of the Northern Powerhouse. Fortunately, we have a significant number of relationships already, through our student projects, apprenticeships, company training programmes and, of course, our research.
"So, there are well developed mechanisms and great foundations already in place."
Prof Allman believes that the research and real-life experience colleagues in the Business School bring to their teaching give students a perfect balance between learning theory and preparing for the world of work.
He said that, although the pandemic has presented many challenges, it has also created new opportunities for learning through working in teams and delivering lectures virtually.
He said: "Our colleagues bring an energy into the classroom, as well as research and business insights from their varied careers. This enables our students to appreciate the theory and its application in differing business settings – whether that is a commercial business, charity, or government organisation.
"The pandemic has presented many challenges for us all. But we have been able to deliver sessions live into a learner's home or for reviewing later. Also, we are now more used to socialising virtually, so working in project teams virtually is something that we've increasingly been seeing prior to the pandemic.
"Our excellent electronic resources provided by the library also enable our students to continue to read around their subjects at home, too."
Prof Allman joins the Faculty from Keele Business School, where, for the past five years, he was its director and led its recent industrial collaboration focus.
Throughout his career he has worked with more than 1,000 enterprises, secured almost £18m of research and grant funding, and supported nearly £20m of local growth, particularly from smaller technology enterprises.
His teaching has also won several accolades, particularly for placing students alongside entrepreneurs.