Developer says residential scheme on track for completion in 2021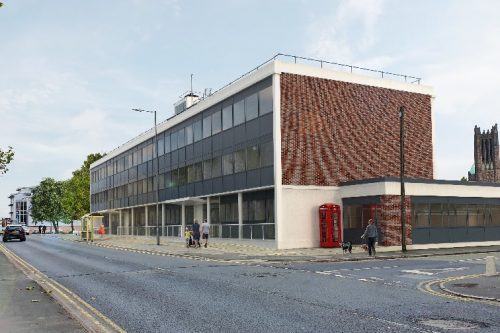 A new apartment development in St Helens is still on track for completion in 2021, despite the disruption caused by COVID-19.
Crown Buildings, a former local tax office, was purchased by London-based property developer HJ Collection.
The acquisition was in the fourth quarter of 2019 and was part of ambitious plans to be refurbished and extended into a new residential scheme offering 112 high-end one- and two-bedroom apartments.
The site, currently being developed in partnership with Northern construction firm Empire Property Concepts, has not been without COVID restrictions.
However, works continued where possible and have now fully recommenced on site, just as the appointed architects updated the development plans and building regulations to commence the next phase of the build.
Due to be completed by next year, the new Crown Buildings development comes at a strategic time for the region following a recent announcement by St Helens Council and The English Cities Fund, who are working together to renovate the town, where 'early work' includes a £200m commercial and leisure investment in St Helens town centre.
Crown Buildings is one of three current HJ Collection high-end developments and is being developed alongside a commercial and residential unit in Barnsley town centre, together with a 14-apartment site in Doncaster.
All developments offer the potential for both build-to-rent and buy-to-let and are being refurbished to a high standard, with key sustainable and environmentally-friendly features.
Reece Mennie, founder and chief executive of HJ Collection, said: "Despite the challenges experienced as a result of COVID-19, HJ Collection have worked hard to ensure all current developments, including the Crown Buildings, will not be impacted and will still complete on time.
"With clear plans for the council to renovate the region, our decision to invest and develop in St Helens will prove incredibly valuable, not only as we deliver promised returns to those who invested into the HJ Collection asset-backed bond, but also in offering either residents, professionals or private landlords new, high-end apartment units on completion."
Reece Mennie launched HJ Collection in early 2019 following the success of his City-based investment introducing firm, Hunter Jones.
Despite the challenge presented by COVID-19, Reece and the HJ Collection team remain focused on acquiring and refurbishing new developments during 2020, particularly as the UK enters a 'buyers market'.
He added: "HJ Collection has been created to revolutionise the development sector and the asset-backed loan note market by diversifying risk for investors and developing attractive residential sites in strategic locations across the UK.
"With strong financial expertise and development experience, HJ Collection is positioned to take advantage of the buyers market we now face and are focused on acquiring new sites to aid the continued growth of our portfolio in the coming months."