Coronavirus business update: Latest news across the North West

A major fund launched to help people affected by the coronavirus pandemic has distributed more than £500,000 in grants.
The Covid-19 Response Fund was set up by Cheshire Community Foundation in April.
Backed by Lord Lieutenant of Cheshire David Briggs, new High Sheriff of Cheshire Nick Hopkinson, and previous High Sheriff Mark Mitchell, the fund attracted more than £1m in donations.
The Steve Morgan Foundation agreed to provide match funding for many of the projects.
In less than two months the fund has provided support to almost 140 different organisations across Cheshire West, Cheshire East and Warrington.
Cheshire Community Foundation has played a vital role in managing the fund and ensuring grants reach the organisations that most need them.
Among charities in Cheshire West to benefit are the Port Grocery, West Cheshire Foodbank, Maggie's Centre at Clatterbridge and Passion for Learning.
In Cheshire East, successful charities include Transforming Lives Together, Nantwich Foodbank, Cheshire Streetwise, Age UK Cheshire East, The Welcome and East Cheshire Hospice.
Warrington charities to receive funding include Warrington Disability Partnership, Warrington Foodbank, Transformation for Veterans and Warrington Youth Club.
Sarah Riley, manager of community hub, The Welcome, in Knutsford, said: "We have been very hectic as we moved focus from our usual day-to-day activities and services to establishing an emergency food distribution centre here at The Welcome.
"Thank you to all our funders who have been so supportive and understanding of these necessary changes."
Among the services offered by the hub, situated on the town's Longridge Estate, have been emergency food parcels, a free hot meal service, online and phone counselling and online youth activities.
Nick Reed is an example of someone who has directly benefited from the work of Macclesfield-based Cheshire Streetwise. Nick was homeless when the charity first started helping him, finding him accommodation and supporting him with various health conditions.
Nick said: "The food parcels have been a Godsend to me during the crisis and other times when I've struggled with lack of finances. Eighteen months ago I was homeless and the food parcels and support from Streetwise have been absolutely outstanding and I couldn't have got through it without them."
Cheshire Community Foundation will shortly announce a new strategic grants programme, making use of the outstanding money raised, to help charities affected by coronavirus to "adapt and survive".
Zoe Sheppard, chief executive of Cheshire Community Foundation, said: "We are thrilled to have been able to help so many charities in such a short space of time and when their need has been at its greatest.
"This has only been possible thanks to the huge generosity of our donors and to the hard work and dedication of everyone involved at Cheshire Community Foundation.
"We are still to see the full impact on our communities from the coronavirus pandemic and we are looking forward to the imminent launch of the next phase of our response via a new strategic grants programme, helping to match our donors' money with the causes that most require their support."
::
Liverpool Science Park (LSP) has remained open throughout the coronavirus pandemic, supporting its customers undertaking key COVID-19-related work.
Home to a diverse mix of science, technology and knowledge intensive businesses, LSP has provided continuous access to its three purpose-built innovation centres, enabling customers involved in Liverpool City Region's coronavirus efforts to respond at pace.
Most building users in recent weeks have been those using laboratory spaces to undertake cutting-edge research projects, alongside others providing vital technical support to businesses adjusting to remote working.
Leanne Katsande, head of commercial at Liverpool Science Park, said: "By implementing new health and safety measures quickly and remaining open during lockdown, we have enabled our customers to work without disruption.
"Businesses who are directly contributing to the virus control and economic recovery efforts in our city region depend on operational continuity, and we are proud to have delivered the same high-quality service throughout this time."
Occupying several research labs within LSP, the University of Liverpool's Institute of Infection and Global Health has been undertaking world-leading research into new diagnostics, treatments and vaccines.
Together with Liverpool School of Tropical Medicine and the NHS – represented by Liverpool Health Partners, who are also based within LSP – they have recently united through Liverpool STOP COVID to redirect the majority of Liverpool's research efforts to COVID-19.
Other notable LSP customers who stayed active on site during lockdown include Nano Biosols, developers of gold nanoparticle technology who are providing products for those wanting to develop point-of-care lateral flow tests to help combat COVID-19, and the tech support team from Angel Solutions, who have been creating innovative web-based applications to help all levels of the education sector.
George Barclay, operations manager at Liverpool Science Park, said: "LSP has a vibrant community of innovators, creators, pioneers and ground-breakers.
"Ensuring our workspaces remained accessible, while other buildings closed, has significantly aided our customers' ability to stay agile and seize growth opportunities which arose."
While the science and technology industries experienced heightened dependence at the peak of the virus, thoughts are turning to the construction industry to kick-start the economy as we move towards the next phase.
Located within the heart of the Knowledge Quarter Liverpool Mayoral development zone, Liverpool Science Park remains a valuable base for Morgan Sindall Construction Contractors, which is leading the development of the Royal College of Physicians' £35m Northern headquarters.
The Spine, which is due to open in 2021 and will be one of the world's 'healthiest buildings', is located within Liverpool's £1bn Paddington Village and forms part of the 450-acre Knowledge Quarter innovation district.
Projects on this scale provide a dynamic opportunity of national significance, which will lead Liverpool's recovery from the global health crisis and benefit job creation and commercial development for years to come.
At a time where a quarter of UK businesses have shut down and the number of people out of work in the UK jumped 23% to 2.8 million, business continuity remains a top priority for LSP and its owners Sciontec – a partnership between Liverpool City Council, Liverpool John Moores University, the University of Liverpool and Bruntwood SciTech.
The decision to remain open is hoped to have lessened the impact of the pandemic for many of Liverpool's innovation-led businesses and organisations, not only those based at LSP, but also throughout their supply chains.
While many businesses have excelled in adapting to home working, Liverpool Science Park has reported an increase in the number of customers returning to site, as lockdown measures are gradually eased across the country.
::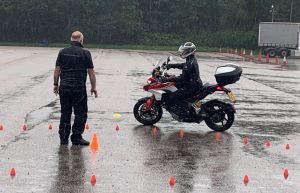 Morecambe Bay & Estuaries Advanced Motorcyclists (Mbeam) is back on the road again after a three-month suspension due to the coronavirus restrictions on travel and social distancing.
Advanced rider coaching started up again from Monday June 15. It will adhere to detailed IAM RoadSmart guidelines to ensure the current social distancing rules are followed at all times to ensure it is carried out with personal safety in mind.
Mbeam, which is part of the UK's largest independent road safety charity, has also been able to re-start social rides, in line with guidance on outdoor gatherings.
Social distancing and travel restrictions in Scotland and Wales mean IAM RoadSmart bikers will have to wait a little longer to return to the road, to provide coaching and enjoy social rides again.
Mbeam chairman, Rudy Rengers, said: "We are delighted to be able to get those taking the advanced rider course with us back on the road.
"We are also looking forward to welcoming new associates in the coming weeks. We have been working closely with IAM RoadSmart to prepare for the safe return to one-to-one on-road coaching.
"As a group of passionate ambassadors for motorcycling we have made personal safety our number one priority by following the rules on social distancing and non-essential travel."
Advanced driver courses remain suspended nationwide to maintain compliance with social distancing rules. This is being kept under regular review.
::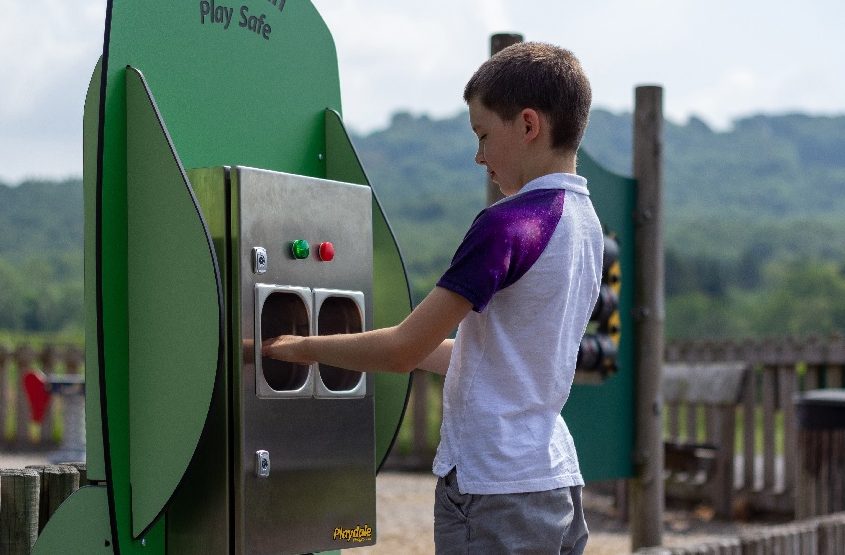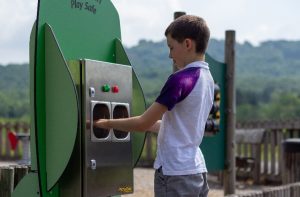 Cumbria-based outdoor playground manufacturer, Playdale Playgrounds, has launched a first of its kind inclusive outdoor touch-free hand sanitiser station.
Article 31 of the UN Convention states that all children have the right to play, and since the closing of playgrounds due to COVID-19 children have lost this.
Since UK lockdown began Playdale has been busy designing and now launching the innovative PlayClean product that will aid children and families to safely return to playgrounds.
The automatic, no-touch design feature makes PlayClean universally accessible for children and adults of all abilities.
The unique design allows families to enter any outdoor or indoor public spaces such as parks, play areas and leisure sites, quickly and thoroughly sanitised.
The PlayClean unit is vandal-resistant and built to last in any environment. It comes with a safe, low-voltage battery to power the automatic spray sensors, which have been engineered to dispense up to 5,000 times to sanitise hands.
The high-volume dispenser will allow up to 30 people per minute into the playground to avoid long queues.
Barry Leahey, Playdale's managing director, said: "We are proud to be launching a world-first for the playground, a truly touch free vandal-resistant high-volume hand sanitiser station for playgrounds.
"Children globally have suffered with the closure of playgrounds and I am proud of the Playdale team that have stepped up to deliver a product which will aid the safe reopening of play areas."