South Lakeland homecare company expands and creates 18 jobs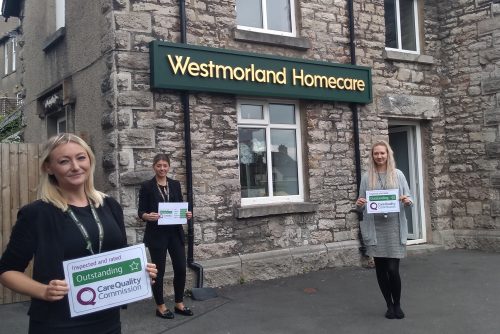 A South Lakeland homecare company is expanding and has created 18 new jobs.
Westmorland Homecare has this week opened a new satellite office in Grange-over-Sands.
It is manned by four full-time staff and the company has taken on 14 new healthcare assistants to look after people in the Cartmel and Furness peninsulas.
And it is hoped that more staff will be taken on in future as its operation grows in this part of South Cumbria.
Kendal-based Westmorland Homecare provides hundreds of hours of care each week, which enable elderly and often frail people to live independently in their own home.
Its services include home care, such as help with housekeeping and meal preparation, and personal care, such as help with dressing, bathing and getting in and out of bed.
"We cover an area that ranges from Grasmere in the North, Carnforth in the South, Sedbergh in the East and West along the peninsula," said Dr Josh Macauley, joint director of Westmorland Homecare.
"We have been operating in the Grange-over-Sands area for a while. But staff and clients there wanted to have a local base where people can pop in and talk to us and ask any questions they might have.
"Opening this satellite office means we can deliver care more effectively because we have local staff looking after local people. It means we can help the community of Grange by being an even more integral part of it."
The office is located in the old British Legion building at Kents Bank Road.
"We already have clients in Grange, Flookburgh and Newby Bridge and this office will also allow us to look after people in Ulverston, which is new for us, said Dr Macauley.
"We expect the number of staff we employ to grow because there is a huge demand in that area for our services.
"Our ambition is to be the very best care provider it is possible to be and by a having well-resourced, well-staffed organisation embedded within the community we can deliver the absolutely best service possible."
He added: "We want to be able to expand our social clubs into areas like Grange-over-Sands and help the local community and be part of it, which is why it is so important to have chairs and feet on the ground."
Westmorland Homecare was founded in 2017 by doctors Josh Macaulay and Chris Moss.
Both had experience of caring for people in their NHS roles as an A&E doctor and anaesthetist, but wanted to help people more than while they were just in hospital.
The service is now one of the biggest providers of homecare in Cumbria.
As well as the South Lakeland branch, based at Kendal, they also have a branch in the Fylde coast and Wyre district, which looks after clients in Blackpool, Poulton, Lytham and surrounding areas.
"We believe that every individual should be free to remain in their home as long as they wish, should be able to be as active and independent as ever before and should continue to have rich and fulfilling lives," said Dr Moss.
"We want our clients to thrive and live life to the full, no matter what age they are. That is our mission and something we are dedicated to delivering every day."